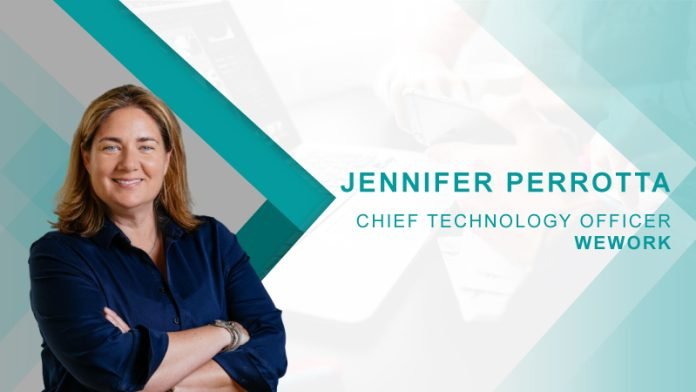 Please share with us your role as the Chief Technology Officer at WeWork.
I am very fortunate to lead the technology organization here at WeWork. This team consists of talented individuals from all over the world responsible for the end-to-end technology experience for our members. From choosing the membership that best suits you, to having the appropriate building access and unique customizations, all the way to managing your account, we are here for you.
Brief our audience about WeWork, and give us an overview of its solutions.
WeWork is the world's leading flexible space provider. We were founded in 2010 with the goal to create environments where people and companies come together to do their best work, from freelancers to Fortune 500 companies, and have grown to over 750 locations across our global portfolio. We showed the world that a community could replace cubicles in a way that completely changed commercial real estate.
Over the past few years, we have refined our offerings. Our core product is dedicated space, whether that be a desk, private suite, full floor office, or even an entire building. In response to the pandemic, we also introduced All Access, a monthly subscription which provides access to hundreds of locations worldwide, and On Demand, where people can pay-as-you-go by booking a desk or meeting room by the hour or day. Finally, we have WeWork Workplace, our comprehensive space management and planning software that we launched last year.
What are the core values on which WeWork is built and what is the mission of the organization?
WeWork's mission is to empower tomorrow's world at work. That goes beyond simply building offices where businesses can do their best work  – it's about creating spaces that make people more motivated, productive, and happy. Our core values form the roadmap to achieve this mission, including Give Gratitude, Do The Right Thing, and Be Entrepreneurial. As CTO, one of our values that I think about most is Strive To Be Better, Together. We often partner with the entire business to recommend or find creative solutions to challenging technological problems, and that can only be accomplished by coming together as a team with a shared purpose and commitment to innovation.
What types of office spaces does WeWork offer and what are some of the unique features of these spaces?
In the post-pandemic world, there is more demand than ever for office spaces that provide an experience above and beyond what people can get at home. Whether that's cutting-edge technology, elegant design elements, first-class amenities – or all three – offices need to be worth the commute. WeWork always believed an office should be a place people wanted to go to instead of had to, and we'll continue to evolve our solutions so the experience stays meaningful. At the same time, there is no "one size fits all" approach; workspaces must be dynamic and suited to the varying needs of the modern worker. That is exactly what WeWork provides through our holistic suite of products and turnkey, flexible spaces. For example, we have increased the amount of lounge space in many of our large offices to encourage spontaneous connection and support collaboration as more teams plan days together in person. To ease the return to office, we also focus on creating a comfortable environment that feels familiar, with design elements like soft furnishings and natural light, as well as amenities like meditation rooms and pantry areas.
Can you describe the community aspect of WeWork and how it benefits members?
Community is one of the most unique and foundational aspects of WeWork. People want the human connection they sorely missed during the pandemic, and we pride ourselves on creating spaces that bring people together. Much of that work is done by our dedicated Community team, which provides a high-touch experience from the moment a new member joins, helping them settle into the space and take advantage of opportunities to meet and mingle with others. We regularly host events for this purpose, from Treat Tuesdays where people can enjoy free snacks, to wellness and crafting events, to educational panels for small businesses. Time and again, we hear from our members that this community-driven atmosphere keeps them coming back to our spaces.
How has the WeWork Workplace helped businesses in navigating the return to office post-COVID-19?
WeWork Workplace empowers companies of all sizes with the data to make smarter real estate decisions and the tools to enhance in-person collaboration. Launched in July 2022, it is both a natural extension of our business and a solution to the fact that many companies struggle to understand how employees use their office – especially in hybrid settings. By unlocking data on utilization, check-ins, and spending, WeWork Workplace helps business leaders optimize their office space for the post-Covid world. At the same time, it improves employees' experience in the office by providing a seamless desk and room booking experience, including visibility into when colleagues are coming into the office and where they are sitting. Whether companies use their own private offices, WeWork locations, or a combination of the two, WeWork Workplace forms the connective tissue between their people and their spaces.
Can you share any success stories or case studies of businesses or individuals that have benefited from using WeWork's services?
Since WeWork Workplace launched last year, hundreds of organizations have adopted the software to help manage their real estate. One member is IU International University of Applied Sciences, Germany's largest university. After opening a campus at a WeWork in FrankFurt, IU selected WeWork Workplace to help enhance the experience for 1,600 students, professors, and employees. The app serves multiple purposes: it helps the university optimize its space by tailoring classroom size and keeping track of in-person attendance, and it provides students the flexibility to choose the study space that suits them, from hubs for group meetings to individual space for heads-down work.
Finally, what are your plans for your company, and how do you see it evolving in the years to come to stay ahead of the competition?
Flexibility is in WeWork's DNA. Our members come to us because we offer them flexibility across space, time, and cost, but it is also the approach we take to our own business. For example, we are constantly iterating on our digital products, Access and Workplace, to incorporate member feedback and ensure that they provide the instant and frictionless access to work space that today's workers require. With technology as a key driver of this continuous innovation, we will continue to deliver the flexibility that our members around the world count on.
Discover the full potential of your Hrtech strategy with our comprehensive Hrtech News and Hrtech Interviews.
Want to Contribute? CLICK HERE To Submit Your Guest Post and Join Our Community of Writers!!!