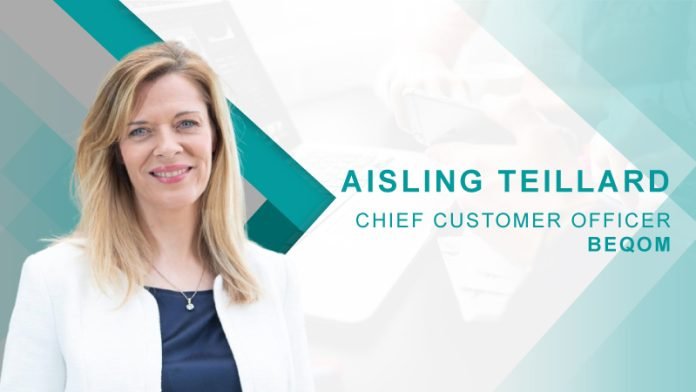 Please tell us about yourself and your role as the Chief Customer Officer at beqom?
I joined beqom in 2022 and my move to the company was part of the acquisition of Our Tandem, a company that I founded in 2016, which has helped to re-imagine the world of work and the way employees experience the workplace. Our Tandem was originally built as the market-missing solution for a sustained approach to feedback and evolved to become a full performance management and engagement solution.
beqom's acquisition of Our Tandem was a perfect match between our offerings, combining the power of beqom and Our Tandem's solution, helping to align personalised rewards with meaningful behaviours and goals, transforming how companies reward and recognise their people, attract and retain top talent, and address pay equity and transparency. As Chief Customer Officer for beqom, my role is dedicated to ensuring that beqom's customers benefit from community, insight, and expertise.
What attracted you to move into the HR technology and management field?
I've been in the HR space for over 25 years. I was previously HR Director for organisations such as SAP and O2 Telefonica, and I've led many global change initiatives, including performance management, talent management and cultural change programmes. I also have a research master's degree in performance management. What attracted me to HR is the idea that you can impact workplace cultures by changing the things that matter. For me personally, performance was always the critical cornerstone of HR as it establishes the foundation of how people are managed in an organisation, so is the biggest force in shaping culture.
Could you inform our audience about beqom, and give us an overview of its solutions?
beqom is a cloud-based provider of continuous compensation and performance management solutions that deliver personalised total rewards aligned with meaningful behaviours, goals, and skills. The solutions transform how companies reward and recognise their people, attract and retain top talent, and address pay equity and transparency.
beqom's fully configurable solution integrates seamlessly into core HR suites, providing companies of any size and industry, such as Mercedes Benz, PepsiCo, Golub Capital, and DHL, with the flexibility needed to execute their performance and reward strategies and make the most of their human capital.
Can you explain beqom's mission and the philosophy behind it?
At beqom, our mission is to make the workforce of our customers happy. beqom drives happiness by allowing business managers to lead, align and motivate employees and partners. The beqom Total Compensation platform is used globally across all industry sectors by over 100 large companies such as Microsoft and Vodafone. It addresses all performance and compensation aspects such as salary review, bonuses, long-term incentives, commissions, benefits, non-cash rewards, and all key drivers toward employee performance and sales performance. HR, sales, and finance organisations leverage our platform to drive performance, retention, cost optimisation, and… happiness among their people.
Being the Chief Customer Officer, how do you ensure that beqom's customers benefit from its insights and expertise?
As Chief Customer Officer for beqom, my role is dedicated to ensuring that beqom's customers benefit from community, insight and expertise. Managing all forms of employee pay and incentives, beqom unifies all performance and reward processes to create a meaningful, people-centric experience across employee touchpoints, providing feedback, coaching, and rewards, and giving employees a feeling of purpose and engagement. This one-of-a-kind solution ensures that performance continually improves, goals are achieved, and rewards are individualised, fair, and within budget, through a powerful optimisation and governance engine.
beqom recently released its Leveling the Paying Field report, can you please share with our audience a few insights from the report?
Yes, our Leveling the Paying Field report launched in March, where we surveyed 2,000 active employees in the US and the UK to get a sense of their experiences and perspectives on the gender pay gap in their respective markets, as well as total compensation and pay transparency. We analysed the data to see how answers varied by both genders and generations. In the UK, the report uncovered:
● That nearly two-thirds (62%) of UK employees would be willing to publicly share their salary to benefit co-workers.
● More than two in five (42%) UK employees think their workplace has a problem with gender pay gaps (up 83% since 2019) – with men (46%) more likely than women (38%) to believe their place of work has a problem with gender pay gaps.
● Nearly a third (33%) of employees surveyed think the gender pay gap has increased at their place of work over the last two years (up 14% since 2019).
● Nearly two thirds (63%) of employees think inflation has made them more likely to discuss pay with their colleagues.
● More than half (56%) of employees do not think they're paid fairly.
With 25 years of experience, what advice would you give to the budding entrepreneur aspiring to venture into HR management?
HR Tech is a crowded market and there's blurred lines between some of the propositions, making it challenging for the buyer to truly understand all the players in the space. It's critical that you have a really clear and compelling proposition that brings something new to the market. There's still a lot of work to be done in evolving organisation cultures, so there's room for innovation, as long as you have a fresh perspective, and HR can access a budget to buy.
In your opinion, how has the integration of technological advancements like AI and ML changed the face of the HR industry?
I believe they are real game changers for the industry. Already many people are using AI and ML to analyse information, gather aggregate data and suggest choices to users. What we need to ensure is that these suggestions and data points come without bias, which has been an issue with many HR tech solutions embracing AI in the past. The solutions have advanced significantly and there's been huge strides in this regard. What's important for us in HR is to embrace the efficiency and intelligence it can bring, without losing the human touch.
Discover the full potential of your Hrtech strategy with our comprehensive Hrtech News and Hrtech Interviews.
Want to Contribute? CLICK HERE To Submit Your Guest Post and Join Our Community of Writers!!!