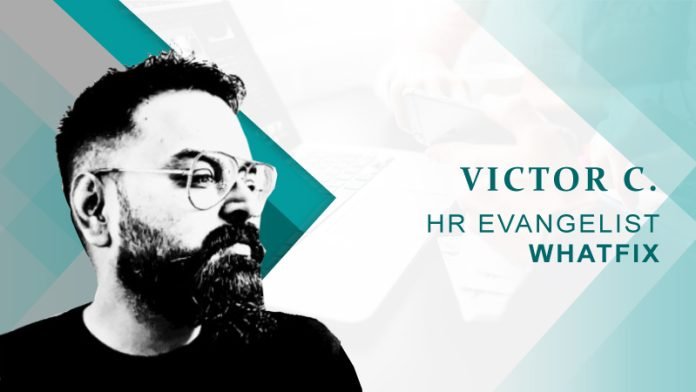 Talent Evangelist at Whatfix, Victor talks about how DAPs are disrupting the training, learning, and support needed for WFH, paving the way for employee productivity.
1. Tell us about your role at Whatfix – Victor C.
As a Talent Evangelist, I strive to identify individuals who can help expand and grow our Whatfix family. People are my passion, and not only do I aim to add to our stunning team but I also work towards the development and growth of our talent. My team and I are an innovative group who are all passionate about helping people. We don't play by the book, but look to integrate industry best practices and unlearn, relearn and evolve in the process. As the Whatfix team grows, our role is to ensure that our culture and purpose remain intact.
2. Can you tell us about your journey into this market?
I spent a lot of my formative years around employee dynamics and human resources functions — administration, recruiting, engagement, business partnering, etc. I've always loved the human aspect of work. Everything we achieve happens through people. I am equally motivated by the impact I can have on individual employees and the collective culture of an organization, and how these elements intersect in the field of HR. After scaling multiple companies in the past, a constant question that lingered in my mind was how much does a company truly leverage its digital assets, i.e. digital tools, apps and software? During my stints at various companies, I have seen them spend a lot of time and effort and money, on the latest software tools that the teams classify as indispensable. But how much are you truly leveraging your tech stack? Digital adoption affects both internal and customer-facing activities, helping you become more efficient so you can increase profits and productivity. It also contributes heavily to the overall experience of the employee. Whatfix was solving a larger problem and we (Our CEO Khadim and I) connected on our alignment – love for people, product, technology and continuously innovating to solve problems.
3. How do you think technology is upgrading the HR Sector?
Recruitment: Advancements in Machine learning & Automation have paved the way for latest recruitment tools to collect, measure and study past hiring data in order to provide intelligent hiring suggestions. This has ultimately led to reduced time to hire while improving the brand of the employer (via quick responses). It also contributes to the growth of the company by enabling top addition to the team.
Performance Management: Evolution of big data & people analytics solutions has been the cause of a game-changing shift in workflow. Capabilities that allow you to extract data, based on regular manager-employee interactions, and convert it into actionable insights for data-driven decision making, periodic tasks such as performance appraisals have been transformed into more continuous and holistic processes.
Employee Learning: I've said this before that I believe the employee learning space to be experiencing one of the biggest upgrades in technology. The advent of AI has brought a new, more interactive method of learning at the workplace, adapting to each and every employee's preferences and needs. This has been termed as "Adaptive Learning" by global HR leaders. Additionally, this form of training has been introduced to the navigate software as well, in the form of newly categorized, Digital Adoption Solutions (DAS). DAS allows employees to learn in the flow of work through in-app, interactive step-by-step guidance, potentially turning users into experts of any software.
Apart from the above, technologies such as Augmented Reality (AR) & Virtual Reality (VR) have taken huge strikes, further adding to the path to interactive corporate learning by attempting to build simulated workplace scenarios to improve reinforcement of knowledge gained.
4. Can you explain how your platform helps in enhancing the performance of remote employees?
During this outbreak, Over 70% of U.S organizations have turned to remote work as a way to conduct business as usual while keeping their staff safe. In this scenario, an employee's interaction with technology is critical to maintain growth.
Whatfix Digital Adoption Platform (DAP) has helped organizations enable business continuity during these tough times of COVID by bridging the gap between your users and business essential software. All of this is done with minimum coding, leading to lower dependency on your IT team for creation of training program, delivery and continuous support.
Supercharged WFH Productivity: Whatfix Digital Adoption Platform allows for Automation of repeated tasks and mundane data entry activities to speed up user workflow & minimize errors. It provides the employee with step-by-step guidance in the flow of work, preventing any disruption in the using software and carrying out business as usual while working remotely.
Simplified Remote Training & Self-Serve Support: With the help of Smart Context algorithms, Whatfix provides content specific to the user's location within the app, their role, geographic location etc. Capabilities such as Deep Integration with LMS and content repositories along with automated, multi-format creation of flow content ensures 24/7 help in a self-serve manner.
The above are just a few of the features and functionalities that can enable workplace level productivity among employees.
5. How do you define your Digital Adoption Platform?
Whatfix is a Digital Adoption Platform that disrupts traditional application training, learning and support content by providing in-app user guidance and automation – that is contextual, interactive and real-time. Whatfix provides users a unified digital workflow and self-help experience across all web, desktop and mobile applications, driving additional adoption and productivity gains.
When asked to define this is layman's terms, I've always seen that the 'Google Maps example' fits the best. In earlier times, people used physical maps or took the help of others to find their way to a location. However, Google has now made it so easy, guiding everyone to where they want to go. Similarly, I would define Whatfix DAP as the 'Google Maps' for software, directing your users in navigating every essential business application, getting them from a basic user to an expert.
6. Do you agree that everything will not be the same post COVID-19 pandemic ends? What are your predictions about the future of remote working?
Yes I do, According to Global Workplace Analytics and FlexJobs, the trend for working remotely has been rising in popularity since the internet with the practice increased to 91% over the last ten years. This massive outbreak, the 30-45 days has seen an increase in this number like never before. In some ways, it further cements the possibility of running business as usual while running this form of work, at least within certain industries.
Hoping that we recover soon from this, employees might still fear being around large crowds within the workplace. Organizations, in order to mitigate risk from employees getting ill once again, might resort to asking certain departments to continue working from home now that they would have identified those functions that can seamlessly work with on-perm employees while being remote.
An investment in technology may begin to rise but adoption being an important chunk of that spend. The market, which was predicted to dip later this year, will experience recovery post this major downfall in the economy.
7. What advice would you like to give to the technology Start Ups?
I recommend that you proactively seek out input and guidance from the very beginning. Critics are known to offer the best direction on how to improve, if you know what to absorb. Additionally, aim to be cash efficient. It might demand being frugal at times but considering the current scenario, it certainly pays off in the long term. Lastly, as cliché as it might sound, hire smart or manage tough.
8. What is the Digital innovation in sales technology according to you that will mark 2020?
In my opinion, Digital Adoption Solutions (DAS) will be the biggest development that will mark 2020, especially considering the current scenario.
There are many reasons why this is my prediction. For instance, CRM is most widely deployed and used software among sales reps and organizations. However, users still struggle with navigating and using a CRM which triggers a need to raise a ticket, putting a pause on certain workflows. Here are a few data points to give a picture of this challenge:
– 80% executives state that poor user adoption is one of the biggest challenges identified with CRMs. (Software Advice)
– Less than half of the sellers, use their company's CRM (CSO Insights)
– Nearly 90% of sellers are not satisfied with their CRM system (HubSpot)
These stats prove that CRM, although beneficial, would not add any value to the sales reps' productivity if they aren't comfortable with navigating through all the features and functionalities. This gap is filled through a DAS using flow-based guidance within the CRM itself to help users quickly understand the tool and make help accessible.
During the fight against COVID, while businesses struggle to maintain business continuity, my prediction is that adoption can ensure that the intended ROI from tech investment can be achieved post which, organizations can further explore spending in other sales tools.
9. How do you prepare for an AI-Centric world?
Artificial Intelligence has swiftly moved from being a global trend to being a mainstream where every organization is either already consuming or looking to achieve the fruits of this advancement in tech. In my opinion, when you are preparing for an AI-centric world, the following aspects are the most imperative to check off the list:
– Understanding how AI (in any shape or form) will position you as a top organization in the market and keep you ahead of the curve.
– Maintain a stellar data infrastructure as AI will rely on and learn from good data points that it collects. For starters, ensure that the data stored in your business application are free duplicates and that of your data management system is well organized.
– Never forget the human element while adopting AI or preparing for the future of this technology. For years AI has come across as a threat to the employee market as they fear losing their jobs/opportunities to AI. Try and replace mundane and repetitive tasks with intelligent automation without having to lose a personalized touch to it through your staff.
– Last but not least, keep up and adopt the latest security measures as you move closer to the future of work.
While AI is meant to improve business growth and productivity, just like any other form of technology, it requires high levels of monitoring for threats to privacy.
10. What are the major developments you are planning, in recent time?
Data and technology are of prime importance to us at Whatfix. We are currently focused on rolling out a tremendous data-driven HR system for our internal consumption and decisioning. In 2020, we plan to keep our focus on building on this data DNA and use it to solve even larger people and business problems.
11. Can you tell us about your team and how it supports you?
We just crossed the 300 employees, world-wide. Doubling up every year is not an easy task. At Whatfix we aim to build a performance driven culture – Reward high performers with the Whatfix experience & complement them with seasoned leaders. I'm extremely proud of the work that we're doing collectively and strategically to support the company's long-term business goals and outcomes. I am lucky to have such talented and driven individuals of HRBP and Recruiters alike driving Whatfix forward. They inspire me every day as they continue to push forward and execute on some really amazing ideas. It may sound unusual, but we consider many of our customers and partners a part of our team, too. They are our muse, keeping us on our toes and on top of our game. It's gratifying to have their support.
12. What movie inspires you the most?
It's hard for me to single out one that inspires me the most. However, now that I understand more about the whole "what inspires me" thing, Whiplash, Coach Carter, Pursuit of Happiness, Moneyball are meat shots. Unbroken, Up in the air, King's speech are close favourites as well.
13. We have heard that you have a very joyful work culture, so can you share with us some of the fun pictures of your workplace? Sent via email

14. Can you give us a glance of the applications you use on your phone?
There are so many of them. Many being for how useful it is and some just to feed my fascination towards applications. Some notable ones include Udemy, Linkedin, evernote, blinklist, slack, meet, Gmail, telegram, whatsapp, G-suite mobile apps, Spotify, YouTube, Trello, Todoist, audible.
Whatfix
Whatfix is a game-changing Digital Adoption Platform that helps users achieve optimal performance by providing them quick and easy access to contextual information, needed at the time a task is being performed. With Whatfix, enterprises enable their users to quickly adopt any software application thereby eliminating the time spent in referring multiple resources for help and support.
For more such Updates Log on to www.hrtechcube.com Follow us on Google News Hrtech News