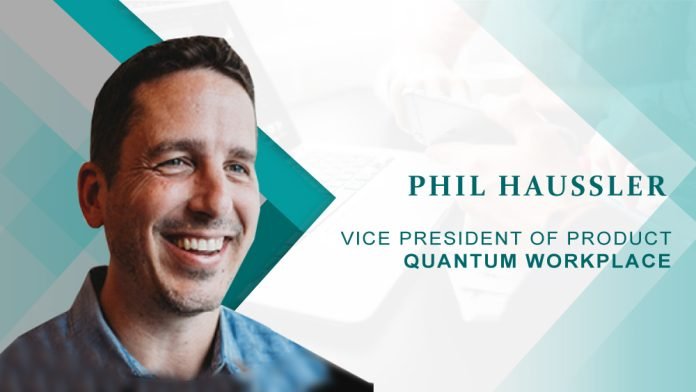 Phil from Quantum Workplace talks about the significance of promoting employee engagement & leveraging Analytics and recognition to accelerate the process.
1) Can you tell us about your role at Quantum Workplace?
As head of Product for Quantum Workplace, I lead the teams that build the product that brings users along on our mission of making work better every day. People want to work on solving meaningful problems alongside people they love. My role is centered around creating a culture where innovation can thrive, while discovering and casting a compelling product vision, and building a world-class team of missionaries focused on making the vision a reality.
2) Can you tell us about your journey into this industry?
I joined Quantum Workplace 13 years ago after working in technology consulting straight out of college. At that time, employee engagement solutions were delivered by high-priced consultants in fancy suits, backed by an army of analysts building PowerPoint slides. Having been through the consulting world, I believed Quantum Workplace could disrupt this consulting-centric approach by introducing a technology-driven employee engagement platform that would truly make work better for all organizations — not just those that could afford consultants. We've been putting a serious dent in that mission ever since.
3) How do you think technology is upgrading the HR sector?
Technology is changing every corner of our lives, but arguably none more than the world of work. Technology has the power to upgrade or downgrade HR. Automation can help HR focus on making strategic impact. Data science can be used to create order from chaos.
Communication software can make remote work possible. Employee listening can help build trust, alignment, engagement and performance. Each of these comes with risk of unintended consequences. There is an awesome opportunity (and responsibility) in using technology to actually put humans at the center of human-resources.
4) What according to you is the significance of employee engagement for a manager-driven work-culture?
Managing people is hard! Humans are complex and infinitely different. What we've observed here at Quantum Workplace is most organizations throw strong performers into management roles and ask them to "figure-it-out-as-you-go". With nearly 20 years of research and development invested, we've found
the best managers show some common denominators. They listen. They genuinely care about each person and helping them achieve their potential. They individualize their approach for each person. They're honest and provide real, meaningful in-the-moment coaching, including (and especially) sharing positive feedback.
We've spent the past five years building an "operating system" that helps managers put these key behaviors into practice to help achieve a virtuous circle between employee engagement and performance.
5) What is the impact of employee recognition attribute of Quantum Workplace solution on the productivity of employees?
To put it in the parlance of our times, "I see you." That's what recognition is: I see you. I see what you did there. I get it. It matters. Our tool offers a way to capture that moment of magic and extend its reach. That comes with a bunch of second-order magic: it makes core values real, others see what gets valued here, others can add-on, and this list goes… And, recognition and positive reinforcement is like a muscle; it gets stronger with practice and extends beyond the tool… people saying, "I see you" in lots of ways and lots of channels.
6) Can you explain to us in detail about the analytics feature of your product?
Data visualization is a core part of our secret sauce. We spend most of our time finding ways to present data in simple, intuitive ways that transforms data into insight. We manufacture "Aha!" moments. That can be something straightforward like "where are perceptions strongest/weakest?" Or, it can be far more nuanced, like "where is our highest employee flight risk and why?"
7) What features of your performance platform differentiates it in the market?
We're designing forward-looking performance motivation, where others are designing performance management that mostly looks in the rearview mirror. Whether it's agreeing what success looks like in the form of goals and OKRs, meeting for a 1-on-1 with a peer or direct-report, giving or requesting feedback, or celebrating something with recognition, we're focused on feedback that "feeds forward".
8) What advice would you like to give to the technology Start Ups?
Chase something meaningful. Stay curious. The road is long and winding with ups and downs; keep going.
9) How do you prepare for an AI-Centric world?
We think data science can be used to find signal amongst the noise. It can help create meaning from unstructured data. It can help us predict possible futures. But it can also amplify our human biases. As a result, we're focused on building ethical AI.
10) What are the major developments you are planning, in recent time?
First, we built tools to measure employee engagement. Then, we built tools to grow employee engagement through continuous listening. We're working on ways to bring smart recommendations and micro-coaching to employees and managers exactly when and where they need it. We're working on ways to connect users and build community. We're working on meeting users where they work. We're working on linking employee engagement and performance metrics to key performance indicators to help organizations find the levers that drive their business forward.
11) Can you tell us about your team and how it supports you?
We practice outcome-oriented product development. We organize into small, empowered, cross-functional teams that operate within the "creative constraints" of a product charter and quarterly goals. Then, we set them free to chase those outcomes. We de-risk our work through user research, prototypes, betas and lots of other modern product discovery techniques. I see my role as supporting my team and not the other way around.
12) What book are you currently reading?
Obviously Awesome by April Dunford
13) We have heard that you have a very joyful work culture, so can you share with us some of the fun pictures of your workplace?

14) Can you share with us the applications you use on your phone?
In this busy season of life — and with kids that are old enough to have a mobile device in their pocket — I'm trying hard to own my phone and not let my phone own me. (Pro tip: I've removed all social media native apps from my phone; the extra step of logging in via a browser is just enough friction to keep me from pulling up Twitter or Facebook up every time I have an extra 30 seconds). The apps I use most are Quantum Workplace (of course!), Safari, Podcasts, Calendar, Maps, Dropbox, Headspace, Evernote, and Asana.