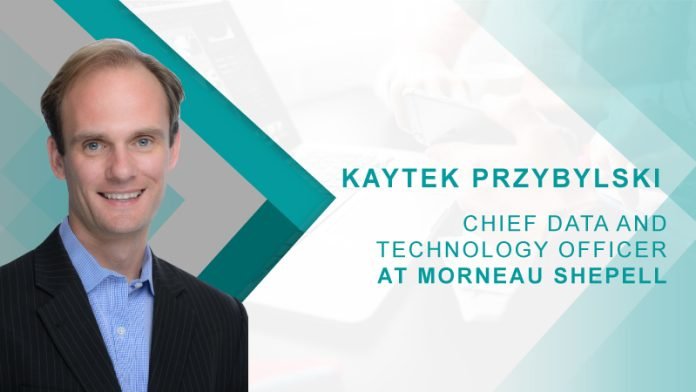 Kaytek Przybylski of Morneau Shepell talks about the growing awareness and importance of the mental health of employees and how digitalization is empowering HR teams
1. Tell us about your role in Morneau Shepell?
I joined Morneau Shepell in September of 2019. In my position as chief data and technology officer, I am responsible for building out our technology strategy and bringing that strategy to life across our business, ultimately helping our clients' improve the lives of their employees using our platform. My experience also includes driving digital, technology and cloud transformations for enterprises world-wide. I had the great experience to work with a Canadian software start-up. I was also part of the late 90s tech boom at a boutique technology consulting firm working with leading Canadian banks and retailers.
2. Can you tell us about your journey into this market?
I have worked in the tech sector for over 20 years, spending the past 16 years as a consultant driving digital and tech transformation at some of the country's leading enterprises, across a number of industries. Morneau Shepell's vision of improving lives and improving business was extremely exciting and compelling, and something I wanted to be a part of.
3. How do you think technology is changing the HR Sector?
Technology is definitely changing the human resources (HR) sector, but we are still in early days. We have implemented some basic systems of recording and information management, and have shifted more to looking at ways to improve customer experience and simplify access to the resources people need.
For the industry in general, I see the landscape as very fragmented with lots of dissipated tools that HR professionals are trying to stitch together. They are working with different platforms for different needs from different vendors, all with different reporting systems that make it hard for them to track and demonstrate success.
From employee and family assistance programs (EFAP) to absence management and HRIS to performance management, at Morneau Shepell, we our vision is to provide a unified wellbeing suite that makes HR professionals' life easier and improves employees' wellbeing.
4. How has digitalization empowered HR professionals?
I believe we are also in early days for digitization. Even though the vision of having digitalization empower the HR profession is compelling, the reality is that a lot of time gets spent compiling and analysing disparate data across disparate tools.
HR professionals often struggle with limited proof of efficacy when bringing a new platform or service to their suite of solutions, especially when considering the multiple fragmented pieces of information and insights available. Addressing this need is a priority for our team at Morneau Shepell, as well as providing a seamless, integrated experience that streamlines the resources HR professionals need, while empowering them with better tools and experiences.
5. Do you agree that employee wellness is often ignored by employers?
I'm not sure "ignored" is the right word. It's a complex space – most employers would agree that they would like to have a workforce that is more productive, more engaged, more present (less distracted by issues outside work), more resilient and less likely to be absent. What has been hard is having a clear, effective, trusted way to deliver holistic employee wellbeing, especially in cases where employers offer a patchwork of systems and processes. At Morneau Shepell, creating a seamless process is our vision, and our products and service work together to help our clients realize this vision.
6. Do you think companies will have to take extra mental health measures of their employees post COVID crisis?
I am glad to say that mental health has gained an important role in conversations about health and wellbeing in Canadian organizations. There has been increasing awareness of the impact of mental health in the workplace and vice versa – how working in a healthy workplace impacts mental health. With new working models brought on by COVID-19 – such as working remotely – the lines between work life and home life have become blurred.
In many instances, the pandemic has forced employees working remotely to deal with situations in which their home environment does not offer an adequate space or atmosphere to work, which is significantly impacting their mental health. Employers have had to be more proactive during COVID-19, offering extra resources to support employees that are struggling during this time.
Morneau Shepell's services are designed to help employees with all stressors they are facing, including life stress that affects an individual's work performance and work stress that impacts their daily lives.
7. How does your platform help in taking care of mental health of the employees?
Morneau Shepell's suite of wellbeing solutions is offered through an easily accessible and trusted platform that allows continuance in services, thanks to history and treatment tracking. It offers the right solutions for the specific needs of each employee, across both immediate and long-term treatments. Employees using our solutions always receive the best service, helping them stay healthy, happy and productive.
8. What advice would like to give to the Start Ups?
HR professionals are dealing with fragmented pieces of data across platforms and providers. Start ups have an opportunity to cut through that noise by partnering with organizations such as Morneau Shepell that have existing platforms and offer integrated solutions to HR teams. Through a partnership of this nature, Morneau Shepell is able to bring start ups' new developments to a health and wellness ecosystem, rather than offering them as a separate piece of technology.
9. What work related hack do you follow to enjoy maximum productivity?
I do not follow "to do" lists. Instead, I schedule time on my calendar to get things done.
10. How do you prepare for an AI-centric world?
There are many good applications of artificial intelligence. On the one hand, we have developed AI to automate and optimize processes – chatsbots and robotic process automation are good examples. On the other hand, there are applications of AI that assist humans to do their jobs better, providing data that supports decision making.
AI can also be applied to deep learning, which is when humans use data to identify new patterns that weren't understood before. For HR professionals, AI can identify those patterns and help recommend preventative actions to minimize unwanted situations. For example, AI could help uncover a relationship between an employee receiving a certain rating in their performance review and their subsequent absenteeism, presenteeism, benefits usage and recommend concrete actions to the manager or HR leader to take in the situation. Additionally, efficacy of the actions would help refine the models and drive future improvements.
AI alone does not benefit businesses. The technology is only effective when it has been combined with a business plan designed to combine AI with human intelligence and capability.
11. What are the major developments you are planning, in recent times?
We are constantly working on improving our services to better support HR professionals. We are currently working on deeper integration of experience across the total wellbeing continuum, to further improve our end-user and employer experiences.
12. Can you tell us about your team and how it supports you?
Our team understands the business of wellbeing, is always informed and keeps current on the latest technology developments. Most of the members of our team have worked in the business for many years and understand what we are trying to achieve. We are all passionate about making people's lives easier and supporting their wellbeing and leveraging digital technologies and innovation to do so.
13. Which book are you reading these days?
I am re-reading Zone to Win by Geoffrey Moore and reading Measure What Matters by John Doerr.
14. Can you give us a glance of the applications you use on your phone?
The apps I visit the most are Morneau Shepell's LifeWorks and AbilitiCBT. I also use Teams, Flipboard and Outlook's mail and calendar.