HRTech: Past & Present
Over the past few years, technology has largely influenced the Human Resource sector. In 2019, 3 out of 5 businesses in the UK said that they are using over five workplace system and apps every day. Every technological development has fundamentally transformed the aspect of HR functions across all industries. Today's rapidly evolving HR industry was once considered a boring and non-innovative sector of the market. HR from its inception until the 1990s was primarily paper-based and were completely dependent on the manual process for almost all functions. The year 1990 marked the modern era of HR when technology started. This time period saw a rapid increase in the online job board, which made recruitment easier than ever before but also disrupted traditional employer-applicant relationships. HR professionals could now easily source and screen many resumes of potential candidates and pare down applicant pools so that only the most qualified were called for interview round. This led to very tough competition between the top talents. The early 2000s saw a greater emphasis on talent management applications that were no more deployed locally. These new recruitment and talent management systems were functional but they lacked the kind of employee-facing, user-friendly interfaces that would be required for them to become the kind of platform that employees actually wanted to use. Later these platforms saw the integration of the latest technologies and migration to the Cloud had also started, making implementation and maintenance a breeze.
Why the stagnancy?
When it comes to innovation, after the integration of technology in the HR industry, and before the introduction of HR analytics, there were hardly any remarkable developments in this sector. Majority of the functions such as recruitment, on-boarding, Salary payments had gone digital and companies had started accepting it. Developers had started believing that this was the maximum innovations possible in this industry. Many innovators were still working on easing various manual functions of HR professionals but there was no extraordinary breakthrough happening. Development in existing innovations was also a reason behind this stagnancy phase in the HR industry. A few years back, the introduction of HR analytics opened doors for a wide variety of development in the HR sector with the vast amount of data that is stored.
Why the invention of Hr analytics?
The evolution of HR analytics has travelled a long way since it was introduced. Traces of Data analytics can be found in the 1800s and many believed that even HR analytics existed in that time, as industrial data, but the HR world started to know about it from recent few years. Even if HR analytics existed in the 1800s, everyone can agree that the wasn't digital or tech-based, so we can accept the fact that HR analytics was introduced and bought into effect a few years back. Also, presently we have more data than ever before. In the past, data used to be analysed independently, but now with HR analytics, it has grown into a consolidated group of people who also partner with other departments.
The introduction of analytics has inspired a shift in the traditional HR functions from talent management or Human Resource Management (HRM) to Human Capital Management (HCM). HR analytics reflects on this important role of analytics and predictive modelling in HR system within modern-day businesses. HR analytics today is the application of statistics, modelling, and analysis of employee-related factors to improve the outcome of companies, empower HR executives and make data-driven decisions to attract, manage and retain successful employees.
What is HR Tech?
HR Tech, a short form of HR Technology is a fusion of two words Human Resource (HR) and Technology. It is a term for software and associated hardware for automating and easing the functions of HR professionals in the organization. It ranges from talent acquisition, employee payroll and compensations to talent management and HR analytics. It is considered as the future of the modern workplace.
Role of Data in HR Tech
The average HR team is sitting on a data gold mine. There are recruitment data, training data, career progression data, absenteeism figures, personal development reviews, productivity data, competency profiles and employee satisfaction data, only for starters. Highly successful businesses understand the importance of acquiring and keeping top talent. HR departments are beginning to tap into a massive competitive advantage by leveraging data analytics to recognize top performers even before they're hired, improve their retention rates, and keep their employees satisfied and engaged.
Utilizing HR data can be legally and ethically challenging, however incredibly valuable, probably the best asset the HR team has. Why? Because when HR data is utilized to improve decisions, make employees happier, and optimize processes, it adds value to the organization.
In the past, a lot of HR data went unused or, in case it was used, it was put into charts and tables for something like a corporate performance pack. Now, in the era of big data and analytics, businesses are turning their data into insights, such as predicting when employees might resign, where to recruit the most suitable candidates from, how to recognize and attract those suitable candidates, and how to keep them happy once they are recruited. All this shows that HR data is more valuable than ever before.
What is HR Analytics?
HR analytics is the process of gathering and analysing Human Resource (HR) data so as to improve workforce performance of an organization.
This method of data analysis takes data that is routinely gathered by HR professionals and correlates it to the objectives of HR and organization. Doing so provides measured evidence of how HR activities are contributing to the goals and strategies of the organization.
HR analytics provides data-backed insight into what is working well and what isn't so that companies can make improvements and plan more effectively for the future.
Types of HR Analytics
To provide a different perspective on the data of a company, HR analytics is divided into three main types. Let me give you a clear picture of the types of HR analytics
Predictive Analytics
As the name suggests, predictive analytics helps in predicting what could happen in the future, on the basis of data. Statistical models and forecasts are used to find the answers of the questions of what could happen, with a goal to proactively discover the requirements of the company.
Predictive analytics can help in determining if an individual will be a good fit for the organization before they are hired. It can also help in providing estimates on how long the person will stay with the company.
Descriptive analytics
As we know, raw data isn't useful and doesn't help in explaining why something is happening, but when aggregated, it can. Descriptive analytics is the basic type of HR analytics which is most commonly used. It takes historical data and summarizes it into understandable insights.
For example tracking course enrollments, course compliance rates, etc. is a type of Descriptive analytics.
Perspective Analytics
Once what could happen is predicted with the help of predictive analytics, the next question that arises is what can we do? Perspective analytics gives recommendations on what to do on the basis of predictions and what has already happened in the past. This analytics is highly helpful for organizations with peak or busy sessions.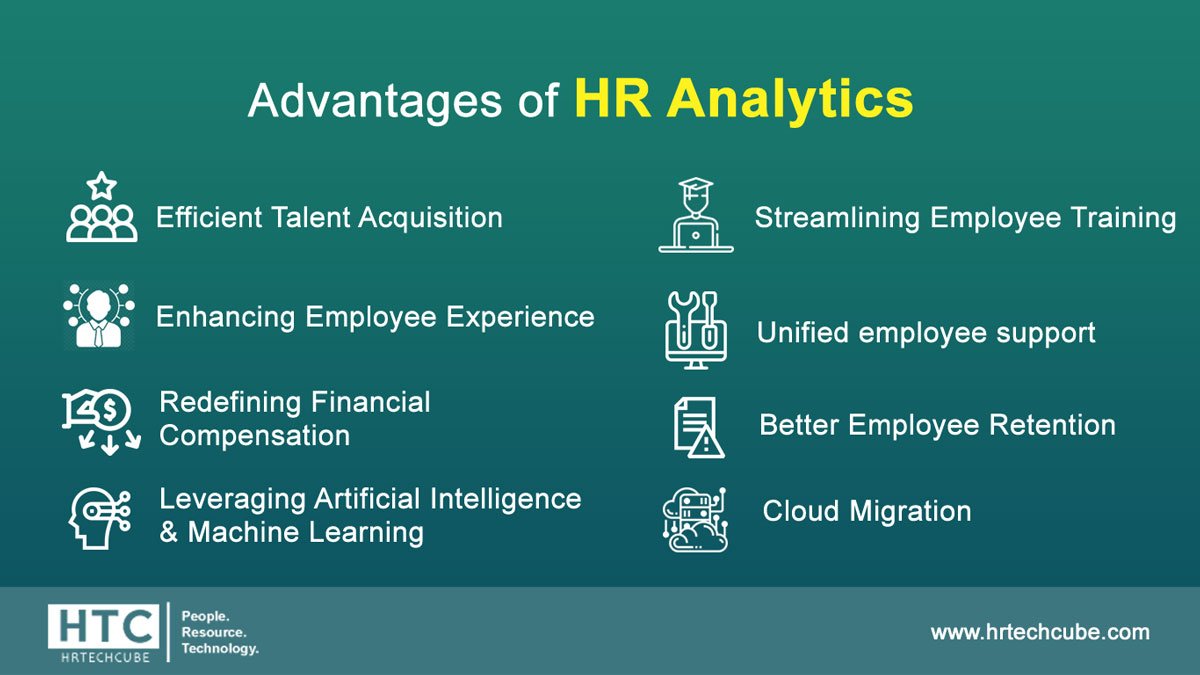 The need for HR Analytics 
As the companies are realizing that the success of an organization is built on the people of the organization, HR analytics is moving from being an operational partner to a more strategic centre of excellence. A recent study shows that HR analytics can help you boost your business efficiency by over 30%.
Presently, the majority of organizations concentrate on reporting employee data, so the question arises, why is there a need for a specialized form of analytics? Can't HR simply look at the data they already have to get insights?
Unfortunately, the data that is gathered is considered as raw data and raw data can't actually provide useful insights. Looking at the data collected by organizations would be like looking at a large spreadsheet full of words and numbers. As Carly Fiorina stated, "The goal is to turn data into information and information into insight."
Once organized, compared and analyzed, this raw data can provide useful insights and answer various questions such as How much investment is needed to get employees up to full productive potential? Are learning & development initiatives having any impact on the performance of employees?
Having data-backed insights helps organizations in focusing on making the necessary improvements and plan for future initiatives.
With the ability to answer significant organizational questions without any guesswork, it is not surprising that many businesses that are opting for HR analytics are attributing performance improvement to HR initiatives.
Impact of HR Analytics
The new era of technology has arrived and HR professionals will have to efficiently use data to stay up to the requirements of the new market. Analyzing data and drawing valuable insights from them has become a significant part of today's business as well as HR strategies.
Impact of HR analytics on performance
Many companies measure the success of HR activities on the basis of the overall performance of the employees. Tracking metrics can be helpful in giving valuable insights into how well a particular process is performing. Other similar metrics can be helpful in determining various other factors such as hiring effectiveness, offer acceptance rate, employee satisfaction rate, etc.
Using data and analytics to determine how your processes and workforce is performing will allow you to deploy your resources more wisely and concentrate on areas that will have the greatest overall impact.
Impact of HR analytics on the recruitment process
Filling up the vacant position is often a costly process for an organization in terms of time as well as money. In such cases, data can be an effective tool for HR professionals by helping them to find a suitable candidate as per the position criteria, who is a perfect fit for the particular position and company culture too.
Employee satisfaction, exit interviews, team assessments, quarterly/annual reviews, etc. are gathered and offer valuable insights. Moreover, data collected during the recruitment process can help HR professionals in drawing better employee benefits packages, offers, etc.
Leveraging the data can help in prioritizing the hiring, making recruitment easier, saving time and money for the employer.
Impact of HR analytics on employee experience
Duty on an HR manager also monitors employee experience and takes steps towards maintaining it, because happy employees are more engaged and productive. By monitoring metrics such as employee productivity, attendance and employee engagement, HR professionals can gain a better understanding about the overall employee experience. This can help HR professionals in understanding areas where a company can excel and places where they should improve.
Case study:
On March 13, 2015, The Wall Street Journal in the United States published an article with the title "The Algorithm That Tells the Boss Who Might Quit". This article showcased how Credit Suisse was able to predict who might quit the job and why? This helped HR managers in resolving the issues and retain most of the employees. This was among the first examples of much popular employee churn analytics. This program helped Credit Suisse in saving approximately $70,000,000 in a year.
THE REDEFINE PHASE: How HR Analytics is actually redefining Hrtech?
Introduction of HR analytics is completely redefining the ways in which HR technology functions. Let us have a look at how HR Analytics is redefining HRTech.
Better candidate tracking
Reduced paperwork of HR professionals
More specific recruitment process
Better insights, prediction and optimization of a candidate
Strategic performance tracking
Detailed analysis of employee engagement, productivity and satisfaction
Implementation module: A beginner's Perspective
It is quite difficult to start HR analytics within an organization, mainly when an organization is not used such platforms and thinking in HR. It is important to follow the step-by-step approach when you start.
Step 1: Define the organizational questions you want to solve
Define factors or issues you would like to improve with the help of HR analytics.
Step 2: Recognize the data that answers your organizational questions
Once you have defined issues or factors you plan to improve, start recognizing data needed to solve and answer them.
Step 3: Implement extraction, transformation and loading
To efficiently implement HR analytics, it is important for the HR department and IT department to work very closely, and extraction, transformation and loading are the part of this process.
Step 4: Include findings to business operations
Once your HR analytics starts providing insights, it is important to start implementing the changes and get results.
Step 5: Perform regular analysis
Implementing HR analytics irregularly might not help in providing consistent results. So, in order to gain maximum benefit, it is essential to implement it on a regular schedule.
Top HR Analytics Softwares 
After learning so much about HR analytics, if you are still on the article means you are either planning to incorporate it in your organization, or you are here to gather knowledge and in both the cases you might be willing to know the best HR analytics platforms available in the market.
ADP Workforce Now
ADP Workforce Now is a user-friendly Human Capital Management solution for companies with over 50 employees. It equips you with the tools not only to track HR information but also to manage your workforce and make data-driven decisions.
Talentsoft
Talentsoft is the leader in Europe in cloud-based Talent Management software. It efficiently helps you in managing recruitment, performance, learning, etc.
Sense
Sense is an all-in-one business communication and engagement solution for modern recruitment firms to accelerate growth. Sense offers automated communication and engagement technology.
Conclusion
Experts predict that trends towards HR analytics will continue to grow with analytics leading the way in talent acquisition, development and operations. As recruitment becomes more competitive in the future, HR professionals will be a part of the core management team. So, employers, stakeholders should start investing in analytics capabilities in advance as a method to make most of the HR capital and employee performance. The innovation of HR analytics is completely redesigning HR Tech as a whole.
Key Takeaways
Integration of technology in one of the most underrated parts of the market in 1990 initiated the beginning of the new era of the HR industry. The rapid evolution of HR tech made business leaders understand the importance of the HR department, but the process of evolution was not yet completed. Later, the birth of HR analytics proved marked the revolutionizing phase in the history of the HR industry. This technology was capable of revolutionizing almost all the functions of HR professionals, making them more efficient and effective. HR analytics is also playing a key role in enhancing the performance of a business, hence increasing their ROI.
Development in HR analytics has not yet exhausted, and more is yet to come. As predicted, we will soon see HR analytics taking the center stage in major functions of the HR department as well as the business.
---

ABOUT THE AUTHOR
Aashish Yadav
Content Writer, Martech Cube
Aashish is currently a Content writer at Martech Cube. He is an enthusiastic and avid writer. His key region of interests include covering different aspects of technology and mixing them up with layman ideologies to pan out an interesting take. His main area of interests range from medical journals to marketing arena.