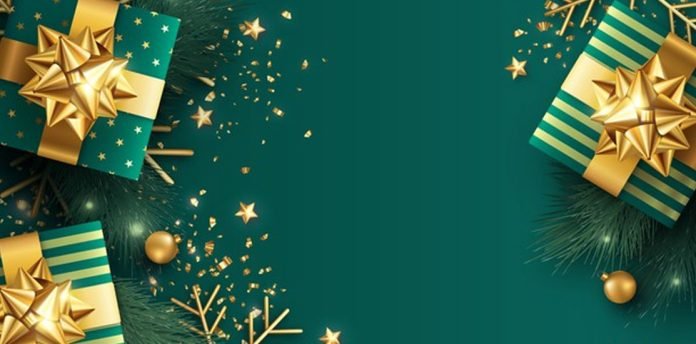 Santa Claus is coming around with gifts for your employees, yay! This Christmas choose the best gifts for your employees from a variety of strategic variants.
Christmas 2020 feels a little less Christmasy, that's for sure! But, the Christmas vibe is still around. All you need is a Christmas tree, ornaments and decorations, and of course, Christmas gifts. There's something about gifts that make people feel a sense of belongingness and pure joy (especially if you gift them what they want).
Even though the celebrations will be on the down-low this year, sharing the happiness and bliss of the most awaited time of year is on a high rise. And we are not talking just about our personal families, all of this stands equally true for our professional families as well.
Our employees, colleagues, and even extended workforce, are all a big part of the Christmas celebration, and will always be. But given the circumstances of this year, choosing a gift for the employees for Christmas can be quite a task. A ton of things are restricted, while another huge portion of things is unwanted, leaving employers in a soup with the predicament of buying a meaningful yet useful gift for their employees. Not only is the gift a way of showing gratitude, but also appreciation for all that they have done and continue to do for the organization. So, choosing the right gift is highly essential and a top priority at the moment, with us already having entered December.
Let us look at some of the gift options that organizations can choose from, for gifting their employees.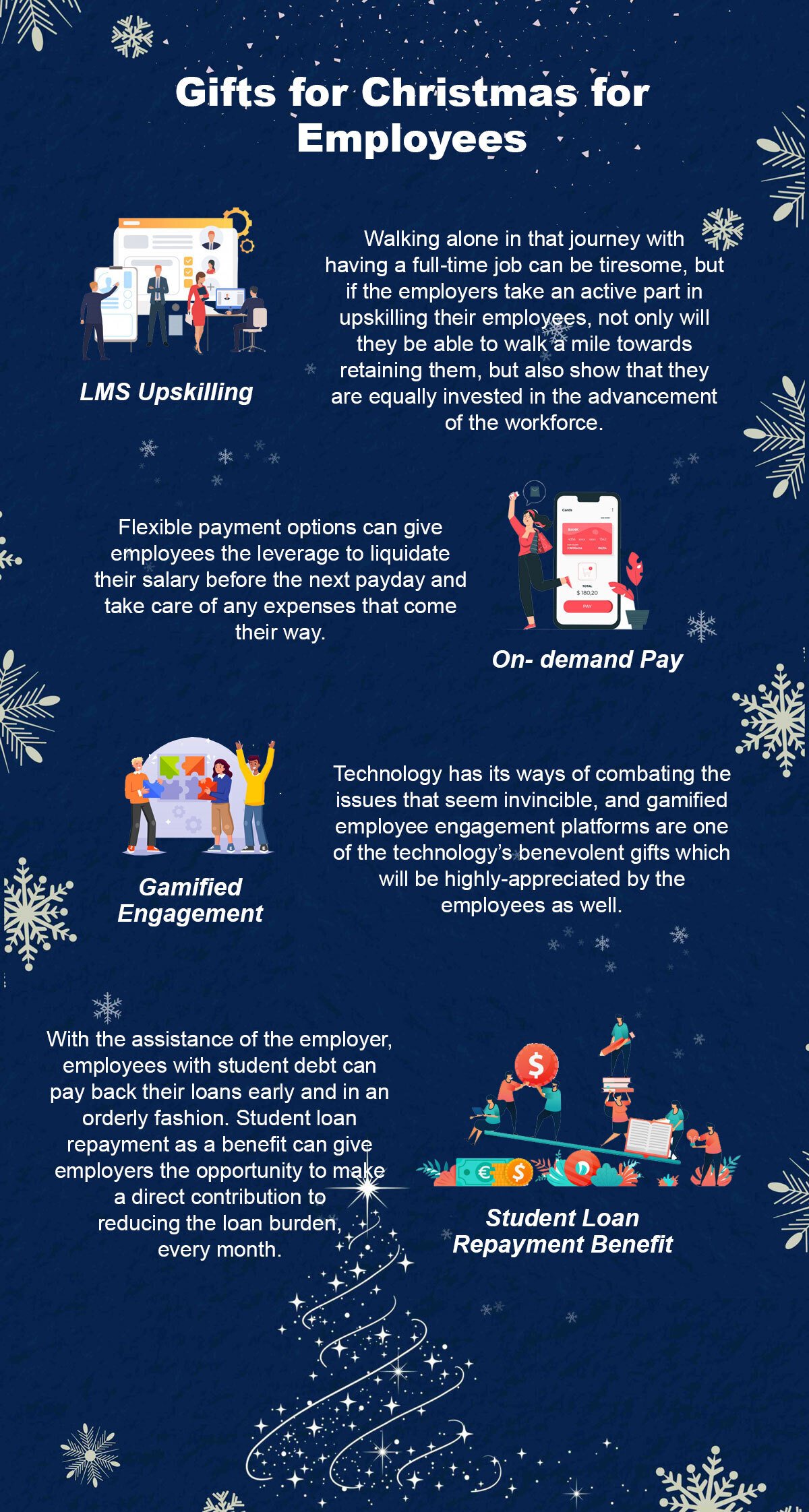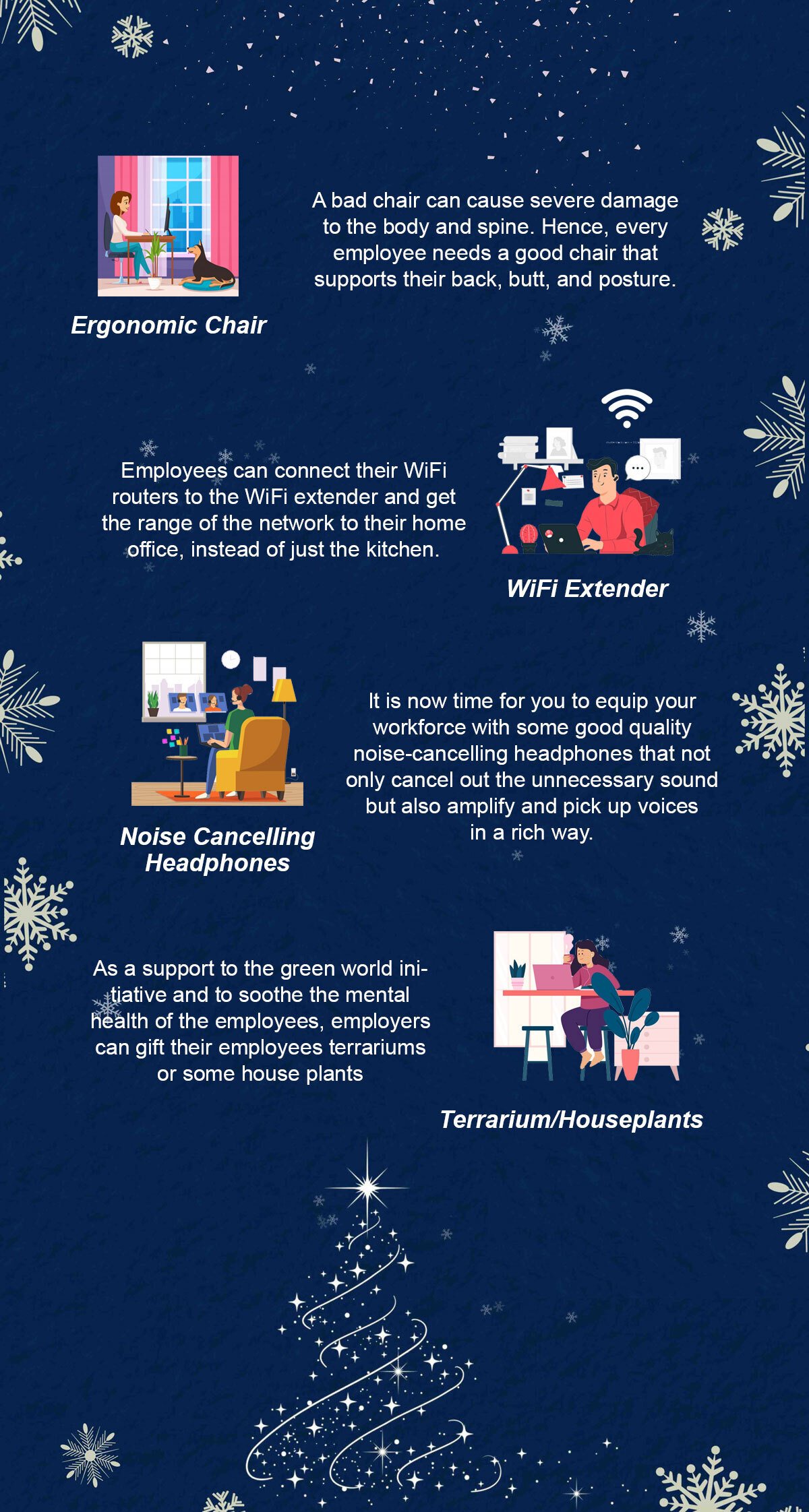 1) LMS for Upskilling
Playing a role in the growth and advancement of your employees is one of the best ways to build and sustain a long-lasting relationship with them. Every person has some goals and aspirations, but knowledge stagnancy can be a huge roadblock in achieving those goals and fulfilling the aspirations. Walking alone in that journey with having a full-time job can be tiresome, but if the employers take an active part in upskilling their employees, not only will they be able to walk a mile towards retaining them, but also show that they are equally invested in the advancement of the workforce. One of the one-stop-shops for e-learning management that offers a variety of content and resources for better exposure, is Skillsoft. Skillsoft is a cutting-edge e-learning management platform that offers a rich source of content libraries aimed at developing the skills and performance of the employees.
2) On-demand Pay
Christmas comes at the end of the month, but the shopping starts early. By the time your employees are done buying all the Christmas essentials, they'd probably have run out of their salaries and the next payday won't be until at least a week or two. It's not just Christmas though, a majority of employees don't have enough money left after they are done paying all the bills and coping with any sudden payments by the month end.This calls for a solution that can address these issues regarding cash-flows and payment source repairs. The solution is on-demand payments. Flexible payment options can give employees the leverage to liquidate their salary before the next payday and take care of any expenses that come their way. Lifting the spirits and attitudes of the workforce is smoothened with the access to on-demand payments. ADP Marketplace has a solution called DailyPay, which allows employers to offer instant access to earned income to the employees, while reducing the turnover rates significantly, with on-demand payment solutions.
3) Gamified Engagement
The rollercoaster of emotions with an added flavor of the pandemic has led to disengagement for a lot of employees this year.
Not only is there a spike in the burnout and stress levels, but there is also an additional factor of ennui, making employee engagement a far-fetched target. But technology has its ways of combating the issues that seem invincible,
and gamified employee engagement platforms are one of the technology's benevolent gifts which will be highly-appreciated by the employees as well. With gamification incorporated in the engagement activities, employees can now achieve work satisfaction by playing games. Eloops offers HRs a platform to deliver engagement by selecting from a range of fun, pre-made content for games including virtual activities, quizzes, polls, and challenges for the employees. It's all in one marketplace and doesn't fail to engage the workforce with highly interactive games and activities.
4) Student Loan Repayment Benefit
Having the sword of debt hanging over your head at all times can instill a feeling of anxiety and burden. With the younger generations comprising a major portion of the workforce, the face of the benefits landscape needs to undergo a shift. Student loan repayment is a crisis in itself, and the emergence of the virus was not very generous or considerate towards the monetary issues and the economy as a whole. According to Forbes, the student loan debt in 2020 in the United States stands at $1.56 trillion. Repaying this debt will take a lot of time and monetary administration when done solo. But with the assistance of the employer, employees with student debt can pay back their loans early and in an orderly fashion. Student loan repayment as a benefit can give employers the opportunity to make a direct contribution to reducing the loan burden, every month. BenefitEd, the platform for employer assisted student loan repayment, gives employers the option to make regular payments to the student loans and the flexibility of choosing the amount of contribution, making it a win-win for both the parties involved.
5) Home Office Setup
Many companies are now changing their policies and making a permanent shift to letting their employees work from home or at least a hybrid working model. Having said that, a lot of those organizations still haven't made a home office setup available to their employees. A workstation with a dedicated office space comprising all the essentials needed to work efficiently from home. Let us look at some of the top essential accessories that would make great Christmas gifts for employees.
a) Ergonomic Chair
Currently, a number of employees are working from their living room/bedroom and sitting on dining chairs or sofas for a prolonged period of time. This is leading an increase in the number of people facing back-related issues and injuries. A bad chair can cause severe damage to the body and spine. Hence, every employee needs a good chair that supports their back, butt, and posture. Ergonomic office chairs with adjustable heights, sturdy support, and flexible armrest height are great for a home office. Not only do they provide comfort, but also the utility of long hours of productivity without lacking lumbar support for the lower back. You can browse through Amazon for a variety of different office chairs.
b) WiFi Extender
Running around the house to find the perfect spot that gets the highest range of WiFi is the story of our 'new normal lives'. Not getting adequate signal from the WiFi is pretty annoying especially when there are a number of meetings lined up. You wouldn't want your employees to stand near their kitchen sink to get enough WiFi signal to get them through their work day, making a WiFi extender one of the perfect gifts for Christmas 2020. This home office accessory can expand the range of your wireless network with the addition of just a tiny product. Employees can connect their WiFi routers to the WiFi extender and get the range of the network to their home office, instead of just the kitchen.
c) Noise Cancelling Headphones
Having the noise of your kids fighting or the sound of your dog barking, while you are on a Zoom call can be quite a disturbance, not just for the team, but for the employee as well. They are often seen embarrassed about the noise. It is now time for you to equip your workforce with some good quality noise-cancelling headphones that not only cancel out the unnecessary sound but also amplify and pick up voices in a rich way. Now your employees won't have to listen to the background noise of their colleagues and won't even have to be embarrassed about their own. They are a great add-on to the home office setup and make the overall experience even more streamlined.
d) Terrarium/Houseplant 
As a support to the green world initiative and to soothe the mental health of the employees, employers can gift their employees terrariums or some house plants. This will also instill a sense of calmness amidst the WFH chaos and restrictions on going out.
While the Christmas month is still here, get your employees gifts that actually make sense to them as well as leave an impact on their day-to-day working lives. Utilize these festive days by showing that you care and build a meaningful bond with your workforce that is nurtured over the time and lasts. 
For more such Updates Log on to www.hrtechcube.com
---
ABOUT THE AUTHOR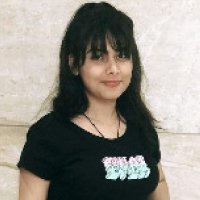 Tanvi Tirthani
Content Contributor, HRTech Cube
Tanvi Tirthani is a content writer and strategist with a special foray into technology. She has been a keen researcher in the tech domain and is responsible for strategizing the social media scripts to optimize the collateral creation process.