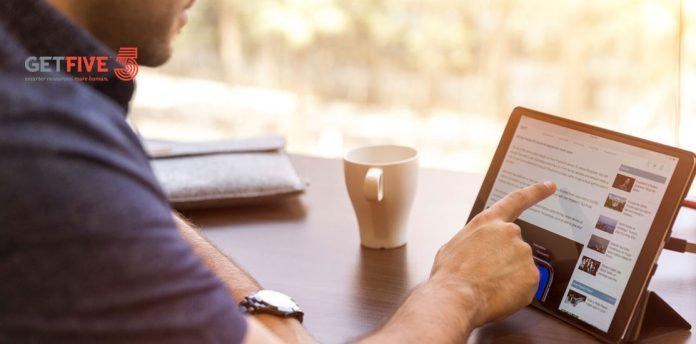 GetFive, a leading provider of modern outplacement and career development solutions, named its 2020 HR Hero Award Recipients today. The annual award, now in its 14th year, recognizes HR professionals for their outsized contributions to their organizations and communities.
The four award recipients were selected from a long list of impressive nominations submitted by their industry peers:
Laura Butler, SVP, People & Culture, Workfront
Elevating The Strategic Role Of HR
By reshaping the culture at Workfront, Laura Butler was able to strategically change the entire organization from the inside out. To do this, Laura worked to instill Workfront with her motivation of human potential and her personal slogan "people have limitless boundaries".
In her experience, highlighting someone's potential is more valuable and worthwhile than the temptation to focus on the things that are missing. This complete mindset change by leadership was instrumental in driving the results that helped Workfront earn a literal A+ rating from Comparably, a company whose mission to make workplaces more transparent & rewarding hrtech news. Workfront continues to boast high employee engagement scores and to increase diversity, as a metric, for both hiring and retaining talent. Workfront was also named as a Best Place to Work, which in a state with less than 2% unemployment is certainly something to brag about!
According to Laura, she is fortunate to have a CEO that is 100% behind her. In fact, her "culture first" perspective was a primary reason for bringing Laura on board in the first place. "He [the CEO] was willing to make an investment in that," she says. Strategic HR can mean different things in different situations and Laura's prescription was exactly what Workfront required at this time.
Su Murthy, VP, HR & Talent Acquisition, Egnyte
Compassion In Employee Relations
Before Su Murthy joined Egnyte, the company was considered a "challenging place to work with a lot of attrition." But now, thanks to Su's commitment to Employee Relations, Egnyte boasts a culture of compassion and trust. Su has a well-deserved reputation of going above and beyond for her employees. Most consider her the "heart of Egnyte". This can be seen, literally, as she decided to move her office away from the rest of leadership and the CEO and park herself directly in the middle of Egnyte's SoCal office. By doing so she made a physical statement to make herself more accessible.
This seemingly small move had a huge impact on Engyte's office culture. Now, "employees feel comfortable meandering into her office" through her routinely open door. What is even more amazing is that Su has been able to transfer this "open-door policy" to her distributed workforce as well.
Su acts as a positive role model and takes a personal interest in all of her employees. Most importantly she values one's ability to keep learning and has helped many with continuing education. Su was nominated by several colleagues in multiple departments who all echo her compassionate and trustworthy demeanor. Her style can not only be seen through the HR department she built, but it has filtered throughout the entire organization.
Tabitha Britt, VP, HR, AdColony
Compassion In Employee Relations
Before Tabitha Britt came to AdColony the company suffered, according to some, from an "HR Leadership that ruled through fear." But no longer! Due to her commitment to Employee Relations, Tab was able to turn a culture of fear into a "super healthy team culture" where employee retention is at an all-time high.
When Tab became the Head of HR, she became an integral part of the executive team. Now, HR is considered a healthy function at AdColony due to open communication, respect, trust, and compassionate leadership. According to employees, the HR mindset "has changed 180 degrees." Tab is always asking for feedback and opinions; "nothing is ever forced". As a result of the changes she has led, employees can now take advantage of certain benefits, like unlimited vacation, that previously resulted in adverse repercussions.
Leading by example, Tab can be found handpicking individuals for high-level projects to learn and develop their careers. Tab also always knows the best policies with terminations, how AdColony can make exceptions that are fair, and just how to address almost every type of issue so all employees and candidates are being treated fairly and consistently. Her fans unanimously state that she is, "consistently 3 steps ahead!"
Lastly, Tab tells all of her employees, "I know you're not going to be here at our company forever, but I want to set you up to have all sorts of skill sets that will help you immensely in future roles.
Janet Riesel, President, Board of Directors, NYC SHRM
Outstanding Volunteering
As NYC SHRM's president, Janet Riesel is the leader of an HR professional organization which is managed by dedicated volunteers in various capacities including the executive committee and board membership. Janet facilitates NYC SHRM's executive committee and monthly board meetings, always encouraging and respecting everyone's voice on meeting agenda items and ultimately the organization's shared goals. Being president of NYC SHRM is a full-time job, and Janet does this on a volunteer basis with an amazing sense of humor and contagious smile every day.
Volunteerism is important to Janet on a personal level, but she also knows it is essential to the success of our HR Community. She is actively involved in and supports the efforts of all volunteer chairs/co-chairs of NYC SHRM's committees and special interest groups by attending their seminars and networking events. She encourages volunteerism at every event with her famous lines, "I Voluntold Them" or "Just Say Yes!" She somehow manages to get support every time! Her motto is: "Attend as a guest, leave as a member, attend as a member, leave as a volunteer! You'll be glad you did!"
Not only is Janet a dedicated volunteer, she also boasts an outstanding record. Since she became President in 2018, NYC SHRM has seen its membership grow by 8% and increased its sponsored revenue by 63% and its net revenue by 25%!
ABOUT GETFIVE
GetFive is a leading provider of scalable solutions in Modern Outplacement (moving on) and Career Development (moving up). Our outplacement solution is built specifically to reduce the reputational risk associated with managing the ups and downs of the business cycle. If you can protect your Glassdoor rating, while preserving the freedom to manage your bottom line, you are way ahead of the game. Similarly, our career development solution helps you tap into the real potential of your workforce with a flexible, method-based approach that creates a greater level of commitment and motivation. Invest in the success of your employees and watch your employer brand thrive! Learn more at getfive.com.