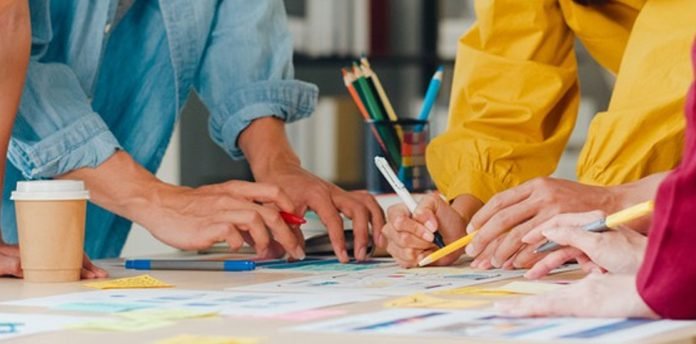 As the end of the year nears, the beginning of a new year also comes closer. New Year brings with it the responsibility to evaluate the success and failures of the year before and implementation of strategies that have driven the achievement of the goals. One quintessential target of organizations is to develop a noteworthy culture and organizational structure that is amicable to the present and the future employees. As the industry grows, the cruciality to retain the best talent and attract the most valuable from the talent pool, increases. Now, not only does this make dynamicity of the processes an integral factor that needs to be acted on, but also makes the adoption of preferential components indispensable.
Even though the concept of flex work gained enormous popularity only in the last decade, it is now one of the biggest trends and core values of a number of organizations.
The pandemic sure did play a key role in making this happen, but flex work has been in existence for quite some time, only the hesitancy has overcome now.
The perks that come with flex work are making employees give organizations that offer work, a preference over organizations that do not.
But why is it so? What is it about flex work that makes employees gravitate towards it?
To know that, we will first need to understand the core concept of flex work.
Let's start with what is flex work?
Flex work or flexible work is a working environment that gives employees the freedom to design and adopt a model of work setup as per their choices and commitments. There are different types of flex work facets that can be offered by companies. They get to choose what works best for everyone. There can be a single model or a mix and match of different variations, depending on the flexibility and capacity of the organization.
Who is doing what?
One of the most popular flex work programs is Amazon Flex.
What is Amazon Flex?
Well, Amazon Flex is nothing but a program designed by Amazon that allows onboarding of independent contractors aka delivery partners that get to deliver the items sold by Amazon to its customers as per their availability and preference of the time. They get to design their own schedule and get paid on an hourly basis. Independent deliverers get to make use of their free time or build a schedule that makes this program a full-time job, subject to availability of delivery blocks.
Why all the rave about it?
Programs like these, give daily wage workers an option to get an additional supplemental income without having to commit and dedicate themselves entirely to one project or job.
Other organizations adopting flex work –
LinkedIn Corp. and its parent company Microsoft Corp. have embraced remote work as a part of their flex work policy that includes guidance to the employees on aspects such as expenses, personal taxes, local laws, and salary and benefits.
Another top-notch firm that is planning on offering flex work options to more than 90% of its staff of 85,000 employees over the period of three years is Standard Chartered. Around early 2021, half of the4 bank's staff will be able to apply for some form of hybrid work model, as it prepares itself to offer a 'near-home' workspace to its staff.
Deloitte has always been in favor of flex work since decades now. The company has been looking at it as a talent retention catalyst for quite a while. Formal and informal flex works with adjustments to the work schedules and synchronization with the team, clients, and family, are a 'thing' at Deloitte. The firm also looks at the environmental benefit that comes with flex work as a key factor. The reduction in commute contributes to reducing the pollution and wear and tear of the roads while also reducing the organization's carbon footprint.
So why should employee flex work be a major topic of discussion between organizations and their management?
Flex work is not just remote work or work from home. Though these models are a part of it, they are not all of it.
There are a variety of facets that make up flex work an operational model.
Doing justice to the whole meaning of the word 'flexibility', the models should not be limited to the place of working. Organizations giving employees the freedom to work from anywhere can also consider giving them the freedom of time.
This means giving employees the flexibility to architect a schedule that works best for them. Employers can have a block time – indicating the time where the whole team should be available and the rest of it can be left up to the employees to choose a timeframe and work to finish up the specified hours of work.
Example – Block time – 1 PM to 5 PM
Employee A chooses to work a shift of 9 AM to 5 PM
Employee B chooses to work a shift of 1 PM to 9 PM
Both of them complete the number of allotted working hours but get to choose their shift timings.
Companies can also let employees work in a compressed week to get an additional paid day off, without compromising on the number of working hours.
For example – If employees wish to work for 4 days in a week, they can choose to spread the aggregated hours over 4 days as per their wish and take the 5th day off.
Another facet of flex work that is highly in demand is flexibility to choose the work on project to project basis – freelance. Though extended workers are not on the payroll of the company, they get to choose the projects that they want to work on and the projects that they do not.
Newer models of employee flex work are emerging as companies are disowning outmoded policies and rules of work. There are also organizations that are shifting their focus to the work done from the number of hours put in.
A blend of the most efficient and contributing elements of a traditional office space blended with newer elements of tech benefits facilitating freedom and customization is what the employee flex work all about. Normalizing comfort and commitment delivered in the same box is extremely crucial for 2021 and beyond. After all, flex work IS the biggest flex!
For more such Updates Log on to www.hrtechcube.com
---
ABOUT THE AUTHOR
Chandrima Samanta
Content-Editor at HrTech Cube
Chandrima is a Content management executive with a flair for creating high quality content irrespective of genre. She believes in crafting stories irrespective of genre and bringing them to a creative form. Prior to working for MartechCube she was a Business Analyst with Capgemini.