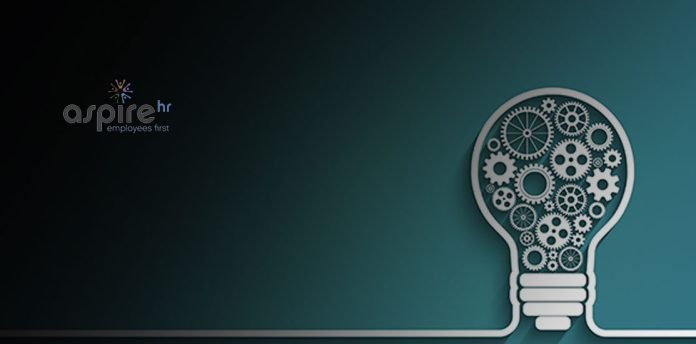 AspireHR, an award-winning leader in Human Experience Management (HXM) technology and business solutions across North America, has launched its new branding, logo, and tagline today.  The first phase of their 2020 marketing strategy reflects AspireHR's commitment to becoming a market leader for the Human Resources (HR) industry while partnering with SAP and SuccessFactors, creating best-in-class employee experience.  With more than 300 successful client implementations over the past 21 years, AspireHR continues to build on its strong reputation for the caliber of its team, efficient solution delivery, innovative products and a customer success rate that is second to none hrtech news.
Kevin Chase, newly named CEO and President of AspireHR, is leading the company's growth expansion strategy, including their comprehensive marketing and rebranding campaign.  In collaboration with AspireHR's Board of Directors, Kevin and his leadership team carefully chose the tagline "employees first" to reflect the most important focus among their core values hr analytics.
Mr. Chase noted, "AspireHR is in the business of delivering world class technology and business solutions, but it's our people and their innovative spirit that really sets us apart.  We are committed to putting our employees first in every way, passionate in supporting a purpose-driven culture that is inclusive, inspiring, innovative, optimistic and empowering, where our team's diverse talents can shine for maximum client impact.  In fact, it's our clients who realize the greatest benefit from our employees first paradigm, gaining strategic competitive advantage in attracting, retaining, and optimizing their own organizations to sustain high performance."
Melissa Hillesheim, Co-Founder and Executive Chairman of AspireHR commented, "The new symbol in our logo is an important reflection of the diversity and inclusion AspireHR has embraced from the very beginning, 21 years ago.  As a woman owned business, it's important to me that our updated brand identity and marketing initiatives effectively represent our core values. I couldn't be more proud of our AspireHR team."
Beyondigital, a creative services agency in Dallas, Texas, was selected to support AspireHR's new marketing and branding initiative, including AspireHR's new website design being unveiled next month as well as increased digital marketing throughout the upcoming year in support of the company's planned growth.
Eric Johnson, CEO and President of Beyondigital adds, "I love the thoughtfulness and intentionality behind every aspect of AspireHR's new logo design.  In addition to its focus on the future with a uniquely symmetrical and clean design, it is important to highlight AspireHR's five pillars of capability, represented by the new logo's distinct color palette:  1) Solution Delivery, 2) Technology and Business Operations Management, 3) New Innovative Products, 4) Strategic Advisory Services, and 5) One Team of High Performing People, purpose-driven for client success."