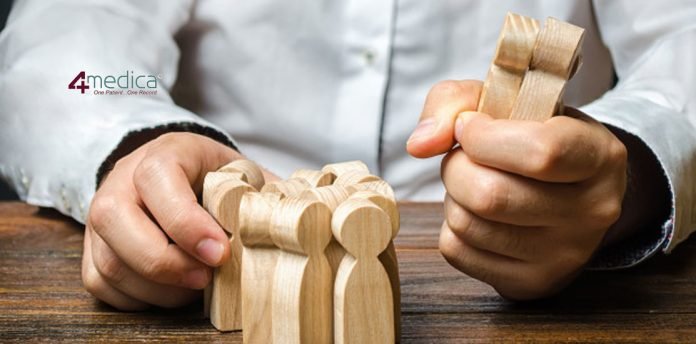 4medica® announced today the launch of its 4medica COVID-19 Employee Wellness Management™ suite of COVID-19 apps. The solution helps companies transition employees back to work safely with regular wellness screenings, temperature readings and integrated lab testing results while remaining in compliance with OSHA and CDC COVID-19 safety and tracker protocols. 4medica, a 22-year hospital, lab and physician connectivity pioneer, goes a step further uniquely offering online access to its nationwide network of laboratories for testing.
Now through October 31, 4medica is offering 30-day complimentary use of the solution to organizations and businesses.
Built on the Google Cloud Platform which is HITRUST Certified and HIPAA compliant, the 4medica COVID-19 Employee Wellness Management solution helps employers manage the flow of data and communications by securing and automating processes that have traditionally been handled through spreadsheets or even pen and paper. Additionally, the solution empowers employers to effectively manage legal exposure when workers are categorized at risk or positive.
According to Gregg Church, 4medica President, "Businesses are navigating the pandemic and its aftermath. Achieving sustainable productivity and worker confidence will depend on how companies prioritize the health, safety and wellbeing of their employees on-site. HR and other company leaders must rethink new tools to accelerate re-entry and enable long-term success, agility and flexibility for the new normal."
Professional Health Services, Inc. (PHS Mobile Solutions), in Havertown, Pennsylvania, is partnering with 4medica to enhance its screening, testing and monitoring process at the job sites of its customers comprising multiple industries, federal and state agencies, and municipalities.
"Maintaining productivity during the pandemic requires a safe work environment where employees feel comfortable returning to work, and employers can monitor and mitigate risks to support the ongoing prevention of COVID-19," said Michael Kleinman, President, Professional Health Services, Inc. "We're excited to offer 4medica's regulatory compliant, comprehensive program to our customers that provides protection for workers on-site while eliminating the high costs of tests and results turnaround time. The solution collects and calculates personal health data to inform company decisions on whether to shut down, scale back or stay open based on the employee population's exposure risk."
"Our apps will help PHS and their clients identify infected persons and take appropriate actions to help them, while containing and preventing the spread of COVID-19 among other employees and, importantly, their families when they return home," said Church.
The suite of apps consists of an employee app that incorporates a wellness questionnaire, temperature readings, online screenings and instant lab test results through connectivity to 4medica's diagnostic labs network. These functions work together to calculate a COVID-19 health risk score to validate a person's health status daily or frequently as pre-determined by the employer. The solution serves as a regular checkpoint for both employers and employees to privately interact on past and current COVID-19 test results and general health status to support ongoing prevention.
Additionally, an employer administrator app features a robust clinical dashboard with real-time analytics and reports for compliance transparency purposes via snapshots of employees testing positive, negative or inconclusive. Workers are categorized by health risk to monitor COVID-19 cases and to direct tracking, treatment and information efforts. In a recent survey conducted by McKinsey & Company, executives at top U.S. companies expected 88 percent of their workforces, on average, to be back on-site by December 2020.
As employers start to add testing as a requirement to return to work, they can leverage 4medica's established partnerships with hospital-based and national commercial laboratories to redirect testing volume based on capabilities and capacity.
"4medica offers a vast network of diagnostic labs and their testing locations along with direct access to pre-arranged lab testing locations," said Church. "And, since we've handled patient lab data securely and reliably for over two decades, employers can be assured that we're seriously committed to ensuring safety and compliance through reasonable measures to protect health data against loss, theft, misuse and unauthorized access."
For more such Updates Log on to www.hrtechcube.com