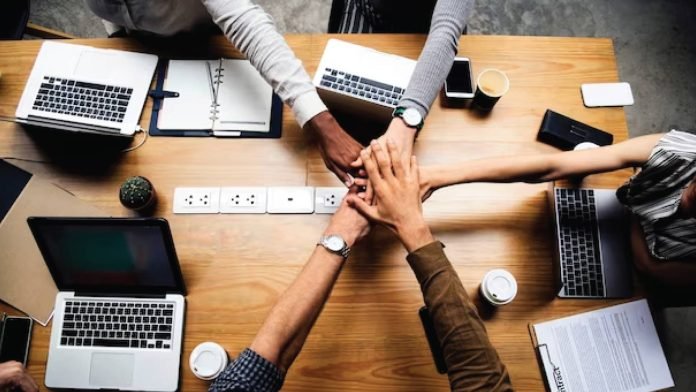 Yourco, the pioneering SMS-based platform designed to bridge the communication gap between non-desk employees—those who work in the field, on the plant floor, or frontlines rather than behind a desk to do their job— and the front office, successfully raised $2 million in a seed funding round. Indianapolis-based Ground Game Ventures led the round with additional support from Allos Ventures, Start Something Ventures, Elevate Ventures and Flywheel Fund. The investment will accelerate the company's mission to empower the 2.7 billion employees working outside an office setting with effective workplace communication and automation tools.
Non-desk employees are the backbone of the global economy, making up 80% of employees worldwide. Yet, these professionals often do not have the consistent, clear and accessible communication channels vital for long-term success. A staggering 55% of these employees engagement with internal communications fewer than once a month, leaving many invaluable workers disengaged and dissatisfied.
Yourco co-founders Brodie and Benjamin Meyer have witnessed firsthand the disproportionate communications between the front office and the frontline. The brothers founded the business out of a need for stronger employee communications and automation tools to improve businesses' bottom lines. By offering a tiered pricing structure, including a newly introduced free plan, Yourco caters to businesses of all sizes. The platform is used by companies like Clyde's Donuts, ThreeBond, and the Indianapolis Airport Authority.
"We initially built Yourco as a communication solution for my Grandparent's family print shop," said Brodie Meyer, co-founder and CEO of Yourco. "As we acquired additional customers, we quickly realized Yourco was having a transformative impact on SMB, midmarket, and enterprise businesses alike. This funding round will allow us to accelerate our growth and product development so that we can continue to transform the way businesses engage with their non-desk employees."
Since its inception in 2021, Yourco has seen rapid growth with a 2,668% increase in monthly recurring revenue, and hundreds of customers in fields like manufacturing, construction, transportation and agriculture. By addressing employees who often lack access to computers, company emails or internet connectivity, Yourco's innovative solution eliminates the barriers associated with traditional communication and automation tools, such as downloads, passwords, internet access and data plans.
"Yourco has helped to change the way we communicate at McCarthy Auto Group," said Felisha Parker, VP of HR at McCarthy Auto Group. "We have nearly 700 employees, and 80% are non-desk based; communication is a challenge. Yourco provides a quick and easy way to reach everyone within our organization and a secure way for employees to reach HR and leadership without a computer."
Yourco's groundbreaking technology streamlines internal communication and enhances employee engagement, information dissemination and overall workplace efficiency. Additionally, the platform reduces legal risk in businesses by helping them keep personal cell phone numbers private and automatically documenting all employee communications for future reference.
The communication and automation platform is already turning heads. Earlier this year, Yourco was selected as one of five finalists in the Future of Work category for the 15th annual SXSW Pitch (formerly SXSW Accelerator).
Aman Brar, founding partner of Ground Game Ventures, who is also joining Yourco's board, expressed enthusiasm for the company's potential.
"We believe Yourco is the solution deskless workers and front offices need," Brar said. "Yourco is poised to revolutionize everyday industries that have long been overlooked. The platform's potent combination of communication and automation tools is well on the way to becoming the de facto operating system for blue collar workers and front offices. We look forward to Yourco's accelerated impact on SMB, midmarket and enterprise businesses and their valued employees."
Explore HRtech News for the latest Tech Trends in Human Resources Technology.