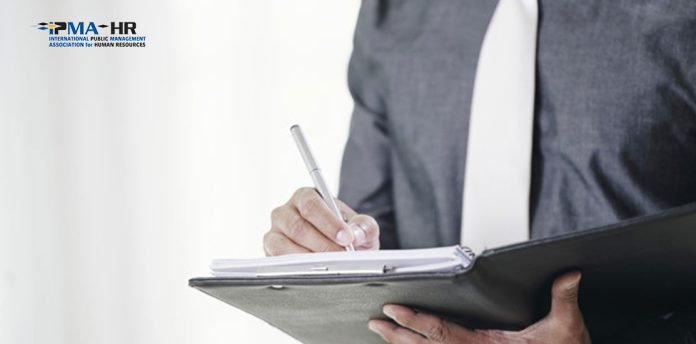 The first virtual Annual Conference of the International Public Management Association for Human Resources (IPMA-HR) attracted more than 880 attendees, setting a record as the largest event in over a decade.
HR 2020: Building A New Vision Together, held October 21-22, delivered inspiring keynotes, hot-topic panel discussions, and networking opportunities to public sector HR professionals from across the country. Dr. Kevin Snyder kicked off the event with his energetic and engaging opening keynote, reminding the audience that adversity does not define us, but reveals opportunities to grow. With an uplifting and empowering call to revisit goals and reinvent ourselves after redefining events like the COVID-19 pandemic and social justice movements of 2020, Dr. Shirley Davis's closing keynote reminded us that sometimes we all need to "step back, reflect, and pivot."
Between these keynotes, attendees learned how to help their organizations address challenges created by the COVID-19 crisis, how to identify and avoid compassion fatigue as HR professionals, and how they can play a crucial part in creating diversity and equality in their workplace. These key discussions will help attendees navigate the challenges of HR in their organizations over the coming year.
"This was a new direction for IPMA-HR and we did not know what to expect from our first large-scale virtual event. Our program committee, staff team, sponsors and attendees took the leap with us and we had a high energy, educational and timely conference, successful due to each one of them and their engagement in planning and participating." – Cheryl Cepelak, IPMA-HR President.
"We are thrilled to be able to pivot to a virtual event and connect with even more public sector HR professionals than before. It was an energizing event!" – Pam Dollard, IPMA-HR President-Elect.
"In such a challenging year, it was wonderful to have the opportunity to welcome our 880 registrants to pause, reflect and engage on important issues that matter to public sector human resources, including responding to the coronavirus pandemic and racial equity in the workplace. I look forward to continuing these conversations in upcoming events and am thrilled that IPMA-HR was able to provide that much needed connection." – Cara Woodson Welch, IPMA-HR Executive Director.
IPMA-HR's 2020 Award Recipients were recognized for their outstanding accomplishments at the Closing Networking Event. IPMA-HR congratulates all 2020 Award Winners.
Highlights from this year's awards include:
Cheryl Cepelak, Deputy Commissioner of the Connecticut State Department of Correction, was recognized for her leadership and achievements as the past IPMA-HR President with the Presidential Award.
Neil Reichenberg, former Executive Director of IPMA-HR, received the Warner W. Stockberger Achievement Award in recognition and honor of the outstanding contributions he has made to the field of public sector personnel management.
City of Rancho Cucamonga (Small Agency), California and Newport News (Medium Agency), Virginia were honored with the Agency Award of Excellence. This award recognizes agency human resource programs that exceed the normal operation of a "good government human resource program."
Altha S. Weaver, Senior Manager, Project Administration for the Maryland Authority, received the IPMA-HR Graduate Fellowship.
Glenn Dobron at Susquehanna University and Brooke Meismer at The University of Texas at Arlington were the 2020 recipients of the IPMA-HR College Scholarship.
Renee Kobza, HR Generalist at North Collier Fire Control & Rescue District in Naples, Florida, received the William F. Danielson Conference Scholarship Award. This award helps an individual IPMA-HR member cover expenses to attend the IPMA-HR Annual Conference.
IPMA-HR's annual conference energy and excitement will carry forward to next year when the 2021 IPMA-HR International Training Conference & Expo will be hosted in Indianapolis, Indiana, September 18-22, 2021.
For more such Updates Log on to www.hrtechcube.com