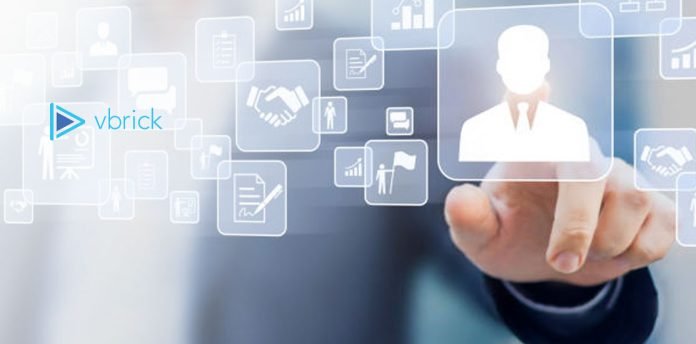 Vbrick, the leader in enterprise video platform solutions, today announced its industry leading platform Rev is now listed in the Zoom App Marketplace. The Zoom App Marketplace is an open and secure platform that allows third-party developers to build and share applications that integrate with Zoom's video-first unified communications platform.
As a result of pre-built integration, Rev can join a scheduled Zoom meeting or Zoom personal room session and extend the Zoom meeting to meet larger audience sizes for large scale enterprise webcasts or town halls. In addition, Rev can also record webcast events and enrich the recorded content with optional transcription, translation and facial recognition and then publish and manage video content using Rev's enterprise video content management capabilities.
"Enterprises have made considerable investments in collaboration solutions and our strategy is to provide frictionless integration with Rev to ensure that every employee in an organization can benefit from the power of video to engage, transform and empower. Our integrations with the Cisco Collaboration Suite, Zoom and Microsoft Teams are a logical step in supporting our customers' needs and ensuring an increased return on those investments," said Shelly Heiden, CEO, Vbrick Systems.
Companies have invested heavily in video conferencing solutions including Cisco Webex, Zoom and Microsoft Teams to enable communication and collaboration across the organization. However, many companies are challenged when using these solutions to deliver large scale virtual events to tens of thousands of geographically-dispersed remote employees. This need has been amplified by the recent shift to remote working in response to Covid-19. Large scale video can be complex and must be delivered with a perfect viewing experience regardless of viewer location, bandwidth or device.
Vbrick's Rev platform seamlessly integrates with these video conferencing solutions to extend them to deliver video at scale to large audiences thereby enabling organizations to leverage existing video conferencing investments. Vbrick introduced prebuilt extensions to Zoom and Microsoft Teams as part of the Rev Platform December 2019 release. These recent integrations build on Vbrick's existing deep collaboration integrations with Webex and the entire Cisco collaboration portfolio.