The work-from- model induced by the COVID-19 lockdown has led to corporate professionals juggling between personal and professional goals with no distinct work segregation. The ability to multi-task and flurry of activities beginning from early morning till late night while working from home has led to an illusion of improved productivity at work. However, it is to be remembered that activity is not equivalent to productivity and the multi-tasking strategy can backfire leading to reduced productivity at work, looming pay-cuts and fostering a sense of job insecurity.
This has underscored the need for accurate and comprehensive mapping of employee productivity in line with business outcomes. With managers being accustomed to seeing employees at workplaces and assessing them at frequent intervals if they are busy enough, work from home creates a sense of uneasiness among them regarding employee productivity.
It is an opportune time to leverage Objectives and Key Results (OKR) philosophy to not only assess productivity but also as an empowering concept to build boundary-less, diverse and inclusive organizations.
The COVID-19 pandemic has invariably given a fillip to outcome-oriented productivity to achieve business goals.
Until now, some multinational firms have deployed HR tools such as timesheets and the number of workhours tools to measure employee performance. However, this is only a quantifiable metric and it judges employees on basis of activity rather than an outcome. COVID-19 has heralded a paradigm shift in the measurement of productivity from activity to an outcome-based approach. This implies that collaboration, communication and teamwork will be more important than ever before that will lead to transparency and agility. With near-term strategy gaining prominence amid economic uncertainty, the onus is on the HR function to spearhead this change.
The HR function will play a prominent role in revamping the system of employee productivity, deploying the right technology mix and instituting rewards and incentives in line with employee contribution to the organization. While this has provided a fillip to the evolution of more sophisticated tools such as attendance management with geofencing, face recognition technology with a chat function and so on. For organizations, it implies that annual performance reviews are being relegated to weekly goals and performance to minimize risks and uncertainties in the near future. The new system is a more precise, transparent, fair and equitable and will motivate employees to constantly raise the bar. The emerging suite of HR technologies can play a pivotal role in ushering this smooth transition to a self-motivated workforce with an ability to take ownership from right from setting of goals, execution to review and course correction.
HR Technology can be a key enabler to creating a team of remote leaders with collaboration, communication and agility as their skill-sets.
Hence COVID-19 has made a beginning to examine productivity from an individual perspective to that of the team, department and organization. This will overhaul the archaic system of appraisals, rewards and bonuses to enable employees to get a due share of their contribution. Hence, judging employees based on the presence by the number of hours in the office, their ability to showcase more rather than perform, be a thing of the past.
Though technology will be the centerpiece of driving this change, it is to be remembered that technology is only a means and not the end. Going forward, we foresee 'Outcomation' implying aiming for Tangible and Measurable Business Outcomes Like Top Line, EBIDTA, People Efficiency, People Productivity, will gain currency and foster a performance-driven culture in organizations.
For more such Updates Log on to www.hrtechcube.com
---
ABOUT THE AUTHOR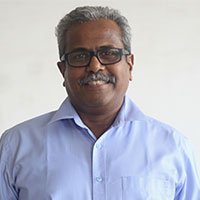 Prasad Rajappan
Founder and MD at ZingHR
Prasad Rajappan is a thought leader and an innovator who has conceptualized ideas before their time. He is also the Founder and MD at ZingHR. He brings 29 years of experience into ideating and putting the concept into action.