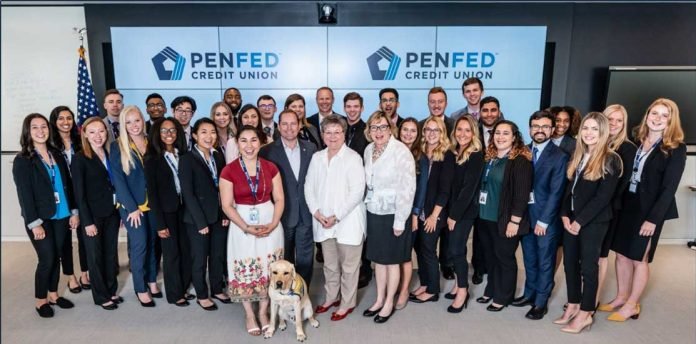 PenFed Credit Union, the nation's second-largest federal credit union, today announced it was selected by college recruiting firm WayUp as a "Top 100 Internship Program." The annual list was judged by a panel of industry experts and over 100,000 public votes Hrtech.
"We are incredibly proud of the work of our exceptional interns and dedicated staff this summer," said PenFed President and CEO James Schenck. "Our 27 interns came from diverse backgrounds and schools, but they all shared a passion for the credit union's mission of 'people helping people' and strengthened the business units in which they worked."
As part of the nine-week program, interns had the opportunity to work on a student loan refinancing group project with marketing, finance and technology elements. Every intern participated in a group presentation to PenFed executives detailing their findings.
In addition to the group project, one day a week was dedicated to learning and interacting with the PenFed's executive leaders as interns learned about all aspects of the credit union's business.
When not working in their selected business units, interns also conducted personality assessments, received leadership and project management training, attended teambuilding events and enjoyed executive presentations.
Twenty-seven interns from 18 universities were selected from nearly 3,000 students who applied for an opportunity to intern at PenFed this year.