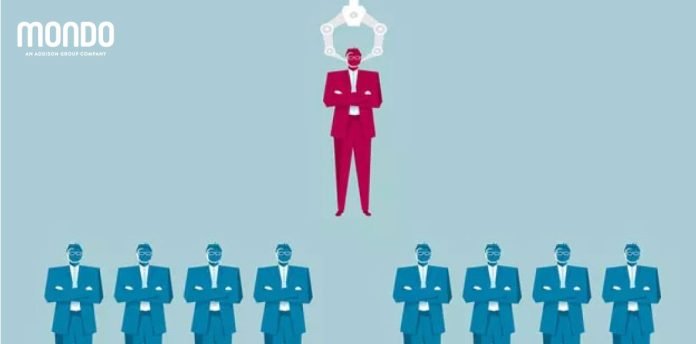 Mondo, an Addison Group company and leading national staffing agency specializing in high-end IT, tech, and digital marketing talent, is proud to announce that Stephanie Wernick-Barker, president of Mondo, was awarded silver in the Female Executive of the Year – Business Services category at the 2019 Stevie Awards. Hrtech
The Stevie Awards for Women in Business honor women executives, entrepreneurs, employees, and the companies they run– worldwide. Hailed as the world's premier business awards, The Stevie Awards for Women in Business received more than 1,500 entries this year by organizations and individuals in 25 nations, for consideration in more than 90 categories. Finalists were announced at the 16th annual awards dinner on Friday, November 15th in New York City.
Prior to becoming Mondo's first female president, Wernick-Barker served as the Chief Revenue Officer. While in that position, she improved integration and alignment between the company's revenue-related departments to set Mondo up as an industry disrupter. As a result, Mondo has experienced a year-over-year revenue growth of 21%.
"Being recognized as one of the female executives of the year is certainly a highlight in my career and a true honor," said Wernick-Barker. "Leading by example and putting people first is something I pride myself on and want to spread to others as well. I look forward to leading Mondo as we continue this journey and help bring outstanding talent and companies together."
Wernick-Barker has also helped spearhead initiatives in Mondo's culture and corporate social responsibility (CSR). She successfully implemented a cultural effort focused on people as opposed to transactions. An example of this is the "inverted pyramid" management style the Mondo executive team follows, where employees are at the top of the pyramid, driving innovation, culture, and initiatives, and the executives are the foundation to provide the field with the tools they need to succeed. For CSR initiatives, Wernick-Barker has prioritized efforts to help close the gender talent gap within the tech industry by having Mondo partner with nonprofits focused on equipping women with STEM skills. Additionally, as a result of Wernick-Barker's efforts, Mondo has partnered with organizations like the Ronald McDonald House of Charities and Burlington Coat Factory to participate in events like #HashtagLunchBag, book drives, and coat drives, along with environmentally-driven tech recycling efforts.
"Stephanie is a trailblazer and a catalyst of inspiration," said Thomas Moran, CEO of Addison Group. "Stephanie exemplifies Mondo's core values. She leads by example, and puts employees first, always. This award is well-deserved and is a testament to Stephanie's leadership, which positions Mondo for success for years to come."
For more information on Stephanie Wernick-Barker, please visit Mondo.com.