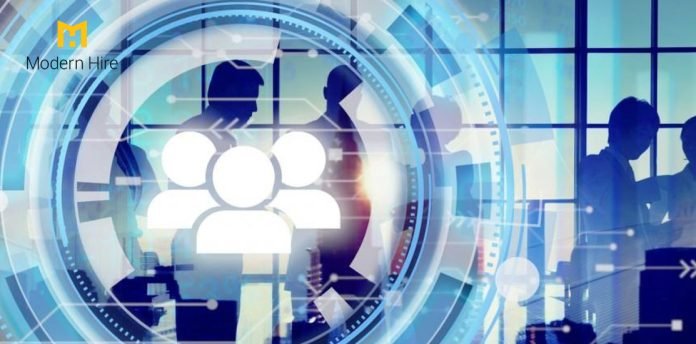 Modern Hire, the all-in-one enterprise hiring platform that enables organizations to continuously improve hiring experiences and outcomes with trusted science and technology, today announced major successes from 2019 and plans for continued growth in 2020 hrtech news. After Montage and Shaker International combined forces in May of 2019, the entity rebranded to Modern Hire in September to continue bringing market-leading innovation to its clients, candidates and the HR technology industry alike.
"As the HR technology market continues to shift and consolidate, Modern Hire remains a leader in the space by offering the most revolutionary approach for improving hiring experiences and outcomes," said Kurt Heikkinen, CEO of Modern Hire. "The innovations and successes we had last year were driven by key, strategic investments in talent, product, technology and science. In the midst of a merger and integration, we demonstrated constant and unyielding focus on delivering the best experience possible for both candidates and clients. Backed by a tenured team of over 60 I/O psychologists, data scientists, product managers and software engineers, our ability to deliver the innovative, market leading technology, data and predictive insights our clients expect and deserve is stronger than ever."
In 2019 alone, Modern Hire added over 60 new enterprise clients to its already impressive client base, which includes 47 of the Fortune 100 companies. Notable new brands over the past year include Seaworld, American Family, DHL, Carmax and IBM. Client adoption of the Modern Hire platform increased by 70% last year, as clients view its technology as transformative to their hiring experience.
While placing a strong emphasis on its clients, Modern Hire also continues to put the candidate experience first in everything it does – especially when it comes to innovation. Modern Hire now supports over 20 million assessments and interviews on its platform. Assessment use grew by 93% and interview use increased by nearly 60% year over year. Modern Hire also saw a 40% increase in users on the platform, and expects another year of rampant growth in 2020, as clients are looking to achieve candidate personalization at scale.
"Modern Hire has been a long-time partner of the Talent Board, sponsor of the candidate experience awards, and supporter of candidate experience day," said Kevin Grossman, President, Talent Board. "It's fantastic to see a candidate-centric technology company like Modern Hire with so much momentum in the market."
A focus on talent and investments in data, science and technology drive growth and transformation
Modern Hire's revenue grew by more than 30% in 2019, and the company is projected to exceed this growth in 2020. The company would not have achieved this impressive revenue increase without its talented and dedicated employees, including key new hires who have joined the organization over the past year: Peter Baskin as Chief Product Officer and Jay Miller as Chief Marketing Officer.
Also contributing to Modern Hire's continued growth and transformation over the past year was a relentless focus on data, science and technology, as evidenced by its advancements and recognition received over the course of the year:
In 2019, Modern Hire received the HR Executive's HR Tech Product of the Year award, was recognized on HRExaminer's 2020 Watchlist for open standards leadership in AI and won the IPAC Award for Assessment Innovation. It was also named to Wisconsin Inno's 50 on Fire shortlist, which recognizes the most innovative people and companies across the state, for the second year in a row.
Modern Hire revealed Real-Time Interview Scoring in September, a product innovation that enables organizations to more effectively and efficiently evaluate text, audio and video interviews. Using machine and deep learning models, candidate interview responses are scored against the competencies deemed to be important for the job.
The company also released a statement in early December regarding standards for the ethical development and adoption of artificial intelligence in hiring. Modern Hire's statement reflects its candidate-first, job-relevant approach to the use of the technology across the talent acquisition ecosystem, and positioned the company as an industry leader and trusted advisor in AI-powered hiring processes.
"I am so proud of our team and what we accomplished together in 2019. We have the technology, science, talent and client base that is unrivaled in our industry," said Heikkinen. "The momentum and success we achieved in 2019 sets the stage for another year of delivering market leading innovation and driving the best experiences and outcomes for our customers and their candidates."