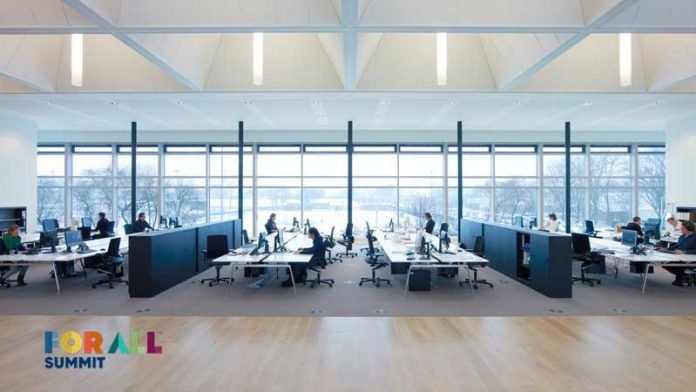 The way organizations today must approach innovation and agility has significantly changed. Great Place to Work's new model for how to approach the best way to develop new ideas, products, services, and processes is called Innovation By All, and will be the focus of the 2019 annual Summit. At this crucial time for tapping into the intelligence, skills and passion of employees, the 16thAnnual Great Place to Work For All Summit, scheduled for February 26 – 28, 2019 in San Francisco, will advance this strategy around innovation, which our research proves has resulted in revenue growth that is 5.5 times greater than less inclusive companies hrtech news.
Expected to draw more than 1,300 CEOs, CHROs, and other business leaders, the three-day event will present the Future of Work through People First innovations in leadership, partnership, and technology that enable organizations to create great workplaces for all.
The event will give attendees a deep dive into practical takeaways for building a culture that brings out the best in every employee and help boost business results. "The key to succeeding in our evolving business climate is maximizing human potential through leadership effectiveness, values, and trust," said Michael C. Bush. "Get those essentials in place, and you'll see innovation and financial growth flourish in your organization. The Great Place to Work For All Summit delivers the inspiration, insights, and tools to get you there."
The Summit showcases 22 tactical focus sessions, fireside chats hosted by editors from Fortune, and mainstage keynotes including:
Kelly Grier, 2019 Summit Executive Co-Chair, US Chairman & Managing Partner and Americas Managing Partner, EY
Margaret Keane, 2019 Summit Executive Co-Chair, President & CEO, Synchrony
Bernard J. Tyson, Chairman & CEO, Kaiser Permanente
Dan Ariely, James B. Duke Professor of Psychology & Behavioral Economics, Duke University
Lynne Doughtie, Chairman & CEO, KPMG LLP
Frans Johansson, Founder & CEO, The Medici Group
John Pearson and Regine Buettner, CEO Europe, DHL Express and Executive Vice President HR, DHL Express
Lazslo Bock, CEO, Humu
Josh Bersin, CEO, UpsideToWork
Gale V. King, EVP & CAO, Nationwide
New this year will be an invitation-only Diversity & Inclusion Forum co-chaired by Cindy Robbins, President and Chief People Officer of Salesforce and Heather Brunner, CEO and Chairwoman of WP Engine, who will lead people leaders in an "off-the-record" discussion to decode the inconvenient truths that create friction in this area.
The Summit will also feature the Great Place to Work For All Leadership Awards Gala at the Four Seasons Hotel San Francisco co-sponsored by Four Seasons Hotels & Resorts and World Wide Technology on February 26, 2019 with this yxear's theme honoring Innovation By All leaders.
The Great Place to Work For All Summit is recognized by Society for Human Resource Management (SHRM) to offer Professional Development Credits for the SHRM-CP or SHRM-SCP. In the past, this event has been approved for Recertification Credit Hours: HR (General) recertification credit hours toward aPHR, PHR, PHRca, SPHR, GPHR, PHRi, SPHRi recertification through HR Certification Institute (HRCI).
Sponsors
Executive Title Partners for this year's Great Place to Work For All Summit are EY and Synchrony. Additional sponsors include Activision Blizzard, AT&T, Baird, Bright Horizons, Bombas, Cadence, CarMax, Cisco, Comcast NBCUniversal, Custom Ink, Delta Airlines, DHL Express, Four Seasons Hotel & Resorts, Genentech, Headspace, Hilton, KPMG, Live Nation, Marriott International, Mercedes Benz Financial Services, Nationwide, O.C. Tanner, Plante Moran, PwC, Quicken Loans, Salesforce, Ultimate Software, and World Wide Technology.
For press inquiries and to request an interview with Michael C. Bush or any leaders speaking at the Summit, contact Christopher Tkaczyk at (415) 851-3692 or christopher.tkaczyk@greatplacetowork.com.
About the Great Place to Work For All Summit
The Great Place to Work For All Summit assembles executive leaders from Best Workplaces, including Fortune's 100 Best Companies to Work For, Great Place to Work-Certified organizations, and companies embarking on their workplace journey. Its mission is to share best practices for creating and championing high-trust workplaces that are better for business, better for people, and better for the world.
About Great Place to Work
Great Place to Work is a global people analytics and consulting firm that helps companies of all sizes produce better business results by focusing on the work experience for every employee—our research shows there's a clear and direct relationship between employee engagement and financial performance. Over the past 25 years, we have captured the views of more than 100 million employees globally, helping organizations around the world identify and build high-trust, high-performance cultures. Powered by decades of research, Emprising, our Software-as-a-Service survey and analytics platform, empowers companies with access to the assessments, data, and real-time reporting needed to help them create a meaningful impact on their business, their people, and their culture. Through our certification programs, we recognize outstanding workplaces and produce Fortune's annual list of the 100 Best Companies to Work For, as well as a variety of other Best Workplace rankings in the United States and in more than 60 other countries. Everything we do is driven by our mission: to build a better world by helping every organization become a Great Place to Work For All by the year 2030.