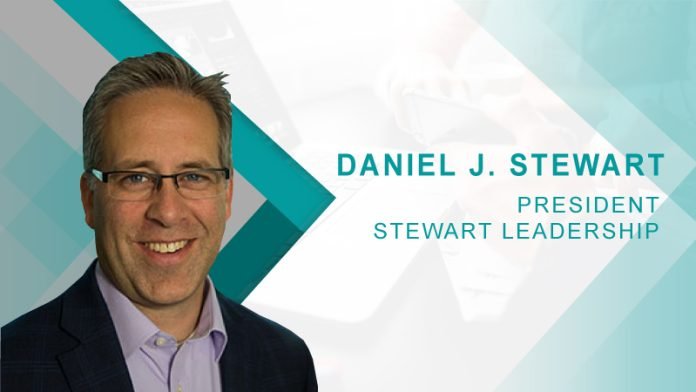 1. Tell us about your role in Stewart Leadership?
I am the President of Stewart Leadership, which is a human capital consulting firm. We partner with organizations to develop their leaders, build their teams, align their organizations, support them managing change, and create strong talent processes. I manage our business development, international partnerships, and consultants and executive coaches.
2. Can you tell us about your journey into this market?
My father, John Parker Stewart, started the company in 1980 and I've grown up with this. I didn't necessarily intend to work with him but I received my Master's in Organizational Development and Communication and have worked internally doing leadership and organizational consulting and coaching work for many years. I joined the business over five years ago.
3. How do you think technology is changing the HR Sector?
Technology is enabling the HR sector to capture and analyze large amounts of data like never before. It can be a powerful force to enable HR to specialize roles and spend more in strategic conversations instead of completing transactions.
4. How has technology contributed in upgradation of human capital development processes?
Human capital development processes has been improved by technology because they can capture so much data and provide in the moment development opportunities. For example, HR department's can know exactly who is being hired, track people's performance success, and provide microlearning delivered on demand for any employee.
5. Why do you think employee engagement is becoming the center of talks among the employers?
Engagement is the latest way of describing the huge need to focus on people as people and not as objects.
Soon engagement will be replaced with the employee experience, but they both get at regarding that people are complex, passionate, imperfect beings that need and care about a emotional sense of belonging, being challenged, and making a real difference in what they do and who they work with each day.
6. What tips would you like to give to our readers, that can help them developing their leadership qualities?
The best advice is to pick one small thing each day and do it! Small improvements is the greatest way we can improve as a leader. Taking control of one's own development is critical and proactively feeling uncomfortable is key in turning insight into action. Pick a new way of thinking or acting and start to do it now!
7. How do you differentiate your talent management solutions from others?
Our talent solutions are not one size fits all. What makes us unique is partnering approach and our broad human capital expertise that we bring to co-create the right talent solution for each client to best align with their strategy, culture, and talent goals. We don't just do coaching or training or consulting, but tailor the solutions and build something customized for the client. For example, for a large grocery retailer client, we developed a simple competency model to aid in their career pathing needs and integrated that it as we designed a semi-annual talent review process. Another example was with a health care system where we built their talent pipeline process to sync up with individual coaching solutions based on each leader's potential and performance scores and then delivered the aligned coaching, reporting back on action plan progress in subsequent talent meetings.
8. What advice would like to give to the upcoming HRTech Start Ups?
Remember that the Employee Experience (EX) is just as important as the Customer Experience (CX). Based on recent research by Gartner, by 2020, 4 out of every 5 companies expect to be competing mostly or exclusively on the basis of Customer Experience. When almost everyone is competing on the same basis, companies need to find ways to perform better than their competition. EX is a primary way to differentiate. Remembering to spend time and attention on the people and their experience inside the organization will help create a competitive advantage for the company.
9. What work related hack do you follow to enjoy maximum productivity?
Since I travel so much, I use my phone for everything, including as a mobile room key. I can walk straight up to my hotel room and open it with my phone.
10. How do you prepare for an AI-centric World?
Since we are in the people business, we teach people to focus on learning and growing relationships with others. Within an AI-centric World, where disruption is the norm, humans need something to hold onto. Years ago, that was the stability of the organization or the contract of long-term employment. Today, people can hold onto their ability to learn and form strong relationships with others. It is this ability to grow with others that AI cannot replicate. Focusing on the emotional intelligence and the richness of learning together forms an amazing foundation to adapt with technology instead of fighting against.
11. What are the major developments you are planning, in recent times?
Some of the upcoming developments are all about creating more practical assessments that people can take to provide data and action to make immediate improvements in how they lead and team with others. In addition to our existing online leadership assessments, we will be creating research-based and action-oriented teaming and executive presence assessments. These assessments will be ideal for mobile devices and are connected to action planning for quick application.
12. Can you tell us about your team and how it supports you?
I have a fantastic team of highly dedicated professionals. There are consultants who deliver client work, business development folks who help secure client, and staff who help make everything run smoothly. We are all virtual throughout the country and even world with one of our marketing staff out of South Africa.
13. Which Book are you reading these days?
I find I listen to books more often than I read. What I've been listening to is Road to Character by David Brooks, Predictably Irrational by Dan Ariely, and Practicing Mindfulness lecture series by Mark Muesse. I also listen to a lot of podcasts including Econ Talks with Russ Roberts, The History of Rome with Mike Duncan, and Revisionist History with Malcolm Gladwell.
14. Can you give us a glance of the applications you use on your phone?
Audible, PodcastAddict, TinyScanner Pro (love it), WeChat (essential for our China business), and every hotel, airplane, and rental map out there!