1. Tell us about yourself and your role at Recruiting.com?
I'm David Harden and I serve as the Chief Executive Officer of Recruiting.com.
I've been with Recruiting.com and our portfolio of companies for nearly 15 years. During my time with Recruiting.com, I've played an integral role in the company's strategic planning, product development and sales and channel marketing efforts, while also shaping our creative, implementation, and service teams. As the CEO, my focus is on ensuring we can accomplish our mission of building unique and innovative talent acquisition software and services that help companies compete for talent through more authentic, relevant, and personalized experiences.
2. How have you seen the evolution of career site technology and employer branding  over the years?
Career sites have evolved to become a central hub for recruitment marketing and employment branding. Candidates utilize career sites as their number one source of information when researching a company and companies can no longer afford for their career site to be lackluster, complicated or an after-thought of their marketing website or applicant tracking system. The candidate experience on career sites has continued to become more personalized and streamlined through targeted recruitment marketing, job segmentation and the use of tools such as artificial intelligence. The practice of employer branding – especially in the past five years – has evolved significantly from basic information such as vision statements and benefits lists to answering "Why should I work for you" in a strategic and meaningful way.
3. How do you differentiate Recruiting.com from the other companies which are catering around the employer branding domain?
We build beautiful career sites that combine a fantastic candidate experience with thoughtful, targeted messaging to help our clients immerse candidates in their employment brand and ultimately convert them into applicants. At Recruiting.com we have created a scalable technology platform that easily supports enterprise clients, while also allowing us to maintain focus on the needs of our core clients in the SMB space, where clients typically do not have the internal resources to execute on a fully branded career site on their own.
Regardless of a company's size, we are proud to offer a high level of service to our clients. Through our hyper focus on the front-end career site experience,
We view each client as unique and work hard to understand their recruiting challenges and goals so that we can help them to create a career site that targets the right candidates for their business.
We utilize our expertise in employer branding to serve our clients in an agency like way and use our proprietary employment branding framework to help companies understand and take advantage of their EVP to create a beautifully branded career site experience.
4. Do you see corporate companies becoming more and more acceptable towards middleware companies like yours in the rapidly pacing HRTECH arena?
Today's HR and recruitment marketing ecosystem is complex. We help create a better end-to-end candidate experience from point of interest to apply, by filling major gaps in areas such as access to internal marketing resources and insufficient candidate experience capabilities in critical tools like a client's applicant tracking system. With national unemployment rates below 4% in the United States and 10,000 baby boomers retiring daily, there's a severe need to attract and engage best-fit candidates in today's marketplace. Our career site software and our access to a robust partner network creates efficiencies in the recruiting process while enabling clients to differentiate and compete effectively to talent.
5. We recently covered the news of Recruiting.com partnering with HiringThing. In what way do you think this partnership will change the functioning of your company?
We are very excited about our recent partnership announcement with HiringThing – it provides yet another tool for our clients to be able to recruit and manage top talent. The partnership with HiringThing reaffirms our belief that companies must have a great candidate experience to attract the best talent to their organizations – especially in today's highly competitive recruiting environment. HiringThing has created a beautiful candidate experience when candidates apply for a job, and through Recruiting.com's employment brand and recruitment marketing expertise our customers have the opportunity to have a fully branded and engaging candidate experience from point of interest through apply when using the two products together.
6. What technology trends do you think will see a massive boom in 2019?
I think we'll see continued focus and buzz around Artificial Intelligence (AI) in recruiting. It's a rapidly evolving field that carries great potential to solve real recruiting challenges. We've all experienced and accepted AI in our personal lives in various shapes and forms and now we are seeing that evolution within the HR tech space. I believe its adoption and use will be significant in 2019.
7. Tell us what it's like working for Recruiting.com? We won't mind seeing some fun pictures.
It's incredible to work in a place where everyone has the same high level of dedication to support clients. You won't hear "that's not my job" here – we work together and do whatever it takes to support a client's recruiting success. There's a sincere pride in our work and we celebrate our achievements.
Our work environment is open and collaborative. Our team members are given the space, tools, and trust to do their best work. It's a place where self-starters can truly thrive and be challenged, because that's where innovation starts. Though it might sound cliche, we actually really like spending time with each other. During the week, you'll see some of our team members going for a lunch run along the waterfront or decompressing with yoga. We have a roll-up-your-sleeves mentality at all levels of the company and have high expectations for ourselves and each other. It's a great environment and I'm proud to work side-by-side with such talented and caring people.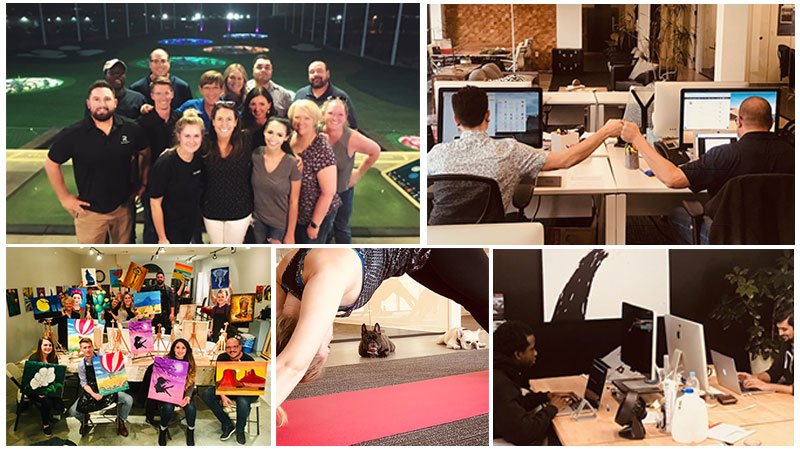 8. What book are you currently reading?
Chief Customer Officer by Jeanne Bliss.
As a client-centric organization, we are always looking for new ways to provide a higher level of service that can scale across the business. Providing exceptional service and solving real recruiting problems for our clients is important to me. It's our focus; it's what sets us apart.
On a personal level, my amazing wife Lauren, and I are expecting a little girl in March – I am reading a lot of books to help support her and be helpful to her during her pregnancy.
9. What is the one piece of advice you would follow irrespective of the circumstances?
As a kid, I always saw my dad treating people with respect in a friendly, fun-loving way. He instilled in me that you should never take yourself too seriously and be kind to those around you. That is something that I hope I put into practice everyday, no matter the situation.