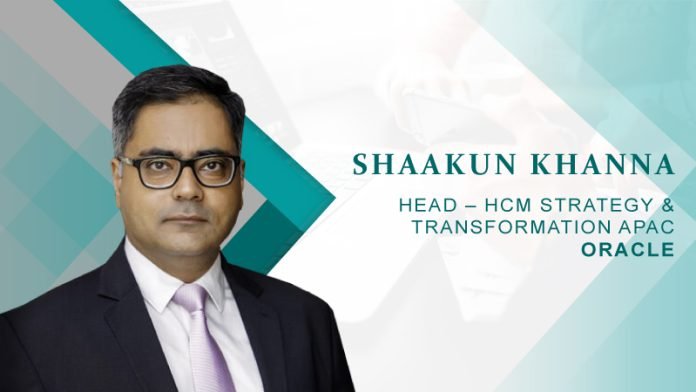 Shaakun Khanna from Oracle HCM discusses the importance of HCM for modern businesses and its growing vitality to the changing workplace renditions.
1. Can you tell us a little bit about yourself and your role at Oracle?
a. I lead the Strategy and Transformation for Oracle Fusion Cloud Human Capital Management (HCM) for the Asia Pacific. Oracle HCM is a complete solution connecting every human resource process from hire to retire. In my role, I work with CHROs and HR teams, helping them redesign their employee experience and rethink their HR strategies as they embark on their HR transformation journey.
2. Why is HCM important for a business?
a. Every business today needs to have a Talent-first approach. Organizations, therefore, need a comprehensive technology solution to attract, hire, develop and retain the right talent.
b. Secondly, the work ecosystem has dramatically changed in recent times. The workforce has become distributed, business models have been disrupted and new skills are required for running businesses. In all this, the aspirations of the workforce have also changed dramatically. A robust HCM system like Oracle HCM is imperative for organizations to adapt to this evolution.
c. Lastly, the role of data and analytics has come to the forefront of driving employee experience, enablement and organizational effectiveness. An HCM solution that leverages the power of AI, ML, Big Data, etc is the only tool that can provide organizations with the required insights.
3. Business Intelligence has rapidly seeped its way into the HRTech arena, can you perhaps throw some light on this phase shift?
a. No business can survive today unless it has a 360-degree view of its work, workers and workplace. Data and its analysis have to be cutting edge in order to gain the competitive talent and performance advantage that every organization needs. HR analytics now have to move beyond 'dashboards'. Good business intelligence is real-time, insightful, predictive and actionable. Unless analytics is foretelling the problem, suggesting their solutions and providing a quick way to get the same executed will be of no use. At Oracle, we are now helping organizations to create a holistic and insightful mechanism, using the Oracle Analytics Warehouse that allows organizations to bring data from multiple sources into one place and create a comprehensive view of the business.
4. With the on-set and pre-set of Pandemic and Post-pandemic era respectively, how do you see Oracle HCM expanding its boundaries with this rapidly dynamic phase shift?
a. In the post-pandemic era, the role of HR and therefore the HCM system has shifted and evolved to drive many more strategic priorities. The three most important shifts that we are seeing in the post-pandemic workplace are:
i. Importance of health, safety and mental wellbeing. These have become the biggest concerns and focus areas for HR teams and therefore the HCM system must be fully geared to care for the well-being and needs of the people. Oracle was the first company to understand this change and offer a new health and safety module to all our customers free of cost to fight the challenge of the pandemic.
ii. Flexi-working and distributed workforce saw a huge jump. Oracle HCM's fluid UI and full functionality capability across devices provided unprecedented flexibility to the workforce.
iii. The Rise of the Gig economy also led to the creation of much larger play for part-time workers and a varied workforce. Oracle HCM is the first of its kind HCM suite to offer the 'talent marketplace' that allows organizations to win the war for talent across talent categories.
5. Why do you think moving ahead with HR & HCM Tech is vital to navigating a changing workplace?
a. Organizations need to create an employee experience that is on par or better than their customer experience. The right kind of HR technology and the right platforms are therefore the most important HR investment that companies will have to make.
Furthermore, the 3-dimensional change for HR, i.e Changing priorities of people, disrupting business models and invasion of technology make HR tech vital to navigate these changes.
6. We recently came across the coverage of Oracle adding a skills ontology and management solution to Oracle Fusion Cloud Human Capital Management. Can you throw some light as to what dynamic capabilities can the HR Teams expect from this?
a. As new and more technology enters the workplace, the way work is done, and the skills required keep evolving. In fact, the change in skills required is so profound, that this is now being called the 'skills shift' globally. Organizations will need to predict the skills that they require currently and in the future. They then will need a real-time understanding of the skills they collectively have, how they are developing the required skills and using the most accurate skill information to make business decisions.
7. Pride Month just ended with a lot of Gusto and Honor. How do you think organizations can expand their trajectories in terms of talent, diversity, and inclusions?
a. In order to enhance diversity and inclusion and to reap the full benefits of such diversity, the first step is to develop an understanding, appreciation and intent of the leaders. Most of the D&I initiatives fail because of the hidden biases of the members of the organization.
b. Secondly, the new age technology platforms, specifically Oracle HCM, can actually help take the diversity agenda to the next levels. Our built-in analytics help to track the D&I health of the organization in real-time. Based on AI & AL, the algorithms are able to detect potential biases during job postings and recruitment processes. Our candidate attraction platform can also help attract very specific candidates from specific demographic groups, taking the D&I to the next level in recruitment.
8. Which movie inspires you the most?
a. Dead Poets Society – for its lessons in Leadership, Inspiration and how the right guidance can be life-altering.
9. Can you give us a glance at the applications you use on your phone?
b. Calm, Netflix, Spotify, Clubhouse, and MultiTimer