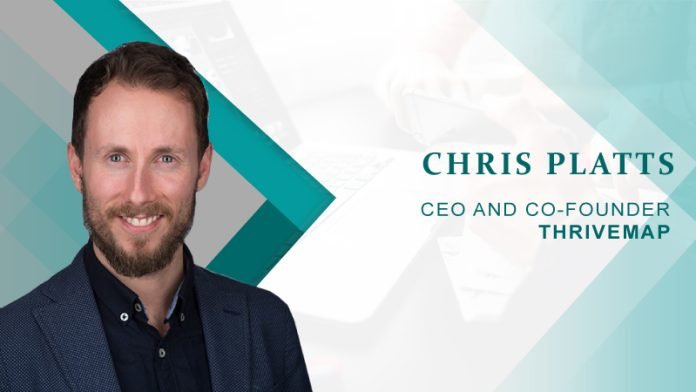 Chris Platts CEO and Co-founder, ThriveMap talks about the significance of pre-employment assessments for hiring quality candidates and achieving better ROI.
1. Tell us about your role at ThriveMap?
Like most startup CEOs my role is to ensure everyone on the team has what they need to succeed and then to get out of their way. I'm happiest at work when I'm listening to people's problems and trying to help solve them, therefore I spend the majority of my time helping our customers and prospects to achieve their hiring objectives.
2. Can you tell us about your journey into this market?
ThriveMap was born from our experiences with our first startup TalentRocket, a company culture focused recruitment marketplace. It was on that journey that we realised the assessment space was a real mess; candidates hated traditional psychometrics and companies were looking for a better way. Prior to that I'd spent 10 years in executive recruitment where I'd set up divisions and led various sales and delivery teams.
3. How do you think technology is changing the HR Sector?
Technology enables HR to become an insight centre rather than an administrative function.
Most CEO's would agree that people are their biggest asset so HR needs to leverage data and technology to demonstrate its importance to the rest of the business. One bugbear of mine however is that HR needs to get better at buying technology with greater versatility built in. If you think of a phone, there's no way Apple or Google could create all the apps we use everyday, but many HR leaders still think a "one-stop shop" solution is preferable to using an ecosystem of integrated applications. It amazes me how many HR leaders still purchase ATS and HRIS platforms without understanding their philosophy on integrations.
4. How is digitization empowering the hiring processes?
Digital "one-click" job applications have reduced the friction in applying for jobs, but it's done so at a cost. Many recruiters and HR departments are overwhelmed with often irrelevant job applications which take time and manpower to sift through. The right technology can really help. Unlike resume parsing software which is easily gamed, job simulation pre-hire assessments can measure a candidate's suitability for the job and fit with the culture and provide managers with insights to make better hiring decisions.
5. What is the impact of story-led assessments on hiring effectiveness?
Having any assessment is usually better than using nothing in terms of cutting down time screening CVs. But not all assessments are created equal. "Off the shelf assessments" can be useful for technical skills, but anything that requires an assessment of behaviour or soft skills requires context to be accurate. When assessing it's inaccurate to separate behaviour from the environment which someone will be working in, so if you want to assess someone's soft skills you need to put the candidate in that environment. Psychologists call this ecological validity, and it's really important in pre-hire assessments as each company has a unique working environment and culture. Our digital, story-led assessments guide candidates through a virtual "day-in-the-life" experience of a job to ensure a fit on both sides.
6. Why is it significant to capture the ICPs of companies and translate them into realistic assessment experiences?
A pre-hire assessment will only work if it aligns with your "at interview" selection criteria. If the assessment is measuring something that you don't feel is important when it comes to selecting who to hire then it will not predict the right candidates. The ICP (Ideal Candidate Profile) is the heart of each assessment we create. It's a record of what the company looks for when hiring into the role. Each attribute we measure has its own unique weighting in the scoring algorithm and provides companies with full transparency from behaviour or skill to interview questions to the candidate scores achieved.
7. What role do work simulation pre-employment assessments play on the quality of volume hiring?
Each company we partner with has different hiring objectives in mind. Everything from reducing staff attrition to saving recruiters time, removing hiring bias and improving quality of hire. Work simulation assessments are the fairest and most accurate way of assessing someone's suitability for the job as each candidate is judged on their present ability to perform "real-world" tasks.
Quality can be subjective, but it's often easier to measure than you think.
When we optimise an assessment for quality of hire we analyse a company's post-hire performance data with our assessment data to provide us with suggested changes to an assessment to improve its predictive capabilities over time.
8. What are your off-the-shelf assessment types?
All our assessments are bespoke so we don't do "off-the-shelf" as such. However the most common roles we create assessments for include call centre agents, retail sales associates, warehouse operatives, drivers, technicians, healthcare workers, hospitality workers etc
9. Can you explain to us in detail about your ROI Calculator?
We want to help HR leaders quantify the value of purchasing new solutions ahead of buying them. In order for HR leaders to secure a budget they need a solid business case. We have two ROI calculators, one that companies use to calculate the cost of failed hires and one to calculate the time spent screening candidates.
10. How do you prepare for an AI-centric World?
It helps to become comfortable with data and analytics. We provide each client with algorithmic oversight so they can decide how they want their assessment platform to calculate scores. This is essential in the age of AI as it means we retain control over the human elements of the recruitment process.
11. What are the major developments you are planning, in recent times?
Our development team is rapidly building features to enable recruitment teams to make data driven decisions to improve their hiring decisions. This includes providing companies with control over their assessment algorithms and providing them with insights to optimise the performance of their hiring processes.
12. Can you tell us about your team and how it supports you?
The team has a nice blend of ideas and ability to execute. Our Head of Product and Technology Mark oversees the product side whereas I oversee Sales and Marketing. Then we have a mix of people with functional expertise.
13. What movie inspires you the most?
It would be easy to say something like Moneyball as that's a story about making better selection decisions with data however the truth would be something less obvious. There's a scene in the movie Life is Beautiful where the lead character tries to protect the innocence of his son by turning the experience of being in a concentration camp into a game. The ability to reframe our circumstances into ways which serve us is one of the most powerful skills we can work on.
14. Can you give us a glance of the applications you use on your phone?
The apps that get most used are Spotify, Podcasts, Waking Up (meditation app) and Google Maps – I'd be lost without it. 😉