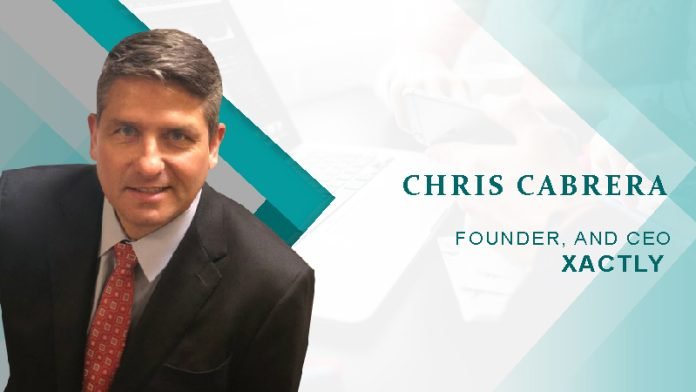 Chris Cabrera, Founder, and CEO, Xactly talks about the significance of digitization in employee engagement and how AI can empower teams with robust analytics.
1. Can you tell us about your journey into this market?
During my senior year of college, I started a security guard company with my father, which provided me with invaluable management experience at a young age and jump-started my career. I later shifted my focus to work for a computer company called Silicon Graphics. While there, I was accidentally paid $80,000 for a commission check that should have been only $8,000. A few years after that, I learned about a company developing software to shake up the compensation market. Given my experience with my commission check, I was intrigued and went to work for them. I helped create a first of its kind on-premise software solution which revolutionized the sales compensation world. When 2004 rolled around and introduced the cloud, I saw it as another opportunity to continue up-leveling the technology we created and future-proof it. I tried to convince my company to move to a cloud-based solution, to no avail, and eventually set out on my own to do it. That's how Xactly was born in 2005.
2. How do you think technology is upgrading the HR Sector?
Data, and the predictive insights that can be drawn from it, have opened up a new world for motivating and retaining employees, which can be very valuable from an HR perspective.
For example, Xactly Insights uses an AI algorithm that predicts the risk of future attrition among employees in the sales department, giving companies the opportunity to take preventative steps before losing a high-performer.
3. According to you, how is digitization empowering employee engagement?
Digitization enables greater transparency throughout an organization, which in turn fuels stronger employee engagement. One way we've seen this play out recently at Xactly is through the rollout of a new Slack integration we launched for our customers. Essentially, the integration meets sales reps where they are these days, directly in their Slack workflow, to provide real-time insight into their performance. Performance visibility among sales teams can be a powerful motivator. For instance, if a rep sees others are having success on any given day, it can encourage them to make more calls.
4. We recently covered the news of Xactly selecting Oracle as its preferred cloud infrastructure provider? Can you lead us onto that?
Absolutely — it's a really exciting moment for our company. As part of this new strategic partnership, we will use Oracle Cloud Infrastructure as our primary cloud provider to run our Incent Suite. We'll also work with Oracle to jointly market and sell solutions. Overall, partnering with Oracle will help support our continued global expansion and allow us to drive greater speed, price-performance capabilities and innovation for our customers.
5. Can you explain to us in detail about Xactly Incent?
Xactly Incent is our incentive compensation management (ICM) software, which aligns sales rep behaviors with company objectives. By automating the incentive compensation process, Incent reduces the time dedicated to manually administering commissions by 60 percent and effectively eliminates payout errors. Additionally, Incent provides reps with increased visibility and transparency into their own commissions and potential earnings, allowing them to stay on-target.
6. What are the major developments you are planning, in recent time?
Covid-19 has driven us to expand our capabilities to help companies and industries upended by the economic fallout.
Right now, sales teams are under immense pressure to drive results, but they don't have the agility to adapt their strategies on the fly based on rapid market changes, or the AI capabilities to make accurate predictions and cut through the uncertainty. That's our goal: to provide the tools that companies need to be more flexible in making real-time course corrections and the data they need to inform smarter business decisions. One of these products, which we just released earlier this month, is Xactly Forecasting. This solution leverages AI to provide sales leaders with unprecedented forecast accuracy, giving them greater confidence in their numbers, which ultimately drives better visibility and alignment across the business and helps secure its financial health — even during continued uncertainty.
7. Can you tell us about your team at Xactly and the culture you've built?
We are very proud of our company culture at Xactly. Our employees are incredibly engaged, empathetic and bonded by their passion for giving back. Philanthropy is a core commitment at Xactly, so much so that we started the XactlyOne foundation, which encourages employees to take action and donate their time to serve their communities. Putting our company values of Customer Focus, Accountability, Respect and Excellence into action has continued to keep our teams connected even while working remotely during Covid-19. For instance, during our third-annual C.A.R.E. Week this summer, our Denver office visited A Precious Child to pack backpacks for underserved children ages K-12, and our U.S. employees were able to purchase a KyndKit, which sends supplies directly to their homes that help them create kits to support those in need, from seniors to the homeless. Seeing the drive of our employees to aid worthy causes is a constant source of inspiration for me.
8. How can companies prepare for an AI-centric world?
It's easy — start looking for ways to use data to help make better decisions. AI is popping up all over the place. Embrace it.
9. What book are you currently reading?
a. The Oz Principle — Reading this as a book club with my senior leadership team
b. The Captain Class — Reading this in my spare time
10. Can you give us a glance of the applications you use on your phone?
a. SleepIQ — Controls my bed and tells me the quality and quantity of my sleep
b. CarCare — Keeps track of all my cars and tracks service, registration, mileage, recalls, etc.
c. Amazon — Pretty much where I do all my shopping
d. SFDC — So I can track all of our opportunities and especially our Xactly Forecasting results
e. YoutubeTV — In case I need to catch up on a show!
11. Can you share with us some of the fun pictures of your workplace?