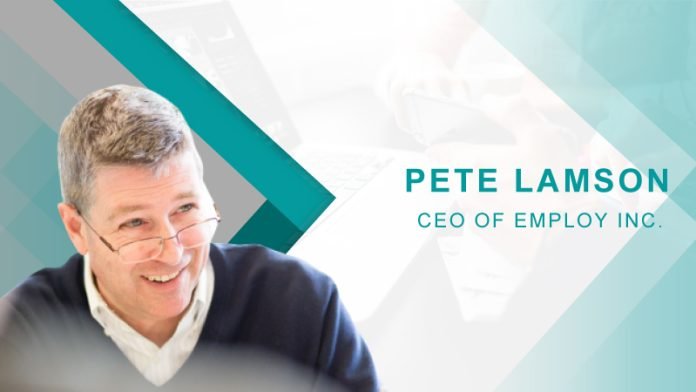 As CEO of Employ, Lamson is responsible for the company's strategic direction. Delve to learn how he is fulfilling this role through his standout leadership.
1. Can you give us a brief idea of your career before Employ Inc.?
My background spans more than 30 years of experience in leadership roles with high-growth and B2B technology companies.
The journey toward my current role at Employ Inc. began at JazzHR, an award-winning recruiting solution for small-to-medium size businesses (SMBs) that is now part of Employ's umbrella of brands. I joined JazzHR as CEO in 2015 during a period of transformation, in which I led the company through a strategic turnover to become a category leader in SMB recruiting and hiring. This initiated its successful merger in 2021 with two industry-leading companies, Jobvite and NXTThing RPO, followed by Lever in 2022.
Through this merger, we created Employ to serve as the parent company for our brands. As CEO, I lead the strategic vision and direction of Employ as we work to empower companies to overcome their greatest recruiting and hiring challenges through scalability and flexibility.
2. Could you tell us more about Employ Inc. and how the company has evolved over the last couple of years?
Employ was created as the parent company of Jobvite, JazzHR, and NXTThing RPO in early 2022, and has come remarkably far in that short amount of time. Over the past year, we've disrupted the market with purpose-built tech and services solutions for customers of all sizes and recruiting complexities and doubled our organic growth rate as a result.
In August 2022, we acquired Lever, filling a critical piece of the Talent Acquisition (TA) journey for our clients. Lever is made up of an experienced team of talented employees, a strong brand, and loyal customer base highly complementary to Employ's existing solutions. By adding Lever to Employ's portfolio, we can enhance the value of our offerings and deliver on our vision of providing purpose-built, industry-leading solutions that address the unique needs of any organization.
By acquiring Lever, Employ is now the only organization of its size focused exclusively on recruiting and talent acquisition technology. We understand the space better than anyone else in the market. Through our brands, we can help companies of all sizes and industries recruit and retain a diverse workforce.
3. How is your work changing as your company scales up? What do you love the most about the industry?
My work evolves as Employ continues to grow, however, our mission remains constant: to provide industry-leading purpose-built recruiting technology for the markets we serve and backed by award-winning RPO services. We continue to heavily invest in our customer-facing solutions.
Another exciting aspect of Employ's growth is our access to better data. With the addition of Lever, we now have access to the industry's most comprehensive data set based on activity from 18,000 customers hiring for more than three million jobs at any given time.
With the most accurate view of the labor market, we have the ability to better understand micro-and-macroeconomic trends and share those insights with our customers and the public through Quarterly Insights Reports. These reports outline how companies should optimize and prioritize recruiting efforts in the current hiring environment.
4. What advice would you give to other leaders about how to create an amazing work culture?
While we're seeing layoffs and hiring slowdowns across certain industries, the competition for high-quality talent remains tight and will continue to be challenging for the foreseeable future. Organizations can only attract top talent if they deliver the workplace experience that job seekers desire.
By using data and digging deeper into the top preferences workers want today, organizations can better understand workers' priorities and make necessary organizational changes based on those preferences. These workplace preferences may include a desire for more remote or hybrid work options and higher compensation. But with data, it could also reveal additional factors driving employee satisfaction, such as professional development opportunities, work-life balance, or increased access to workplace technology.
Organizational leaders should embrace data to help make essential decisions that move the direction of the workplace experience forward, which will enhance employee satisfaction and retention.
5. Can you brief us about JazzHR, Lever, Jobvite, and NXTThing RPO?
Through our portfolio of brands, we offer recruitment solutions that deliver more predictable hiring results, which is necessary for today's volatile labor market.
Whether it's easy-to-use, affordable recruitment software powering SMB hiring with JazzHR, an end-to-end talent acquisition suite for growing companies with Lever, unmatched capabilities and platform flexibility for large, complex enterprise organizations with Jobvite, or scalable outsourced hiring services from NXTThing RPO, Employ offers to recruit solutions for companies of all sizes and complexities to grow their unique workforces.
With these brands under our umbrella, Employ is unlike any provider in the market.
6. How do Employ's HR tech services benefit clients' business expansion?
Organizations of all sizes are struggling with recruiting and hiring challenges amid the tightest labor market in decades. They're trying to adapt to the rapidly changing circumstances with highly deliberate plans for growth. And since we all know that executing an effective TA strategy is complex, every organization must be armed with a solution that addresses its needs and complexity to deliver powerful results.
At Employ, we provide customers with purpose-built options at every step of the business journey, from starting up to enterprise expansion. As their business grows, our customers are confident they have a recruiting solution to grow with them and accordingly customize their solutions.
7. How has the partnership with UKG benefited Employ's operations?
We're thrilled about our new partnership with a leading HCM solution like UKG. Through this collaboration, our brands JazzHR, Lever, Jobvite, and NXTThing RPO are available through the UKG Marketplace. This allows us to work with UKG to deliver integrations, applications, and innovations that provide a simplified employee technology experience. Together, we can provide businesses, from small-to-medium-sized to enterprise, with a better and more connected experience that allows them to remain competitive in today's recruiting market.
8. Can you give us a sneak peek into Employ Inc.'s development plans?
While I can't discuss too much about our future plans, I can say that we're continuing to focus on serving our customers with the solutions we have in place. This includes investing in our organizations and products with discrete roadmaps for each solution.
The future for Employ is bright. Our brands embody talented employees, unparalleled services and solutions, and exceptional customers. There's never been a more exciting time for the recruiting and talent acquisition space, and we're looking forward to the future of Employ.
9. What movie/book has inspired you recently?
The Advantage by Patrick Lencioni.
10. Who is your leadership role model and why?
I'm not sure there is one leader I look to as a role model, but rather a composite of leaders I have been privileged to work with over the years. I strive to be a human, accessible, fair, and collaborative leader. But I also am not shy about making tough decisions when called for.
11. What is the biggest piece of advice you would want to give to company leaders?
Communication is your most important tool as a leader. Be sure to have a continual dialog with customers – their problems and ideas are your future solutions. And with employees, especially as a business grows. Be present in the company halls, video conferencing, and online chat channels. Talk with your people about both the professional and personal aspects of their lives.
Discover the full potential of your Hrtech strategy with our comprehensive Hrtech News and Hrtech Interviews.