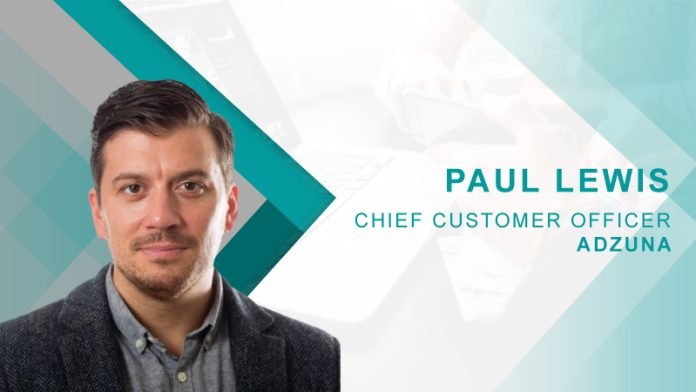 May you please introduce yourself and give us a glimpse of your professional journey so far?
I'm an experienced Chief Marketing Officer, Non-Executive Director, and start-up advisor with a demonstrated history of building trusted consumer and B2B brands. I love combining the numbers and the creative side of marketing to develop the best customer and brand experiences around.
Throughout my career, I've been successful in driving business outcomes such as building start-ups from scratch to large scale, pivoting business growth overnight to $5m+ ARR within 12 months, and being part of multiple funding rounds.
My skill set spans the complete marketing mix (and more) including digital strategy, brand strategy, consumer insights, customer acquisition, SEO and retention, integrated marketing, product marketing, B2B, PR and comms, and all forms of media. I've been able to build happy teams which, in return, have delivered successful results.
What is Adzuna and the distinctive services that it offers?
Adzuna is a smarter, more transparent job search engine, helping job seekers cut through the noise so they can zero in on the right role faster. Adzuna gives job seekers access to every job without giving anyone access to their data. The company also has unique tools to help make the job search process seamless and efficient, such as providing salary estimates for U.S. job postings that don't have a pay range and ValueMyResume – a tool that advises job seekers what they should be earning based on their experience. Adzuna also offers resume tips and suggests viable career options. Our proprietary matching technology and programmatic delivery capability help employers fill positions quickly by acquiring and qualifying candidates and matching the right candidates to roles.
What are the core values of the company? What are your vision and mission?
Our mission is to help match people to better, more fulfilling jobs. Under this, we have four key values that have shaped Adzuna into the company it is today. These include:
Making a difference: We're not content with second best, and we always go the extra mile to help our clients and beat our objectives
Impact, not hours: Flexible, international and remote working is in our DNA. We are data-driven and prioritize well so we can deliver with high impact
Ownership: We're all owners who embody a whole company view, no matter what team we are on or the job title we hold. We all take responsibility to solve issues, and always ask and explain the "why"
Teamwork, not politics: We're willing to work for the greater good, trust other teams, and get behind decisions once they're made
In a competitive marketplace, what makes Adzuna unique?
Looking for a job is a full time job in itself, and it can be both exhausting and a rollercoaster ride. As a team, we love using the power of technology to help match people to better, more fulfilling jobs, and keep the world working. Most job sites treat job seekers as though they're the product and sell their data along the way. We find that unacceptable. A job is a big part of who someone is and it matters that they find the right role and feel good about the process while doing so. Right now, the system is a little broken, so we're stepping up and fixing it.
As the CMO of the company, how have you furthered the growth of the company? How do you plan its growth in the future?
Since becoming CMO of Adzuna, I've put a focus on international growth across performance channels, driving the topline and ROAS up, as well as honing in on team goals that are going to further increase engagement and autonomy. I've also doubled down on company culture, allowing more involvement and participation from all employees in different meetings and quarterly strategy presentations.
Most recently, I assisted in the development and launch of our brand campaign that is raising awareness of the importance of salary transparency in job ads and key job market pitfalls. With our dedication and adamancy in pushing for a change, we also created a petition to both the US and UK governments in hopes they will recognize how important salary transparency is to the working world and enforce better laws throughout.
In June 2022, I also supported our acquisition of Getwork in North America. This partnership is very exciting since we are able to combine the quality reputation and enterprise focus of Getwork with the international reach and programmatic/tech expertise of Adzuna, creating a better option for job seekers globally. It is also helping us further grow our footprint and serve even more job seekers in the market.
Going forwards, the focus is on continuing to integrate the Getwork and Adzuna businesses, meaning sharing best practices, learnings and more. Supporting the significant shift we're seeing in hiring behavior towards 'pay for performance' programmatic recruitment advertising also continues to be key, particularly in markets outside North America.
What does a typical day at work look like for you? What is your favorite aspect of the role that you play at the organization?
First and foremost, coffee is essential before jumping into the start of the workday. Since we are a data focused business, and drive decisions based on these, I am always checking key reports against our channels to see what is going well and what needs improvements. In addition to having meetings throughout the day, I also connect with my team on tasks that need to be worked on/how things are moving with various initiatives that are in the works. In this role I am able to combine two of my favorite things, data crunching and building teams where people are happy and eager to work together in order to create successful results.
How is Adzuna planning to align its offerings with evolving modern technology? What tech trends do you think will dominate the industry's future?
As modern technology continues to evolve, especially in the recruitment industry, we will work to take the tech used across other businesses and embed it effectively into Adzuna's business. We are also seeing a rise in more purposeful hiring as employers focus on quality over quantity. This is evident with the shift in focus towards CPA (cost per application) goals over industry-specific CPC (cost per click) models. Rather than scrambling to fill a plethora of open positions, like we saw throughout 2021/2022, employers are making smarter hiring decisions when it comes to hiring the right candidates, for the right roles, at the right times – even when hiring at scale. There will also be a stronger focus on job seekers and their lifetime value through intelligent targeting with job ads.
As a seasoned leader, what success mantra would you give to aspiring entrepreneurs?
Build happy teams because happy teams deliver. Empathetic leaders are far and few between, however empathetic leadership is a skill that not only helps drive the business' bottom line but creates the best culture and buy-in around the business. In short, leaders and entrepreneurs can get more done with empathy than with any other leadership methodology. And employees will come to work with a smile on their face most days.
With emerging trends like remote/hybrid work, what are the new challenges that HR teams are facing all over the world?
The challenge HR teams have faced previously was finding the right local candidates within limited local talent pools. This caused many companies to fight for great talent on levels that are unsustainable, such as salary, work perks, or bonuses.
With hybrid and remote work now the norm, the talent pool has increased significantly and this is leveling the playing field in key areas outside of work hotspots like New York City and Silicon Valley.
This brings on new challenges, including creating and maintaining culture and engagement in a more geographically dispersed workforce, keeping great talent when more opportunities have opened up for jobseekers, or facilitating work-life balance to avoid burnout among employees. In order to keep up and succeed in the new world of work, employers and HR teams need to build and implement employee-first strategies.
How do you spend your downtime? What are some of the hobbies that you enjoy?
I'm a dad and am very lucky to have two incredible children (ages 6 and 4) who keep me laughing and on my toes daily. But whenever possible, you'll find me doing anything active, whether that be swimming, biking, running or Hiit. I'm also obsessed with medals and have a pretty serious collection from events I've completed over the years. It's fun to plan and work towards an event, bring structure through training plans, and generally feel great through exercise. If you are ever having a tough day, take your lunch break and go for a walk, run, or do something active that will get the blood pumping. I guarantee you'll feel better and refreshed to finish out your day.
Discover the full potential of your Hrtech strategy with our comprehensive Hrtech News and Hrtech Interviews.