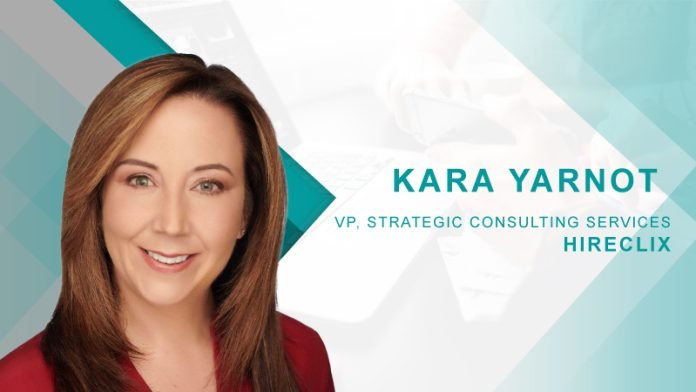 Greetings Kara,Please brief us about yourself and your role as the VP of Strategic Consulting Services at HireClix. How did you first get interested in the HR space, and what led you to HireClix?
My first job out of college was as a supply line planner for Intel in the '90s. I was invited to return to my alma mater, Carnegie Mellon University, for a career fair, and I immediately fell in love with the idea of connecting people with careers. I quickly changed my career path to becoming a recruiter and spent almost three decades in talent acquisition and attraction. I led TA teams in the aerospace, consulting, construction, and technology industries before launching my own consulting firm, Meritage Talent Solutions, in 2013. I had known Neil Costa, HireClix CEO, while I was still VP of TA at SAIC, and he was a great supporter when I launched my firm. He recognized that TA and HR leaders had strategic challenges beyond recruitment marketing. He thought adding my strategic consulting practice to his award-winning recruitment marketing agency would add a competitive advantage in the market. In 2017, HireClix acquired Meritage, and I joined the team.
What are the core values on which the organization is built and what is the mission of the organization?
At HireClix, our mission is to empower businesses by leveraging our collective creativity, problem-solving abilities, and unwavering commitment to being good humans. We aim to provide solutions that address our customers' needs, helping them achieve their talent acquisition goals. Through collaboration, integrity, and a customer-centric approach, we strive to build a better future, where success is shared, and everyone thrives. Our core values are as follows: be a good human, figure it out together with creativity and grit, and when our customer succeeds, we succeed.
How does HireClix ensure that HR technologies used in their recruitment process align with their company values and culture?
When we advise clients on optimizing and selecting recruitment technology, we start by understanding the organization's business strategy, mission, and values. We then dig into the details of the current recruiting process to find areas of misalignment. Great technology placed on top of a broken or misaligned process does more harm than good. First, you must optimize your process to align with your strategy, values, and culture. Investing in configurations and customizations is key to ensuring that technology is aligned with values and culture in recruitment. Avoid using the tools "out of the box" as vendors provide generic workflows and templates. Take the time to customize the candidate experience and communications to align with your process, values, and communication styles.
Can you share some examples of how HireClix has utilized HR technologies to improve its recruitment process and enhance candidate experience?
One of the most effective technologies to use to enhance the candidate experience is video. While video has been used in excess for many years now, genuine, authentic, employee-generated videos can result in the most engagement when used in job ads, career sites, and candidate emails. Videos should communicate your values, tell your employees' stories, introduce candidates to your leadership team, and explain your hiring process. When done right, video can completely change recruiting, onboarding, and retention.
What advice would you give to HR professionals who are looking to incorporate HR technologies into their recruitment process?
While HR technology gets more advanced every year, most companies must first go back to basics and learn to better leverage the technology they already have.
I encourage HR professionals to take a deep dive into the tools that are currently in their talent acquisition technology stack. Vendors have been innovating rapidly over the past few years, and HR professionals may be surprised to find that they already own some advanced solutions that they aren't using. Ask each vendor for a demo of functionality added in the past 12 to 18 months. Take a complete inventory of what you own, the features and benefits, and evaluate how they align with your strategy, process, and values. You may find that you have some overlapping solutions in some areas and gaps in others. Ensure your users are fully trained on the tools you have. Eliminate redundant tools. Then, and only then, begin evaluating technologies to fill in the gaps. It is easy to get distracted by the shiny new solutions in the market before you understand that your current technology stack may actually be meeting most of your needs.
How does HireClix ensure that its recruitment process remains human-centered despite the increasing use of HR technologies?
With the rise of recruitment technologies, particularly AI, many fear it may replace or diminish the need for certain jobs, such as HR. However, these technologies are not a threat to HR roles at companies, but instead a valuable tool that frees up these professionals to focus on more strategic and human-centered tasks like talent development, culture building, and employee engagement. This empowers HR professionals to offer personalized guidance and support to employees, promoting their development and growth within the organization. Moveover, HR technologies allow professionals to address diversity and inclusion concerns by identifying and mitigating unconscious biases that may exist in the recruitment process. Through these technologies, a more diverse and inclusive workforce can be fostered, ensuring fair and equitable hiring practices are upheld.
Discover the full potential of your Hrtech strategy with our comprehensive Hrtech News and Hrtech Interviews.
Want to Contribute? CLICK HERE To Submit Your Guest Post and Join Our Community of Writers!!!