As Zylo's CEO, Eric leads the team on our mission to help organizations unlock the power of their SaaS investments. 
1. Tell us about your role at Zylo.
I'm the CEO of Zylo, the leading SaaS Management platform. As a co-founder, Zylo first introduced SaaS Management technology to the market in 2016 and since then I've been responsible for setting the vision for the organization and leading our team in the pursuit of our mission – to help organizations unlock the full power of their SaaS investments.
2. Can you tell us about your journey into this market?
Prior to Zylo, most of my career was spent in the world of SaaS. I've worked at companies like ExactTarget, which was acquired by Salesforce, and Sprout Social, where I was involved in the buying and selling of software. I saw firsthand the challenges and the opportunities that the subscription software presented and I knew there had to be a better way for companies to manage their SaaS.
In 2016, my co-founders and I launched Zylo to help organizations unlock the full power of their SaaS investments and better manage their SaaS stacks to increase savings, reduce risk and ultimately improve the employee experience.
3. How do you think technology is revamping the HR Sector?
Just like any other sector, whether it be sales or marketing, new technology and specifically SaaS tools are being developed to help these professionals do their jobs – and do them more effectively.
Traditionally, HR teams have been tasked with ensuring that employees are happy, engaged and effective. In the wake of the pandemic, when a lot of organizations have adopted remote or hybrid work situations – technology and SaaS tools specifically became extremely important in ensuring that teams could stay connected and productive. In many ways, SaaS has become the workplace. Regardless of where you are – at home, in the office, or somewhere else entirely – software is how you are able to stay connected with customers and colleagues.
We're seeing a new partnership emerge where CIOs and HR leaders are banding together to focus on employee effectiveness and experience through the lens of technology. And from this partnership, it is important to ensure that every employee has access to the tools they need to be successful, while also managing the costs and risks associated with a growing portfolio of SaaS applications.
4. How has digitization impacted SaaS Management during the pandemic?
At the beginning of this year, our team said 2021 would be the year SaaS Management comes to the forefront of the industry and is recognized as a critical business need. And that's largely because of the effects of the pandemic.
As organizations shifted to remote and hybrid work, they invested in a lot of new tools for their employees – to keep them connected and productive. But for many organizations, the focus was on getting those tools in place immediately, not ensuring they purchased the right tools. Now they're having to take stock of what they purchased, rationalize what they have and ensure that they're making smart investments into the future.
Many companies gobbled up technologies like Zoom and Microsoft Teams but if they aren't actively monitoring usage, they could be flushing money down the drain and even opening themselves up to risk if tools were not properly vetted for security and compliance.
5. How can self-service SaaS empower a distributed workforce?
It all goes back to enabling your employees with the tools they need to be productive. Empowering employees to easily find and access approved SaaS apps helps reduce the chance of them purchasing tools on their own, what is known as Shadow IT. This is where a self-service SaaS approach really comes in. After rationalizing current applications and establishing a curation process, IT can place those applications in a catalog, where employees can easily select applications that have already been approved. When employees know they can turn to a library of existing applications, organizations can simultaneously encourage self-service SaaS adoption and reduce shadow IT.
If employees aren't provided with the tools they prefer and need, the likelihood that they will seek them out on their own merit is high, which can introduce unnecessary costs and risks. In addition to that, 1 in 4 employees (25%) purchase SaaS applications for business use via expense reimbursement. That increases to one in every three employees for large organizations with more than 1,000 employees.
Two-thirds (66%) of Gen Z and millennial information workers say autonomy in choosing the apps, services and devices they will use for work is a top priority. While employees don't always have the ability to choose which tools they use, it's important for organizations to strike the right balance, providing some level of autonomy to teams when it comes to which applications they use. This is becoming fairly common across a number of industries. So much so that software engineers often vet future employers based on their tech stacks through networks like Stack Overflow. For instance, if a developer has a programming preference for Python, they are more likely to apply to organizations known for using the technology.
6. Why should HR Executives and other leaders encourage the implementation of SaaS Management tools for their organizations?
In this remote and hybrid environment, SaaS tools have effectively become the workplace. It's how we communicate with customers, collaborate with team members and accomplish many of our day-to-day tasks.
SaaS Management platforms play an increasingly important role in driving employee effectiveness and ensuring employees have the tools to stay connected and productive no matter where they are.
7. In what ways can SaaS Management be used strategically to drive employee effectiveness?
The proper management of your SaaS applications has a critical and positive impact on employee engagement and effectiveness. The role of IT leaders and CIOs alike are shifting away from the 'gatekeeper' to more of an enabler role. IT leaders and CIOs are no longer the one-stop shop for all technology needs within an organization.
Instead, it is critical that these leaders need to work internally with business units and teams to make sure they have the tools they need to drive business outcomes. Employees who are armed with the right tools are more likely to be engaged and effective.
In early 2020, we released the Zylo App Catalog for empowering employee productivity. Well before the pandemic, we understood the value of self-service application deployment for employee effectiveness. When COVID-19 sent everyone to work from home, SaaS spend and digital transformation accelerated almost overnight, exponentially increasing the importance of this vision.
Customers use the App Catalog for a variety of reasons which can be summed up in three primary functions: provide a library of curated, licensed SaaS applications; make it easy for everyone to access SaaS applications; and provide IT with data on which applications are really being used.
8. How can Zylo assist organizations with their employee engagement needs?
While the idea of SaaS Management is new for most, we're already looking to the future. The release of the Zylo App Catalog also assists with employee engagement needs in addition to effectiveness, as these go hand-in-hand.
Zylo's customers have shown that usage is an unexpected yet practical way to measure engagement. SaaS Management plays a role in driving effectiveness by helping CIOs deploy the right tools their companies' employees need to be effective while keeping the portfolio well-managed and secure behind an SSO firewall.
9. What are the major developments you are planning?
We're always looking for new ways to support our customers, enabling them with the right tools and resources to get the most from their SaaS investments. Most recently, we launched Zylo's Managed Services offering which provides organizations with access to expert consultants that can quickly establish best-in-class SaaS management processes to free up companies' IT and procurement resources.
As we look to the rest of the year, we have quite a few exciting developments. This fall, we're planning to release our fourth-annual SaaS Management Index which reveals key SaaS spend trends across industries like HR as well as insights for organizations to better manage their SaaS portfolio. In addition, we're thrilled to announce this October, Zylo will be hosting SaaSMe, the industry's first-of-its-kind conference developed specifically for the SaaS Management industry.
10. How does your team empower and support you?
I have an incredible executive team that supports me. We use the First Team philosophy which means that as leaders, we prioritize and hold ourselves responsible for supporting each other. It creates this great dynamic in which my leaders are focused on working for and with each other, as much as they are working with me.
And beyond my executive team, we have an incredibly talented team at Zylo. I get so energized working with groups all across the organization. Their creativity and hustle never ceased to amaze me.
11. What movie inspires you the most?
Bohemian Rhapsody
12. We have heard that you have a very joyful work culture, we won't mind having a look at some of the pictures?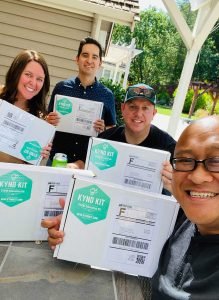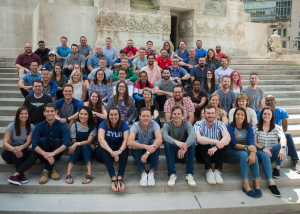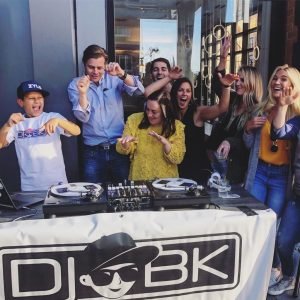 13. Can you give us a glance at the applications you use on your phone?
Too many to share them all here – but here is a view of my most used apps:
○ Dark Sky for weather
○ Every Google app – Gmail, drive, maps, assistant
○ Spotify
○ iMessage
○ 5 Minute Journal (daily gratitude)
○ SeeSaw (the app for my kids' school)
For more such Updates Log on to www.hrtechcube.com