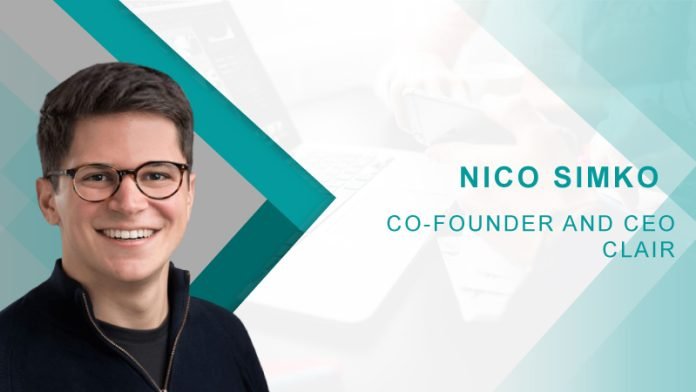 1. Tell us about your role at Clair.
I am CEO and Co-Founder at Clair
2. Can you tell us about your journey into this market?
Prior to founding Clair, I worked in payments at J.P. Morgan. After diving deeper into the payments space, I gained more insight into the problems that exist there – one of which is the problem of lengthy pay-cycles leading people to turn to high-interest payday lenders. Having worked an hourly job myself, I knew how frustrating the two-week paycycle could be. These two situations together are what led to me starting Clair – a solution to this problem.
3. How do you think technology is revamping the HR Sector?
While HR has always been focused on the employee, there is now a shift from simply completing administrative tasks to being pivotal in creating an excellent employee experience.
Technology has contributed greatly to increasing the efficiency and scope of what HR is able to accomplish. Not only does innovative technology allow HR leaders to automate many administrative tasks, but it also allows them to garner insights and provide benefits that would otherwise be impossible.
4. What is the role of benefits for better employee engagement?
It's difficult to feel motivated to work when you feel like another cog in the wheel.Employees who feel like their employer cares about them are more productive overall, and they are also more likely to stay at the company for longer periods of time By offering employees benefits, employers can develop a more human relationship with their employees and show that they care about their employees' well-being.
5. How is on-demand pay helping employers with transforming employees' financial health?
The majority of hourly workers today live paycheck-to-paycheck. This means that if any extra expenses come up in a given month, employees need to turn to high-interest payday lenders. This then leads to a cycle of debt that could easily be avoided by giving employees access to the money that they've already earned, right when they need it. By providing employees with this added liquidity, they're more equipped to deal with unexpected costs and are able to drastically improve their financial health.
6. How can Clair Spending assist employees with their digital banking activities?
On top of offering employees on-demand access to their pay, Clair users are also able to use their Clair Debit Mastercard for physical and virtual purchases, withdraw cash at 55,000 fee-free, in-network ATMs, send money with free domestic ACH transfers, mail checks virtually, and more.
7. What are the major developments you are planning, in recent times?
Right now, we are focused on creating the best on-demand pay product possible. We are growing rapidly and are in the process of onboarding a number of exciting new partners, and our main goal is to make sure that our partners and users have a delightful experience with our existing Clair product. Down the line, we plan on expanding our product offering to include a full suite of financial tools that workers can use to achieve financial freedom.
8. How does your team empower and support you?
At Clair, we have a culture where everyone on the team is encouraged to speak their mind and share their ideas, regardless of position or seniority. Because of this, my team is always bringing new ideas and sharing their thoughts with me. All of this helps me gain a more 360 view of Clair, so I'm only considering the parts of the company that I'm most directly involved with. In general, Clair is like a tight-knit sports team where everyone is extremely supportive and empowering each other toward a common goal.
9. What movie inspires you the most?
Dead Poets Society: "No matter what anybody tells you, words and ideas can change the world."
10. We have heard that you have a very joyful work culture, we won't mind having a look at some of the pictures?