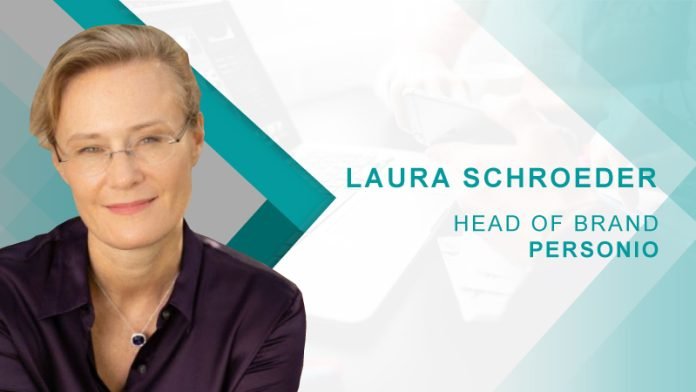 Laura Schroeder from Personio discusses the importance of data in the HRtech industry and also puts light on the importance of employee wellness.
1. Tell us about your role in Personio?
I'm a brand and innovation strategist and have worked and advised in the HR and fintech technology space for 15 years at several market leading global organizations. As Head of Brand and Comms at Personio, my focus is helping HR teams scale operations, reduce complexity and work more strategically.
2. Can you tell us about your journey into this market?
I started my HR tech career at Accenture, PeopleSoft and Workday building experience in sales, implementation, product and marketing, before joining Personio. Along the way I also acquired post graduate certifications in Strategic Human Resources Practices from Cornell University and in Design Thinking from MIT Sloan School of Management. I've seen the market evolve from on-premise human resources management solutions for the HR back office to strategic solutions for front line HR teams in the cloud, and had the privilege to help create a new category for cloud HR solutions. It's been an amazing journey with incredible colleagues and visionary HR leaders.
3. How do you think technology is changing the HR Sector?
Technology services like automation, analytics and digitisation have been around for a while, improving the productivity and efficiency of the HR function, and providing HR teams with the time and resources that enable them to be a strategic ally to businesses.
For example, by digitizing core HR processes, HR managers can invest more time into finding and onboarding 'A grade' players. Whether technology is used to make HR processes more efficient, to run a smoother onboarding program, or simply to free up the HR function to invest more time in its people, HR technology enables HR managers to focus on their greatest asset – their people.
Looking ahead, newer technologies like AI and machine learning, blockchain and VR open up exciting new possibilities to assess talent, connect talent with jobs, collaborate virtually and develop new skills. The HR technology landscape has never been more exciting.
4. How has data-driven approach empowered HR professionals?
Data is the HR function's secret weapon. Without a strong foundation of good quality data, it's quite difficult for HR to be strategic and add the kind of value that's needed in today's business.
For example, HR teams that leverage data-driven and advanced analytics are able to recruit more effectively, since data enables them to recruit with more precision and reach top talent with outbound recruiting. Armed with good quality data, and the strategic insights that can be derived from it, HR professionals can become the company's greatest champions.
5. What tips would you like to share with the employers to optimize the performance of their employees working remotely during this pandemic?
We know that a happy and healthy team is a more engaged, productive team. As such, investing in employee wellbeing can go a long way to optimising the performance of your employees With employees facing change, uncertainty and so many unexpected challenges, businesses should be ensuring their staff have all the support they need to do their jobs.
Whilst business managers have a key role to play in supporting employees, HR teams have been a guiding force throughout the pandemic. Crucially, automating HR processes to reduce the administrative burden on managers is essential since it provides managers with more time to focus on putting the human back into HR – allowing them to focus on their people at a time when employees need them most.
6. What are your predictions about the future of HRTech post COVID 19 pandemic?
In recent years, and especially during the current crisis, we have seen HR take on an increasingly hands-on, strategic approach within businesses. The key to this? Technology. The Covid-19 pandemic has accelerated the uptake of technology – a trend we expect to continue. As HR managers leapfrog from remote recruitment, to managing a remote workforce, to remote onboarding and so on, digitising processes and systems helps reduce the administrative burden and deliver insightful data, providing HR teams with more time and resources to think and act strategically.
Recent research from Personio found that 80% of HR managers say it's important for HR to maintain this more strategic role post outbreak. It's evident the uptake of HRTech will be increasingly important in ensuring the HR function can continue to operate strategically in the post-pandemic workplace.
7. What features of your analytics and reporting solution differentiates it in the market?
Companies need to make sound decisions quickly, if they want to stay competitive but they can only do that if all of the data is in one place. With Personio delivered or custom reports, HR teams can analyze personnel data at a glance and drill down into the details as needed for better planning. Of course, not all reports and data is meant for everyone on the team. Our customers decide which reports are relevant for which recipients by granting individual access rights.
8. What advice would you like to give to the Start Ups?
At Personio, our growth story started with prioritizing our greatest asset – our people.
Before businesses can start providing an excellent service to their customers, they need the right team to deliver this.
Investing in hiring and training great people, then being relentless in your support for their wellbeing, will not only go a long way in the war for talent, but will also play a huge role in providing better results for your company in the long-term.
9. What work related hack do you follow to enjoy maximum productivity?
Minimize distraction so I have time for planning and strategy work – for example, I have very few applications on my phone.
10. How do you prepare for an AI-centric world?
I think to a certain extent we already see it all around us, in proactive recommendations for music, retail, etc. Signal and sentiment analysis are also AI-led capabilities that marketers and HR teams have already adopted. When it comes to making people decisions, however, it's important to remember that AI draws conclusions based on previous experience – which is useful if you want to do more of the same thing, but can introduce an undesired bias if you want to change.
11. What are the major developments you are planning, in recent times?
Our current focus is to expand across Europe and to become Europe's leading HR software for small and medium sized businesses. We're continuously working on further developing our product, e.g. adding an e-signature feature that enables businesses to save more time and resources while minimising their environmental impact – a vital service at a time when many are hiring and managing a remote workforce.
12. Can you tell us about your team and how it supports you?
My team consists of designers, sales marketeers, comms specialists and evangelists and together we are shaping Personio's brand for market expansion.
13. Which Book are you reading these days?
At this very moment I'm reading Play Bigger: How Rebels and Innovators Create New Categories and Dominate Markets by Al Ramadan, Dave Peterson, Christopher Lochheadm and Kevin Maney.
www.amazon.de/Play-Bigger-Innovators-Categories-Dominate/dp/0349411360
14. We have heard that you have a very joyful work culture; we won't mind having a look at some of the pictures?
15. Can you give us a glance of the applications you use on your phone?
As I said, I use technology every day but have very few applications on my phone. Of course I have Personio for approvals on the go, and an application for secure logon. Other than that I have Slack, LinkedIn, iTunes, Zoom, calendar, and Google docs and maps that I use on a regular basis and… that's about it.
For more such Updates Log on to www.hrtechcube.com