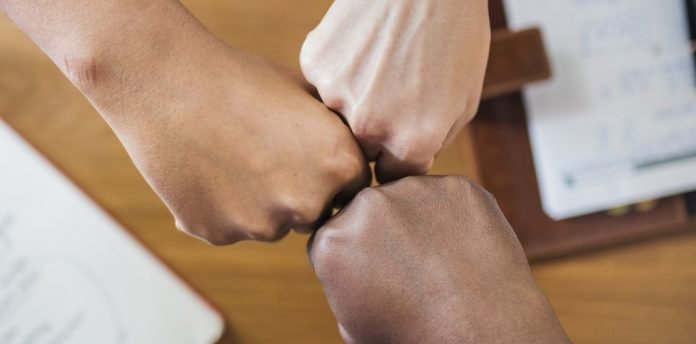 enaible Equalizer yields insights on working from the home, the office or adopting a hybrid model 
enaible reports that companies spent $43,765 annualized per employee for emails, meetings and other communications activities during the pandemic
With so many employers struggling to develop fair and equitable remote or hybrid workplaces, and with employees striving to prove they are productive when not working in the office, enaible Inc., a leading artificial intelligence provider, introduced enaible Equalizer. The new solution will help employers develop and implement fair and equitable policies for employees on where and how they work. This solution also provides employees with the ability to demonstrate their productivity wherever they are working and over a set period of time.
enaible's artificial intelligence uses companies' data to help employees and employers work smarter and better. It provides both employees and employers with a powerful approach to develop "where you can work" policies. This is an effective business intelligence solution for companies to make key work-life decisions based on facts and not opinions.
With more U.S. workers quitting their jobs than at any time in the last 20 years, and with job openings hitting their highest levels in decades, workers are using their market advantage to press for post-pandemic perks such as workplace flexibility. enaible Equalizer can facilitate remote work while helping employees to improve their productivity in and out of the office, giving employers an attractive selling point for recruitment and retention.
"Employers are struggling with workforce location policies, and enaible Equalizer, which is backed by real data and comprehensive analytics rather than opinions, will help make those decisions fairly and equitably," said Dr. Tommy Weir, founder and CEO of enaible. "For employees, enaible provides them with the ability to privately track their progress and demonstrate their productivity credibly whether they are working at the office, at home or in a hybrid arrangement."
enaible pioneered the next generation of Human Activity Recognition machine learning that takes a holistic approach in providing a more thorough and fair analysis of work habits to benefit both employers and employees. Recognizing that every job and every person is different, it identifies these distinctions with millions of data points that are converted into digestible and actionable insights for employers as well as employees as they navigate their options.
enaible has been providing this solution to select Fortune 500 companies but, because of increased demand, enaible extended and broadened the offering so more employers, those with 5,000 or more employees, could take advantage of it. Cost for the program is $48 per month per employee.
"If you are focusing only on where your employees will work – office, home or hybrid – then you are significantly underestimating the pandemic's impact on the workplace," said Dr. Weir, who holds a doctorate in strategic leadership and is a pioneer in advancing productivity solutions in both academic and corporate circles. "This is a once-in-a-century chance to rethink how we work and how to make working a more productive and better experience."
How It Works
Instead of evaluating hundreds of KPIs, metrics and circumstances in isolation, enaible intelligently learns what employees are working on, when they are working on it and intelligently determines what really matters from the standpoints of productivity and outcomes. These discoveries can enable employers to bring out the best in their employees whether they are working at the office, at home or in a hybrid model. Employees and employers can compare the effectiveness of their work for the days they are in the office and the days they are not.
Benefits to Employees
This artificial intelligence solution provides employees with the best ways to optimize how they work and gives them a foundation of insights based on real data. The program offers employees highly customized, highly personalized insights into how they can create better work habits and become more productive. It also offers guidance and inducements so that employees do not leave work feeling exhausted. Employees are provided the ability to privately track their progress and demonstrate productivity credibly no matter where they are working.
"Whether employees are at the office or at home or working from another offsite location, enaible provides them with valuable insights into work habits that could be affecting their productivity," added Dr. Weir.
War on Talent
As many employers take a wait-and-see attitude with regard to who returns to the office, studies show that market demand for top-tier talent is at an all-time high. "Employers cannot delay accommodating employees who want to work from home at least some of the time while still being productive," says Dr. Weir. "If they do, those employees will go elsewhere."
Underscoring the risks of inaction to employers, a new study by the Becker Friedman Institute for Economics at the University of Chicago found that 42 percent of employees currently working from home either would leave their jobs if compelled to return to the office or would look for new jobs with the opportunity to work remotely.
"Although employees like work-from-home and hybrid plans, such arrangements are doomed if managers either do not know or are uncertain how productive their employees are when they are not in plain sight," says Dr. Weir. enaible Equalizer helps managers better understand what works best for their workers, guiding policy decisions while improving productivity and competitiveness.
Lessons from the Pandemic
According to enaible's own data from a sample of 50,000 users, managers need to recognize other key facts changing the workplace:
Since the start of the pandemic, enaible reports 53 percent of employees who are working from home are spending more time in meetings, significantly reducing the amount of time devoted to focused, uninterrupted work.
During the pandemic, enaible reports that companies spent $43,765 annualized per employee for emails, meetings and other communications and coordination activities during the pandemic.
enaible reports that productivity among remote workers fell by an average of 7 percent because of added time spent in meetings and responding to email. That decline reached a whopping 20 percent at some companies.
Although remote workers may have saved as much as 4.5 hours weekly in commuting, (according to U.S. Census Bureau data), enaible reports that remote workers spent an average of 4.6 additional hours weekly on the job, resulting in no net time savings.
Companies that are deploying enaible Equalizer are obtaining a fairer and more accurate assessment of individual employees' productivity at home, at the office or in a hybrid work model. Executives are using this information to ensure employees have the right support and guidance depending upon where and how they work.
"The decisions executives will be making in the coming weeks can have long-term effects. Whatever model they choose, the productivity of their employees will determine how investors react as they examine productivity as a profitability driver," said Dr. Weir. "Hybrid isn't just a new way to work, it's literally a rewiring of how things get done. It is the biggest shift in work in a century, and artificial intelligence empowering employee productivity is the key to making hybrid and remote work succeed."
About Dr. Tommy Weir
Dr. Tommy Weir spent two decades coaching CEOs and conducting cutting-edge leadership research which allowed him to see how flat productivity creates unnecessary margin pressure. Dr. Weir built the world's first Leadership AI Lab, where data scientists and leadership experts combine real-time data with employee behavior to predict future action and recommend actions for a company's leaders. Combining his rich leadership experience with breakthrough data science methodologies as founder and CEO of enaible Inc., he now focuses on applying AI to help employees Get Better | Work Smarter | Achieve More. Dr. Weir holds a doctorate in strategic leadership from Regent University. He is a prolific author, sought-after speaker and former visiting scientist at MIT Media Lab. Follow Dr. Weir on Twitter @tommyweir.
For more such Updates Log on to www.hrtechcube.com