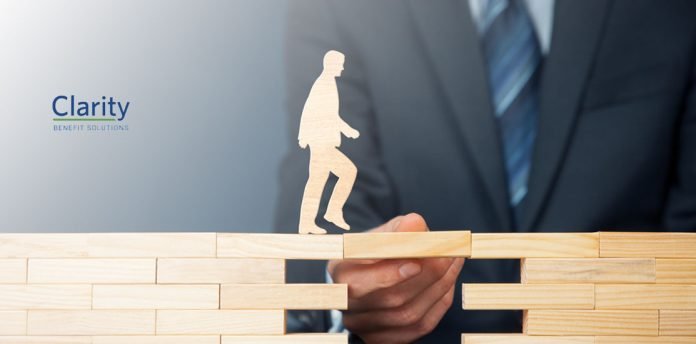 Clarity Benefit Solutions is celebrating National Employee Benefits Day by sharing some big news with their partners, clients, and network.
Clarity is excited to announce that they are unveiling a new look and rolling out some new features to offer its brokers, employers, and participants even more. This announcement comes fittingly on National Employee Benefits Day, as Clarity's mission is to provide a simply smarter and more thoughtful approach to employee benefits.
Clarity Benefit Solutions will still be providing the same level of proactive partnership, benefit solutions that work, and smarter administration that you know and trust — they'll just be doing so with a brand-new website, an expanded team, and more offerings. HrTech News
The new website isn't just an aesthetic update. While it does provide an improved look and feel, it also gives users access to a variety of updated offerings, including:
The Clarity Care Account allows employers to provide tax-free financial support to employees during the COVID-19 pandemic. Funds can be used to pay for healthcare, home office, education, and COBRA expenses.
COBRA Plus is a new COBRA service for recently furloughed employees. Employers can add a COBRA subsidiary and employees have multiple options to pay their share of the premium.
Ready for Life Funding Acceleration provides a tax-free advance to employees for their HSA and FSA programs.
Clarity Benefits Renewal Portal brings the renewal process online and helps promote your programs with digital employee engagement materials.
Clarity is very excited to see these new offerings in the hands of brokers, employers and participants this year.
These expansions are only made possible because of the amazing team at Clarity. While every individual plays a key role in Clarity's success, some recent additions and promotions have made a substantial impact. Most recently, Clarity has added numerous sales leaders in new territories to provide nation-wide coverage. Other recent additions include:
Bill Sowders

 – Vice President of National Sales

Krista Woolley

 – Vice President of Marketing

Jill Schwartz

 – Vice President of Client Services

Linda McCormack

 – Vice President of Consumer Benefit Implementation & Renewal
The aforementioned individuals round out an already successful team of creators, innovators, and relationship-builders who carry out Clarity's mission every day.
The new website and offerings facilitate Clarity's simply smarter approach to combine ingenuity and technology, so consumers can get the most from their benefits. With new ways to save time and money and provide peace of mind, Clarity Benefit Solutions is providing new ways to be Ready for Life.