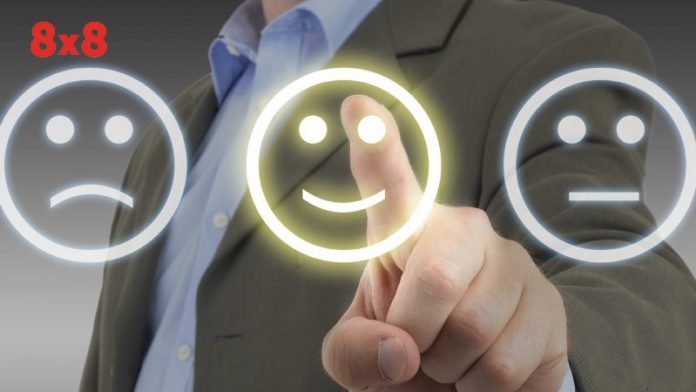 8×8 (NYSE:EGHT), a leading communications provider of cloud voice, video, collaboration and contact center solutions for over a million users worldwide, today announced that Team Messaging is integrated into the 8×8 X Series solution, creating the industry's most comprehensive cloud based communications application, with voice, video, collaboration, and contact center capabilities.
"Today's messaging solutions are built for small teams and are neither able to scale across an entire enterprise, nor facilitate secure and compliant collaboration externally with partners and customers. As a result, companies are challenged with having to manage multiple fragmented systems for voice, meetings and messaging, which impacts collaboration and employee productivity," said Dejan Deklich, Chief Product Officer, 8×8. "8×8 X Series with Team Messaging allows companies to standardize on one cloud communications platform. This helps all employees communicate and collaborate more effectively with each other, and optimize every moment of engagement with customers and partners."
"For more than three decades, we have been on the front lines of innovation to provide our insurance clients the highest quality appraisal services with each team within SCA having a laser focus on quick cycle time, accurate estimating and great customer service," said Jose Hermida, Service Manager at SCA Appraisal Company. "8×8 provides us with one application for voice, meetings, and messaging, allowing employees to communicate from anywhere at any time from any device. The new 8×8 team messaging solution enables our teams to easily connect and collaborate in real time, and we plan to do the same externally with our clients even if they use different messaging platforms, such as Slack."
8×8 Team Messaging features:
Automated deployment capabilities for enterprise-wide scale and adoption: 8×8 Team Messaging is designed for enterprise-wide deployments. There is no need to manually add users — the solution ties into a business's global directory, and is automatically available to all employees in the organization.
Public rooms for cross-department and cross-organization collaboration: Public rooms in 8×8 Team Messaging are designed to enable communication between small to large teams within an organization. In addition, any business partner outside the organization can also collaborate in real-time through 8×8 Sameroom.
Searchable archives for capturing and retaining institutional knowledge: Organizations can use public rooms to create searchable archives of institutional knowledge for training and customer support. The rooms also have an internal social graph that shows who has certain expertise. Public room content is accessible and searchable by any current and future employee of the company.
Private rooms for select audiences: Private rooms in 8×8 Team Messaging are ideal for sharing confidential content such as human resources, IT, finance, and legal information.
Interoperability with third-party messaging platforms: 8×8 Team Messaging has native 8×8 Sameroom integration, enabling interoperability with 23 third-party team messaging platforms, including Slack, Google Hangouts, and Cisco Webex Teams. This allows collaboration with partners and customers using different messaging apps, speeding time to resolution, while ensuring IT governance. The 8×8 Team Messaging platform is the only solution in the marketplace today offering this capability.
"The consumerization of technologies now requires businesses to deliver seamless communications and ecommerce-like experiences to employees, partners and customers to improve customer and employee acquisition, retention, loyalty, and an ease of work that results in greater productivity," said Wayne Kurtzman, IDC Research Director for Social and Experiential Solutions. "This is enabling a new way of doing business through collaboration. However, instead of one-dimensional team collaborative applications, companies will require tightly integrated solutions, including combining calling, video meetings and messaging to expedite communications, extend collaboration, and drive outcomes."
8×8 Team Messaging is one key element of 8×8 X Series which helps businesses transform their customer and employee experience with one system of engagement across voice, video, collaboration and contact center and one system of intelligence on a single cloud platform. With 8×8 X Series, 8×8 customers communicate faster and smarter to exceed the speed of customer expectations. 8×8 X Series enables organizations to differentiate their customer experience in real time by connecting customers to the most relevant employee on any channel for quicker speed to answers. 8×8 X Series personalizes customer interactions with context-rich insights, and optimizes for smart customer outcomes based on business-critical signals derived from advanced employee-customer interaction analytics.
To learn more about 8×8 X Series and 8×8 Team Messaging, visit 8×8 at the Gartner Symposium — booth #127.
Get a complimentary copy of the 2018 Gartner "Magic Quadrant Report for Unified Communications as a Service, Worldwide"[1] as 8×8 was recently named a Leader for the seventh year in a row.
[1] Gartner "Magic Quadrant for Unified Communications as a Service, Worldwide" by Daniel O'Connell, Megan Fernandez, Rafael Benitez, Bjarne Munch, Christopher Trueman, Mihai Nguyen, October 10, 2018.
Gartner Disclaimer
Gartner does not endorse any vendor, product or service depicted in its research publications, and does not advise technology users to select only those vendors with the highest ratings or other designation. Gartner research publications consist of the opinions of Gartner's research organization and should not be construed as statements of fact. Gartner disclaims all warranties, expressed or implied, with respect to this research, including any warranties of merchantability or fitness for a particular purpose.
About 8×8, Inc.
8×8, Inc. (NYSE:EGHT) communication solutions help businesses transform their customer and employee experience. With one system of engagement for cloud voice, video, collaboration and contact center and one system of intelligence on one cloud communications platform, businesses can now communicate faster and smarter to exceed the speed of customer expectations. For additional information, visit www.8×8.com, or follow 8×8 on LinkedIn, Twitter, and Facebook.
8×8® and 8×8 X SeriesTM are trademarks of 8×8, Inc.
Contacts
8×8, Inc.
Media:
John Sun, 408-692-7054
john.sun@8×8.com
or
Investor Relations:
Victoria Hyde-Dunn, 1-669-333-5200
victoria.hyde-dunn@8×8.com