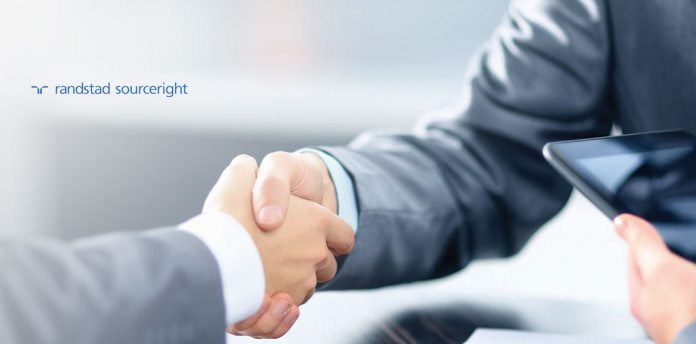 Global talent solutions provider Randstad Sourceright today announced that it has been named a "Leader" in Everest Group's "Recruitment Process Outsourcing (RPO) – PEAK Matrix® Assessment 2020," receiving the highest rating in Delivery Footprint. Randstad Sourceright was also the highest-ranked provider on the Vision & Capability scale, which measures a provider's ability to deliver services successfully, among market share Leaders.
Randstad Sourceright performed the most consistently across all of Everest Group's evaluation categories and was the only RPO provider to receive a 100 percent capability rating in any given category, Delivery Footprint, which measures a provider's coordination and integration of processes, technologies and suppliers across worldwide business units.
"We are honored to once again be named an RPO leader by Everest Group," said Rebecca Henderson, CEO of Randstad global businesses and Executive Board Member. "This distinction is a testament of our team's ongoing and tireless commitment to delivering strategic RPO solutions."Hrtech News
Everest Group's PEAK Matrix is the most trusted and fact-based analysis of service provider capabilities, covering over 50 different market segments each year. To arrive at the 2020 results, the PEAK Matrix assessed 25 RPO providers and segmented them into Leaders, Major Contenders, Aspirants and Star Performers by evaluating them on seven dimensions – market adoption, portfolio mix, value delivered, scope of services offered, innovation & investments, delivery footprint, and vision & strategy.
Randstad Sourceright was rated the highest on the assessment's Vision & Capability scale, which measures a provider's ability to deliver services successfully, and was assessed as the number two provider on the Market Impact scale. The report also cited Randstad Sourceright's strong global presence and investments in technology as some of the company's biggest strengths.
Randstad Sourceright was listed as having one of the most distributed portfolios across multiple industries, including technology, healthcare and government.
"Randstad Sourceright is among a handful of global service providers that have a delivery footprint and significant clientele in almost all major countries and regions. This has helped Randstad Sourceright become a dominant player in complex multi-country RPO deals," according to Arkadev Basak, Vice President, Everest Group. "Its expertise in serving clients across different industries and job roles along with its dedicated investments to leverage technology in its solutions has helped in its positioning as a Leader on Everest Group's RPO PEAK® Matrix assessment."