Digital work experience has been the twinkling term of 2020. Monday mornings went from rushing to office, to logging in for the morning Zoom call. Friday evenings went from being excited to leave for the weekend, to waiting eagerly for the web conference that may or may not be the last one for the week. And of course, discussions near the water cooler became the virtual employee engagement activity, that let's be honest, everyone is looking to get out of it! The experience of employees not only steeped lower in 2020, but the digital fatigue caused rose to a different level altogether. And no, the nicely integrated 'tips to overcome digital fatigue' are more often than not of no help. Yes, there's a high chance we've all tried them and still feel exhausted.
The reason why we are having these stressful digital experiences lies in the same landmine – digitization. Even though we are evolving technologically, every single day, the concerning factor is that we are not utilizing the technology to the maximum of its capabilities. In fact,
So many innovators are diving into the vast pool of tech stacks to spot a scope for newer innovation, whereas, the only thing that they'd have to do to make an impact, is to pair pieces of existing technology and deliver a meaningful solution that transforms the way we solve a particular problem.
Current world demands exceptional experience, not just at the workplace, but also at the digital workplace. But with geographical constraints and limitations, offering an out of the box digital work experience can be difficult.
But it's not impossible. Enterprises can still ensure optimal delivery of an enhanced digital work experience. How?
Let's see.
1)      Emotion AI for Conversing – Pious Pillar to Effective Digital Work Experience
Satya Nadella, Microsoft CEO, says, "30 minutes into your first video meeting in the morning … you're fatigued." 
Zoom meetings are awful, says Doug Parker, American Airlines, CEO.
It's true, even the leaders and tech gurus have realized how exhausting constant web conferencing can be. There is no compartmentalization of our lives when we are on a video conferencing call, and a nerve-wracking factor is that everybody, including you, has to be extra focused. You can see for  yourself, everybody is seeing your personal environment and that can cause anxiety.
According to the 7-38-55 rule of personal communication, words influence only 7% of our perception of the affective state. Body language accounts for 55%, and tone of voice accounts for 38% of our nonverbal messages.
Today, there are solutions available in the market that can detect emotions via facial cues, body language, voice modulation, and even the non-verbal factors. Such solutions can detect the mood and feelings of a person almost immediately, and are being used as self-therapeutic tools by many. VR, Multimodal emotion recognition, AI, and voice technology are breaking all barriers when it comes to identifying the mental state of a person.
Now, we have web conferencing and we have Emotion AI. All that needs to be done is find a way to combine the two and understand the emotional state of employees along with cues to how to make them feel better.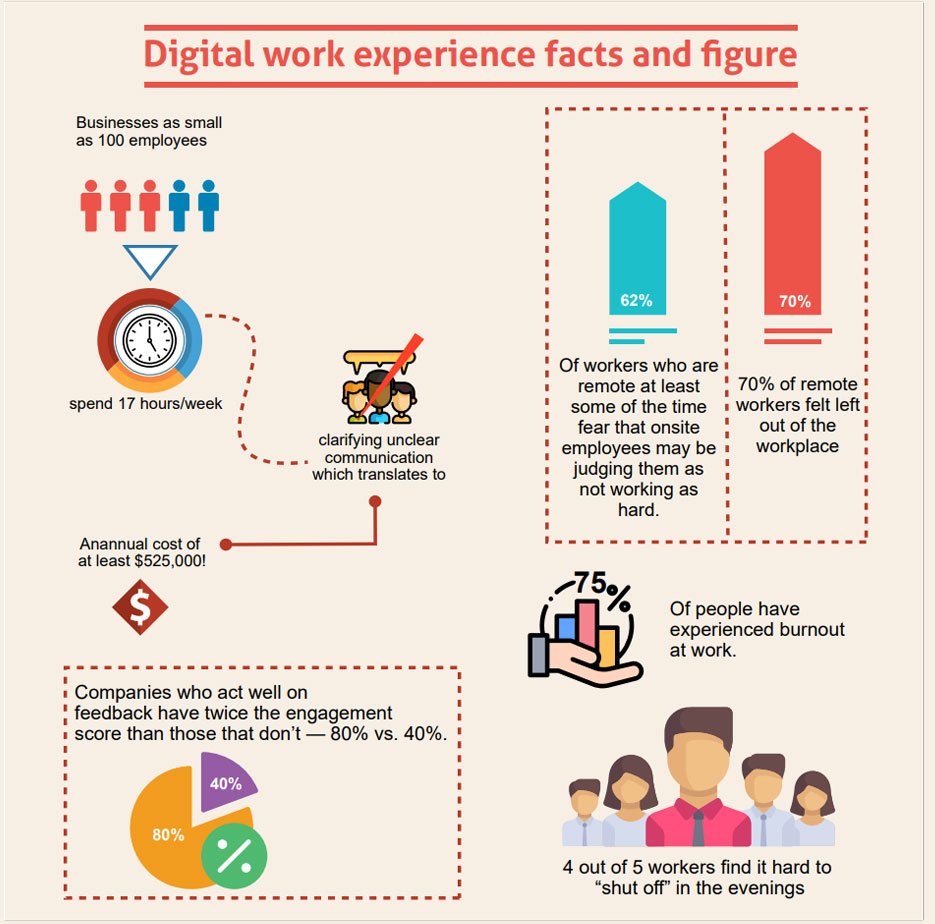 2)     Employee Involvement in decision making for better digital work experience management
Companies and HR teams are making decisions every day, and these are the decisions about their workforce. What is wrong here, is that these decisions are being taken without even understanding the mindset about the wants and needs of the employees.
For example – The organization decides to reopen their offices and call all its employees back. They roll out an email to the entire workforce that they will have to resume office soon.
But what if your employees are not yet ready to come back?
What if they have certain concerns about their health and safety upon return?
What if they don't have living arrangements since the move?
So, it is important to involve employees when you're moving towards making a decision.
Use feedback, survey tools to identify what your workforce wants from you and act upon those feedbacks in the correct manner, without any ignorance and avoidance to upgrade your digital work experience.
3)      Consistency is the king when it comes to Digital Work Experience Enhancement
Many times, there are certain projects that need to be catered to differently and with higher attention. With projects like these, organizations roll out their mammoth set of tools and automation solutions that ease out the process for employees with utmost quality of deliverables.
But once the project is over, these tools and solutions go back into the top shelf cabinets, sitting there, waiting for that "next time".
What organizations fail to realize here is that with such tools, the workflows can be majorly simplified and enhance their overall experience in the work environment.
It is not smart or advisable to deliver exceptional experiences once a blue boon, as it shows  lack of commitment towards your employees.
Hence, organizations should have solutions in place that are meant to enhance the experience of their employees and be consistent with upgrading the same.
Chatbots have made a real difference in employee experience during the pandemic, and organizations should ensure that they continue to do so, post return to office, or even post pandemic.
A perfect blend of freshly designed strategies and optimum utilization of your tech stack is the only way to deliver a memorable, consistent digital work experience to your employees. Analyze the cause and effect of different system solutions to come up newer ways to leverage them for a number of different problems.
---
ABOUT THE AUTHOR
Chandrima Samanta
Content-Editor at HrTech Cube
Chandrima is a Content management executive with a flair for creating high quality content irrespective of genre. She believes in crafting stories irrespective of genre and bringing them to a creative form. Prior to working for MartechCube she was a Business Analyst with Capgemini.