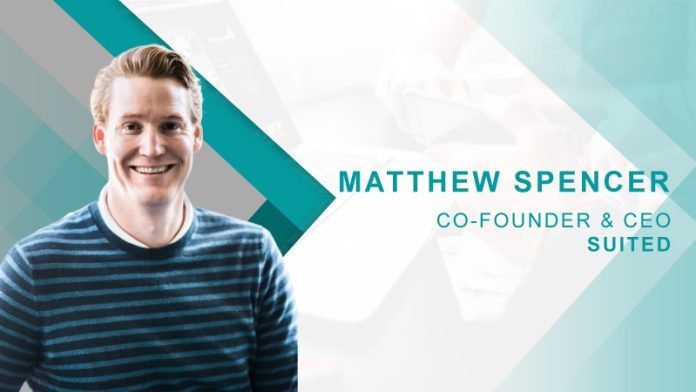 Please share with us your role as the Co-Founder & CEO at Suited.
My name is Matt Spencer and I am the Co-founder and CEO of Suited. I oversee all aspects of business and product development in addition to setting the strategic direction for the company. Having worked as both an HR leader and a business practitioner as an investment banker, I leverage my prior experience to help drive sales, customer success, and capital raising.
What attracted you to move into the HR technology and management field?
Prior to founding Suited, I served as the Chief Human Capital Officer for Houlihan Lokey, a multinational investment bank, overseeing the firm's talent management strategies globally. This included recruiting, training, professional development, performance management, DEI and people analytics among other areas. Before taking the role of Chief Human Capital Officer, I spent eight years as an investment banker at the firm.
During my time at Houlihan, we were overwhelmed with high-volume applications and competitive recruiting timelines. We wanted to thoroughly consider every candidate in the funnel, but were unable to do so. My team was forced to focus efforts on a small portion of the talent landscape, only considering candidates from "target" schools with the "right" credentials. Resumes and interviews provided little insight into the things we really wanted to know — will this candidate be a high performer, a culture-add, and a long-time contributor?
So, we decided to harness technology that could address these challenges, inefficiencies, and inequities in the recruiting process. With that, Suited was born.
Brief our audience about Suited, and give us an overview of its solutions.
Suited's hiring intelligence delivers an independent evaluation of candidate potential using objective, relevant data from the field of industrial-organizational psychology and cutting-edge data science. We enable firms to understand the true, unbiased drivers of success and reveal the candidate qualities essential to accurate and equitable hiring.
What are the core values on which Suited is built and what is the mission of the organization?
Our mission is to advance a new, unbiased hiring standard that enables firms to expand the way they identify and consider talent, and to provide candidates with a holistic way to demonstrate their full potential.
Our vision is to champion a world where professional opportunities and success are independent of inherited chance and imposed circumstances.
Our values (or founding beliefs) are as follows:
i. Equity: We believe that professional opportunity should be independent of chance or circumstance.
ii. Validity: We believe that high-performing teams are built by making evidence-based hiring decisions.
iii. Efficiency: We believe that the adoption of artificial intelligence is the answer to addressing recruiting-related inefficiencies.
iv. Diversity: We believe that diversity and representation are table stakes for access to power in the influential sectors of society that we serve.
v. Identity: We believe that no one attribute defines a person's potential and that understanding a candidate's identity is key to making the best matches.
How is Suited to utilizing AI to its optimum potential and recruiting new talents?
Suited uses AI to accomplish the following tasks:
Analyze a Firm: Suited assesses the incumbent attorneys or bankers at a firm to understand what traits lead to success. We create unique prediction models for each firm with which we work. To initiate this process, we collect data from employees who have worked at our partners long enough to demonstrate their level of performance. We ask the employees to take our assessment, and then their managers provide a measure of employee performance, such as annual performance scores. We apply machine learning technology to derive complex relationships in the data and understand the true drivers of performance for a particular firm.
Remove Bias: We use AI to determine if certain traits could cause unintended bias during candidate selection. For example, if the majority of male employees at a firm score high on "assertiveness," we will deprioritize that trait so that the outcome does not skew males. Using AI algorithms to objectively assess candidate potential also removes the subjectivity and bias that inherently comes from the interview process.
Select Candidates: We then assess candidates on the same competencies. The AI is able to pick up on which traits will most likely lead a candidate to success at a particular firm. All of the traits the AI looks for have been shown to cause no adverse impact against any protected class. Our models are also internally tested and third-party audited to ensure we are not perpetuating any biases that may exist.
According to you, how has the integration of advanced technologies like AI and ML changed the face of the HR industry?
For decades, many companies have relied on intuition, tradition, and manual efforts to guide their hiring decisions and recruiting processes. It is our view that AI/ML can be used to solve the inefficiencies, inaccuracies, and biases the current hiring process suffers from. In addition, the use of AI enables us to efficiently expand the size of the recruiting funnel, giving more candidates opportunities to be considered.
When AI is built and used correctly, it can help discover things about candidates and employees that would be forever unknown to a human being. Companies that fully embrace AI in this way will have a significant strategic advantage over the rest.
Having extensive experience in this field, what advice would you give the budding entrepreneur aspiring to venture into HR management?
Many hiring and HR teams can be intimidated by the use of AI. Some have a difficult time letting go of the traditional ways of recruiting and are hesitant to be the first to evangelize certain technologies. It is important for founders in this space to not be afraid of creating new, category-defining ways of doing things. Be patient with the industry and have confidence in your product or solution.
Finally, what are your plans for your organization, and how do you see it evolving in the years to come to stay ahead of the competition?
Suited will expand its product to offer a more complete hiring solution that includes lateral hires. The current process for lateral hiring is expensive (headhunting fees), takes a long time (limited pool of candidates), and is risky (hard to assess the fit), and the downside of a bad hire at this stage is even more costly if they do not perform well or leave soon after being hired. Our product provides the ability to have any candidate complete a Suited assessment that measures more experienced candidate competencies and values, so hiring teams have more information about a candidate's values and ways of working mapped against other highly-engaged or high-performing individuals already at the firm. Suited customers also have access to a pool of candidates who have already completed the Suited assessment. Working with Suited makes it possible to have higher confidence and to make every hiring decision the right decision.
Additionally, Suited will expand its hiring solution for campus and lateral processes to new areas within the financial and professional services industries, creating better hiring decisions and increased diversity and equity in hiring classes.
How do you see HRtech evolving in the next 3-5 years, and how will you adapt to stay ahead of the curve?
Individuals in this space will become more well-versed when it comes to these advanced technologies. It will be important to adjust our strategy as the typical recruiter or HR professional becomes more adept at integrating technology into their processes.
The labor market will continue to surprise us and fluctuate year to year, month to month. It will be important for us to continue developing products that can meet the needs of hiring teams during times of resource abundance and scarcity.
The recent advent of generative AI technologies will push executives at all companies to develop AI strategies or risk being left behind. Incorporating generative AI, or future advancements, into our offering will be key to unlocking additional ways to enhance human-led decision-making in the hiring process.
Discover the full potential of your Hrtech strategy with our comprehensive Hrtech News and Hrtech Interviews.
Want to Contribute? CLICK HERE To Submit Your Guest Post and Join Our Community of Writers!!!