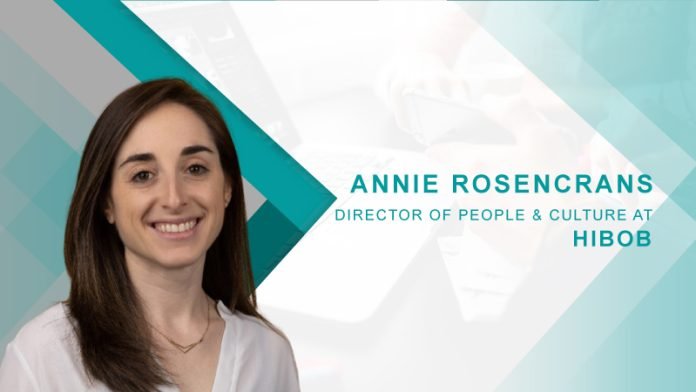 Kindly brief us about yourself and your journey as the Director of People & Culture at HiBob.
I joined HiBob as Director of People & Culture in the fall of 2021. I was brought on as the first US-based HR hire to set the foundation for scale in the Americas.
In the 15 months since the HiBob US team has more than doubled in headcount. We also moved out of our WeWork space into a dedicated office in Chelsea, and we have established Bob as a serious contender in the HR tech market in the Americas.
Being a thought leader, how do you plan to strategically bring to light HiBob's mission and vision?
Being in HR at HiBob means I have the unique privilege of getting to connect with HR professionals and people leaders on a regular basis. I'm fortunate to have this incredible platform to showcase the Bob message and my learnings with others. Whether it be through customer events, webinars, or blog posts, I have plenty of opportunities to share my experience with the HR world, and I'm itching to do more of it in the coming year.
What advice would you give budding entrepreneurs and leaders aspiring to venture into the workforce management niche?
My advice to those looking to break into the space, either as an entrepreneur or a people leader, is to leverage your networks as much as you can. One of the great things about HR professionals is that we love helping others in their careers, so there's a natural willingness for us to make time for others. My tip for getting the first meeting is to identify a common link you have with the other person. A mutual connection, a common life experience, or a reference to a relatable topic could be all you need to get your foot in the door for that first meeting.
Once you make it to the meeting, be intentional about how you use that time. Have a plan for what you want to achieve, even if it's simply to learn more about the other person. Ask questions, be curious, and be gracious. Being kind to others tends to come back around one way or another.
Brief our audience about HiBob and give us an overview of its solutions.
HiBob is on a mission to transform how organizations operate in the modern world of work with its HR platform Bob. Bob is the modern HR platform that simplifies people management and modernizes the work experience for every employee—driving engagement, culture, and productivity. Bob is configurable to how you work, whether on-site, remote, or hybrid. It empowers HR and managers to increase performance and retention, leading to healthier and more productive teams.
With Bob, you can streamline your core HR processes such as onboarding, performance management, workforce planning, and compensation management, using automated workflows that increase efficiency, cover all touchpoints, and save precious time. Bob provides real-time quantifiable data that informs strategic decisions and impacts the bottom line. Bob helps dynamic companies bring out the best in their employees.
With dedicated teams in the US, UK, Europe, Israel, and Australia, HiBob serves more than 3,000 modern, fast-growing, mid-sized companies every day.
What are the core values on which HiBob is formed and how does the organization power productivity, engagement, and retention?
Since 2015, trusted and empowered 'Bobbers' from around the world have brought their authentic selves to work, inspired to build exceptional HR systems that will revolutionize the work experience for HR professionals, managers, and employees. Agile and adaptable, HiBob innovates through continuous learning loops to produce seismic cultural shifts for companies with dynamic, distributed workforces. People drive workplace productivity. Looking to them should be your first stop when trying to boost productivity. Burnout usually fuels poor productivity, so identifying and addressing early signs can help you to catch a potential problem before it develops. We've also said goodbye to having meetings for meetings sake and encourage breaks. We also help people set personal goals. People work harder—and better—when they see an important place for themselves in the business, feel engaged, and see tangible benefits for their personal growth and potential career development. Happy, fulfied staff stay longer with a business.
What is your opinion on the building a warm company culture and do you think it is directly related to productivity and efficiency?
Culture is built by people, for people so you need to know your workforce in order to make them architects and cheerleaders of a warm company culture. It needs to center around empathy. And. healthy company culture is the secret sauce to a sustainable and successful business because there is no productivity without engaged and happy staff.There's a common misconception that inclusive and healthy cultures are built around perks like ping-pong tables, free beer, nap pods, and games. Today however with people loving hybrid and remote work models, Inclusive and healthy cultures are built on interactions between people that encourage them to forge lasting relationships with each other. Another misconception is that remote and dispersed teams prevent companies from building cultures built on connections between people. But dispersed and remote teams that aren't anchored to a specific office don't have to compromise on culture. Instead, leaders need to shift their mindset and create an environment where people can build strong relationships using digital communications tools.
What is your opinion on aligning technological advancements like AI and ML for managing day-to-day operations?
Broadly speaking AI in HR manifests in the automation of cognition. Some modern HRIS can proactively highlight key insights from your people data, going beyond the key performance indicators on your people analytics dashboard. Where AI impacts people and particularly when it comes to the sphere of people management, it's important to consider what uses are acceptable, and how to increase awareness of AI's potential use and safeguard against misuse, and also the challenge of accidental bias.
You can find more information on responsible use of AI in a report commissioned by HiBob with UK based HR consultancy CIPD (Chartered Institute of Personnel and Development). From our survey, we found that bosses were uncomfortable with letting AI do tasks that might disadvantage people's job prospects and risk the organisation's reputation. AI's strength is that it can scale up to do the same task quickly. But both the benefits and drawbacks would be amplified if done at a large scale. Getting AI to do high volume tasks can be effective if the risks are contained. Less so if there are few jobs to fill, few applicants to assess or if there aren't clear candidate specifications to address. AI regulation and assurance is a developing area. You can look at IFOW's legislation tracker for more information on AI legislation in North America.
How has the integration of these technologies transformed the face of the HR industry?
The digital age has gifted us with the magic that is integrated collaboration tools, allowing team and company members to streamline project management in a clear, communicative way. Their value far surpasses the standard direct message, which includes cultural aspects and its impact on work-life harmony. In an office setting, several types of communication and work styles flourish. While there isn't just one way to succeed in the workplace, every communication and work style that does excel share two things in common – transparency and a streamlined method of execution. There is an alchemy that happens when you merge communication and task implementation: You get cross-collaboration which makes executing projects easier. The HR industry is no different to any other in this sense.
Discover the full potential of your Hrtech strategy with our comprehensive Hrtech News and Hrtech Interviews.
Want to Contribute? CLICK HERE To Submit Your Guest Post and Join Our Community of Writers!!!