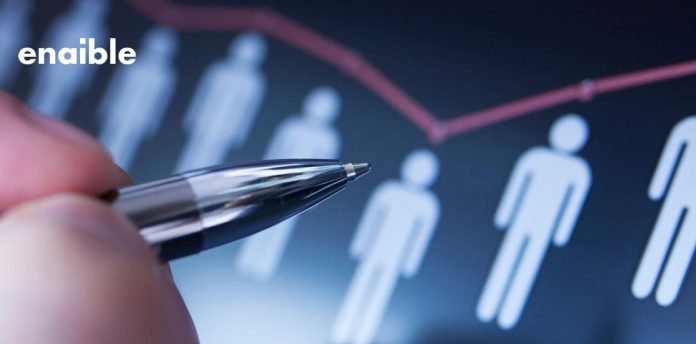 Today, enaible, the AI-powered leadership company, launched to drive radical productivity increases to enterprise companies. enaible's team, spearheaded by CEO Dr. Tommy Weir and COO Mischa Zielke, has over 40 years combined experience in leadership and business intelligence hrtech news. enaible is an artificial intelligence company that provides concrete productivity metrics and customized recommendations to organization leaders. After a wildly successful pilot phase with customers across the globe, enaible is now making their technology generally available to the Fortune 1000, government agencies and beyond hrtech.
Despite continuing advances in technology, productivity is stagnant in the US and beyond. Tools and technologies that were supposed to create more time and mindshare for high-level tasks have left employees perhaps busier, but no more productive than before. enaible's AI delivers normalized productivity scores and actionable leadership recommendations so company leaders can spend more time leading and less time being busy.
"Enterprises today are looking for a way to buck the trend of flat productivity in a way that results in increased prosperity throughout their organization, from the individual employee to the company's bottomline," said Dr. Tommy Weir, CEO and founder of enaible. "It's been incredibly validating to see the results from our initial customers, and we're excited to offer enaible to other leading businesses that have been searching for a solution that is fresh, human, and demonstrably effective."
The enaible platform offers enterprises both a comprehensive, normalized productivity score, as well as a recommendation engine to provide ongoing support and prioritized, actionable recommendations for company leaders. enaible's proprietary productivity score utilizes existing system data to quantify productivity at the aggregate and team level through a multi-dimensional analysis of capacity utilization, consistency and quality impact. The company's Leadership Recommender™ is the first of its kind and allows enterprises to go beyond an initial score, so that team leadership can leverage personalized and evolving recommendations on company productivity and performance hr data. These recommendations help leaders from all industries better their best and drive productivity growth.
enaible's AI Trigger-Task-Time™ algorithm powers the company's platform and ensures that productivity is accurately measured. A breakthrough at the intersection of leadership science and artificial intelligence, the Trigger-Task-Time™ algorithm simultaneously factors in complexity, sequence, internal and external factors, patterns, time of day, and duration to deliver the world's most accurate productivity score.
"enaible's AI reveals the true nature and scope of a company's work in a way that was previously impossible," said Jeet Shangari, enaible's CTO. "Our customized scores normalize productivity across department, role and task to provide leaders with the only definitive, granular view of organizational productivity. Best of all, enaible uses existing system data, eliminating the need for costly, complex data engineering projects."
enaible's customers are enterprises at the forefront of their industries. Whether they are Fortune 1000 companies or government agencies, they are all leveraging new technologies to cut through productivity stagnation and unlock the full power of the leaders in their organization. Implementations with pilot customers have consistently demonstrated transformative, fast results, including radical increases in productivity capacity with no change to headcount.
"When we met with Dr. Weir, we were intrigued with the idea that AI could help drive productivity at Omnicom," said Nadim Samara, CEO of Omnicom Media Group (MENA). "As a company focused on performance, we know what it takes to turn operational excellence and innovation into real results. Our global team needs tools that can move the needle when it comes to building our internal capacity without adding to our headcount. We're excited to be working with enaible to scale our excellence in service for years to come."
enaible was co-founded by Dr. Tommy Weir, an industry-veteran and creator of the world's first Leadership-focused AI lab, Mischa Zielke, a 15-year partner at McKinsey and leader in talent-management work, and Hans Schreuder, a seasoned financial and business strategist. The company is based in Boston.
To learn more about enaible, visit http://www.enaible.io.
About enaible
enaible is AI-powered Leadership. We enable you to become the best you can be, then better. We serve enterprise companies who are searching for a fresh way to drive their employees' productivity. Our customers depend on our AI to help their teams get radically more done by reimagining how things should get done.
The enaible Score measures productivity at the company, division, department and team level. Our proprietary Trigger-Task-Time™ algorithm normalizes across job roles and responsibilities so that leaders understand at-a-glance how their workforce is performing. The enaible Score also produces leadership recommendations so leaders can help employees reach and exceed their performance goals. Our AI runs on system data you already have, so you can empower the leaders hidden in your organization today.
enaible was founded in 2018 by leadership expert Dr. Tommy Weir. The company is based in Boston and works with multinational companies and leading governments all over the world.
Learn more about us at: https://enaible.io/.