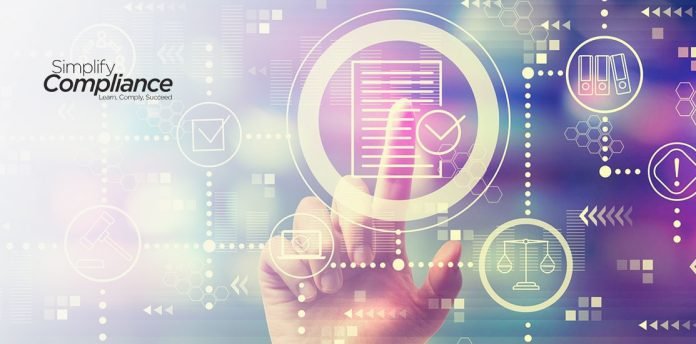 Like many other companies across the United States, Simplify Compliance transitioned its employees to a remote work environment due to the coronavirus (COVID-19) pandemic. While this presented a new set of challenges to overcome, Simplify Compliance leveraged its expertise in human capital management to foster employee innovation and collaboration.
Its HR team immediately implemented a new employee intranet website to serve as the central hub for all company related activities. The website featured a weekly video update from CEO Dan Oswald and other executive team members, helpful links, COVID-19 information, and resources that reinforced the company's core values.
The company hosted video live streams with the Chief Technology Officer, Jim Robb, to assist with the transition to a new internal collaboration platform. Simplify Compliance used the features of this platform to create a virtual breakroom for employees to join chat groups on topics such as employee recognition, wellness tips, a work from home/quarantine diary, TV show recommendations, memes and more.
"We immediately saw increased engagement with our employees," said Benjamin Polly, Chief People Officer at Simplify Compliance, "from sharing content to volunteering to create a weekly playlist to share with their peers on a music streaming service, the innovative ideas just kept coming."
With the suspension of academic classes, the employee tutoring program emerged as the company leveraged the skills and backgrounds of its employees to provide one-on-one remote instruction to the children of their co-workers. In addition to the health and well-being of Simplify Compliance employees and their families, the company's focus has been on ensuring that employees feel highly engaged, highly productive and recognized for their contributions during this time.