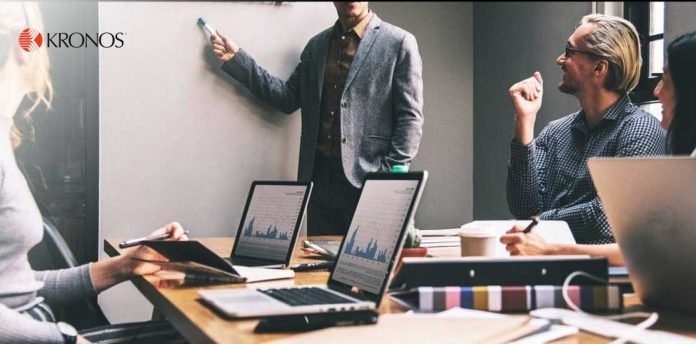 The Workforce Institute at Kronos Incorporated today released its annual predictions of the top trends that will impact the global workforce in the coming year.
Top Five Workforce Predictions of 2020
Wholistic employee wellness takes center stage as total rewards strategies drive recruitment and retention in a tight economy. Competition to attract and retain top talent – both for office and frontline workers – will further compel employers to expand and innovate total rewards packages that support employees in and outside the workplace Hrtech. The spotlight on mental health, financial wellness, childcare, shifts that work for all, and an individual's sense of meaning at work will burn even brighter as Gen Z floods the workforce. Ever-increasing natural disasters and crises will challenge employers to prepare and respond with efficiency and compassion. As employees continue to expect more from their employers, organizations that take a proactive, equitable, and inclusive approach to supporting the entire individual will reap gains in productivity, engagement, and loyalty.
Modernizing and regulating paid time off, family leave, and income stability will be hot button issues in a U.S. election year. Governments and employers alike are facing increased pressure to provide today's multi-generational workforce with schedule flexibility, paid leave, and stable living wages. In 2020, policies will continue to be revised by both organizations and legislation with a focus on people-centric solutions that allow employees to celebrate, recover, manage life events, care for others, and grieve on their own timeline. Revising time-off policies and enacting creative scheduling solutions will arm organizations with a competitive edge for top talent in parts of the world with low unemployment while helping businesses comply with and stay ahead of growing regulation.
Guidelines, ground rules, and guardrails (oh my!): Handling political discourse, activism, and the employer-employee relationship in divisive times. In a time of global economic and political turbulence, employers must determine how they'll manage controversial and potentially divisive dynamics in the workplace. The groundswell of employee activism and looming political elections worldwide will challenge even the strongest corporate cultures. Organizations that lean into more formalized diversity, equity, and inclusion strategies – built on a workplace culture foundation that fosters respect, openness, and trust – while establishing guidelines and ground rules for discourse and behavior at work will be better-suited to maintain a productive workplace. Corporate leaders will likely be called upon to set the tone for civility and tolerance from the top.
Alternative talent pools will fill the talent supply chain and help close the skills gap globally. Despite record unemployment in many countries, there are millions of unfilled jobs as employers yearn for qualified candidates. Organizations must broaden traditional talent pools to attract workers, including recruiting veterans, persons with disabilities, retirees, gig or contract workers, second-chance workers, and candidates with tangentially relevant skills. Employers should consider expanding open job descriptions to welcome those with non-traditional skills and work histories to apply. Many organizations will rethink their labor operating models to not only grow their workforce but support existing employee development through reskilling and multiskilling that can be utilized across the business, potentially granting workers more responsibilities and a healthier growth path.
Practical AI uses, access to data will narrow chasm between the HR 'haves' and 'have nots.' The call for human resources (HR) to be strategic has been ringing for years, however most organizations are still on the journey to HR agility and technological advancement. 'The haves' – who tend to be larger, sophisticated organizations – are experimenting with emerging technologies in advanced ways as many 'have nots' drown in manual work, unable to consider future of work automation. In 2020, this chasm can narrow for organizations that choose to modernize their workforce solutions and processes with a strong change management strategy. Those who walk before they run, taking baby steps to rethink the intersection of people and processes, will benefit most from practical AI applications that unburden managers and HR teams. More accurate labor forecasting, automated scheduling, and easier employee shift swapping will make a realistic difference in operations for all, while voice-enabled smart devices and chatbots will drive informed decisions for those further along the HR and workforce management maturity curve.
The Workforce Institute at Kronos Board Members Include:
In the Americas: David Almeda, chief people officer at Kronos; Martin Armstrong, vice president of payroll shared services at Charter Communications; Natalie Bickford, group HR director at Merlin Entertainments; Bob Clements, president at Axsium Group; David Creelman, CEO of Creelman Research; Nanne Finis, chief nursing executive at Kronos; John Frehse, senior managing director at Ankura Consulting Group, LLC; China Gorman, a human capital management consultant, speaker, and writer and former CEO of the Great Place to Work® Institute and former COO of the Society for Human Resource Management (SHRM); John Hollon, managing editor at Fuel50, award-winning journalist, and nationally recognized expert on leadership, talent management, and smart workforce practices; Sharlyn Lauby, the "HR Bartender" and president of ITM Group, Inc.; Alexandra Levit, business and workplace author, speaker, consultant, and futurist; Joyce Maroney, executive director of The Workforce Institute at Kronos; Dennis Miller, associate vice president of HR and benefits at The Clairmont Colleges Services; Chris Mullen, director, strategic HR advisory, at Kronos; Neil Reichenberg, executive director of IPMA-HR; Dan Schawbel, best-selling author and partner and research director at Future Workplace; Raciel Sosa, CEO at Leadex Solutions; and Mark Wales, global workforce management industry advisor.
In China: Yang Wei Guo, dean of school of labor and HR at Renmin University of China; Dr. Huang Pei, CEO and editor-in-chief at E-Works; Kevin Peng, deputy secretary general at China Chain Store Association, and deputy secretary general at China ECR Committee; Miao Qing, general manager at Kronos in Greater China; Michael Wang, independent consultant; Tom Xu, compensation and benefits manager at Cooper Standard Asia Pacific; James Xue, presales manager at Kronos in Greater China; Winnie Yuan, independent consultant; Xu Zheng, founder, CEO at Cofound Innovation Center; and Freedom Zhu, business partner at Allpku Consulting.
In Europe: Dr. Steffi Burkhart, speaker, author, and lecturer; Christian Kromme, entrepreneur and futurist speaker; and Claire Richardson, director of The Workforce Institute at Kronos, Europe, and vice president EMEA professional services at Kronos.
Supporting Resources
Connect with Kronos via Facebook, Instagram, LinkedIn, Twitter, and YouTube.
Subscribe to follow The Workforce Institute at Kronos for insight, research, blogs, and podcasts on how organizations can manage today's modern workforce to drive engagement and performance.
See the fourth anthology from The Workforce Institute at Kronos titled, "Being Present: A Practical Guide for Transforming the Employee Experience of Your Frontline Workforce."
Kronos CEO Aron Ain shares how to transform employee engagement into a growth strategy in his book, "WorkInspired: How to Build an Organization Where Everyone Loves to Work."