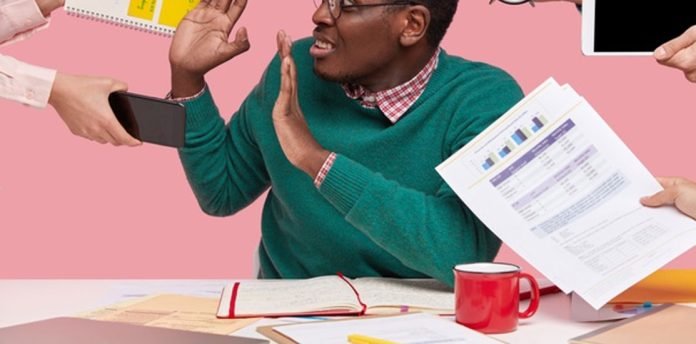 We, as human beings, social animals, are taught to be polite and kind when seeking approval. We are wired in a way that when we want to please someone or want them to like us, we go above and beyond ourselves to get into their good books. And, it is a universal fact that nobody wants to be 'not liked' or be the person that is too 'self-absorbed/rude' at the place of work. Often people think that if they say no, everybody will hate them. But that doesn't justify saying yes to everything and everyone that comes your way.
Now, almost every person has said yes to someone or something at their workplace, which they didn't even want to do in the first place. And, since they were put in a position they were not comfortable being in, they end up getting a negative feeling towards the person responsible. These things can disrupt the peace and harmony within the workforce and also instill the feeling of denying yourself to others. Whereas by saying no to something that you do not want to do or do not have the bandwidth to do only means you are focusing on what is more important to you and how you can do it to the best of your capabilities.
So, it is established that
learning how to say no is almost as important as committing to tasks and projects at work.
There can be multiple scenarios at work that can have you wanting to say no, but can't. Those can include either of the below mentioned stakeholders.
    

Is it your boss?

    

Is it your colleague?

   

Is it your client?
Once, you know who you are going to say no to, identify the reason behind your 'no'.
 

Is it because you do not have the time?

Is it because you do not have the resources?

 

Is it because you just do not want to do it?

 

Or, is it because you have a different point of view?
So, now that you know the reason, jot down solid points of your justification for the reason.
  

You do not have the time to do it because you are swamped with your pre-existing work.

You do not have the resources as you probably have no access to different tools and solutions.

You do not want to do it because your interests lie in a different area or field.

You have a different point of view explaining why your view is more suited for a problem.
Have a systematic but graceful approach to denying down something. So, for example, your boss asks you to send him a report within the next two days. First, think through your priorities and inform your boss that these are the tasks that you have at hand, and say something like, "Sure, I can do this, starting now, but it will take me at least 4 days to turn it around to you, as I already have task X at priority. So, I can postpone my task Z once I finish this new task."
Now, your manager knows what tasks are going to be completed and what tasks are being put on hold, so he may either approve your suggestion or come up with a different one. An affirmative no that is backed by reasoning is one of the best ways to say no at work.
When you focus on your priorities and block out any additional distractions, your performance will increase and you will end up utilizing your time in the best possible manner. Saying yes to things that can deviate you from your important tasks can impact your efficiency at work. So, learn to say no and do what matters the most.
For more such Updates Log on to www.hrtechcube.com
---
ABOUT THE AUTHOR
Chandrima Samanta
Content-Editor at HrTech Cube
Chandrima is a Content management executive with a flair for creating high quality content irrespective of genre. She believes in crafting stories irrespective of genre and bringing them to a creative form. Prior to working for MartechCube she was a Business Analyst with Capgemini.