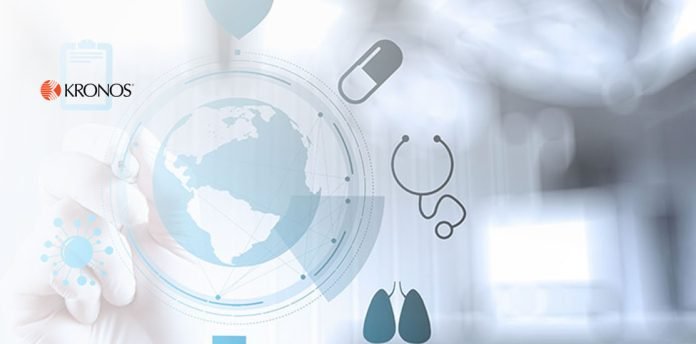 Kronos Incorporated:
| | | |
| --- | --- | --- |
| What: | | The complimentary Kronos Human Resources (HR) and Payroll eSymposium draws more than 8,500 senior leaders and professionals in HR, payroll, finance, and operations annually. This year's spring event will offer four unique learning tracks curated for busy professionals and explore today's pressing business issues, including operating through times of unprecedented change, navigating the employee experience, providing flexibility when presence is required, and the impact of COVID-19 on recruiting and hiring. Sessions will also explore the Families First Coronavirus Response (FFCRA) Act, the Coronavirus Aid, Relief, and Economic Security (CARES) Act, ever-changing Department of Labor and Family and Medical Leave Act compliance, change management strategies, and people analytics strategies. |
| | | |
| Why: | | Timely professional development has never been more important. The Kronos HR and Payroll eSymposium is one of the human capital management industry's premier virtual one-day events designed to deliver high-impact learning and peer networking, from the location and device of the attendee's choice. Sessions are eligible for APA, CPA, HRCI, HRPA, and/or SHRM certification credits. Registration is complimentary. |
| | | |
| When: | | Wednesday, May 6, 2020 from 10:00 a.m. – 5:00 p.m. ET |
| | | |
| Registration: | | View the full schedule, detailed session overviews, and sign up on Kronos.com. |
| | | |
| Speakers: | | Chris Mullen, PhD, SHRM-SCP, Julie Develin, MSHRD, SHRM-SCP, Michael Puck, SHRM-SCP, SPHR, and Chas Fields, MSHRM of the Kronos human capital management strategic advisory group are joined by Kronos product experts and distinguished thought leaders, including Ventana Research Vice President and Research Director Steve Goldberg, Sprint Mart Director of Human Resources Chris McKinney, global workforce management industry advisor Mark Wales, and Sharyn Lauby, president of ITM group and the well-known HR Bartender blogger. Compliance content is delivered by Ann Knuckles Mahoney of Epstein, Becker, & Green, P.C., Sharon Jutila of AmeriBen/IEC Group, and Samuel W. Newman and James M. Paul of Ogletree, Deakins, Nash, Smoak, & Stewart, P.C. |
Supporting Resources
Register for the Kronos HR and Payroll eSymposium, taking place virtually on May 6, 2020.
For practical guidance supporting employee well-being and workforce productivity, visit the "Managing Through Times of Uncertainty" resource center on Kronos.com and the "COVID-19: Leadership in Uncertain Times" resource center on UltimateSoftware.com.
Read the eBook "HR's Role in Business Continuity: COVID-19 and Beyond."
View the Ultimate Software 2019 Report on the State of Remote Work, "The Remote Workforce Becomes the Empowered Workforce."
Connect with Kronos via Facebook, Instagram, LinkedIn, Twitter, and YouTube.