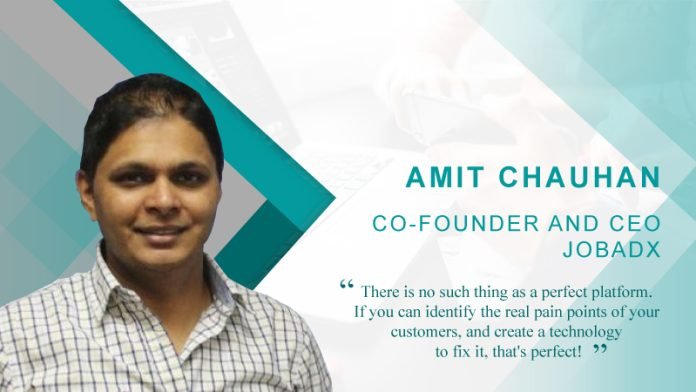 1. Tell us about your role in JobAdx?
I am the CEO & Co-Found of JobAdX. I personally see my role as a facilitator for everyone else to be able to do their jobs. I also try to make sure that I'm going to what's the right track with our vision, serving our clients with the best results possible, making sure everyone is happy. And investment, yea, make sure that we have enough money to pay our bills.
2. Can you tell us about your journey into this market?
Coming from consumer ad tech space, we started our first company, Recroup – a social media job advertising and retargeting platform, 4 years ago. After developing our understanding of this market, we saw a different opportunity to improve job advertising, and JobAdX first came about as a pivot.
The advertising industry seems pretty straight-forward to consumers, but behind the scenes, there are many moving parts and complex relationships between the different types of advertisers, agencies, staffing companies, and aggregators, not to mention other industry players such as job advertising networks, niche job boards and job board solution providers. Unlike other traditional tech markets, this industry is rooted in collaboration, and even competitors often work together.
To be honest, when we first started, we were not really aware of how complex the industry was. But we were fortunate enough to meet some great folks who introduced us to the right connections and educated us on the nuances of the industry.
3. What is the differentiator of JobAdX?
We bring the best of consumer ad tech to the recruitment space. Traditional job ad exchanges use old technology by sharing jobs through an XML feed, which results in a blind ad exchange network. We've updated that approach by helping employers make better hires by better understanding job seekers.
What do I mean by that?
A blind ad exchange means that the ads delivered aren't learning or reacting to the visitor's preferences.
Take Google for example – what makes them so powerful is that they understand what audiences are doing on any site that feature their ads. To be a successful ad exchange, knowing the audience is no less important than knowing the advertiser because once you understand the audience and what they react to, you can serve more relevant ads overall.
That's why instead of using a traditional XML feed, we integrate with publishers just like Google Adsense does, owning ad real estate on their sites so we're able to have visibility and data on what's pertinent to the job seeker. Since we started in Sep 2017 as an ad exchange, we've evolved into a candidate attraction and engagement platform because this data gives us the opportunity to fix job advertising. Even today, we're constantly improving our product to bring employers closer to understanding job seekers.
4. How do you think technology is changing the HR Sector?
Since HR is comprised of everything from hiring and onboarding to people management and payroll, I'll speak only to my niche in job advertising and candidate attraction. We're seeing a lot of new technology and much more process automation, specifically through the use of AI & machine-learning. There's been a lot of change in how jobs are distributed and employers are starting to realize that they need to be more conversational to engage job seekers now.
We're seeing more overlap from consumer-focused marketing & communications approaches in talent acquisition, like the popularity of employment branding agencies. There's also been an expansion of multiple communication channels such as chatbots and text messaging. It's unfortunately too easy to lose that human connection with automation but these new technologies ensure employers remain approachable and authentic. After all, we're in the most human aspect of business.
In our sector, programmatic advertising has given employers the greatest ROI on their job advertising dollars. It's gained traction exponentially and we expect that trend to keep growing for years to come!
5. Do you agree that social media marketing can help in better recruitment?
"This is such a 2010 question. If you asked me this then I'd have said yes but now there's no arguing that social media is an important platform for recruiting. While we used to think that social media like Facebook or LinkedIn would only be beneficial for employers, it's now a gateway for candidates to explore a company's culture, understand an employer's values, and engage with big brands. Social media facilitates that communication and candidates take advantage of that. I think in 2019 we've moved passed whether social media is useful in recruiting, but now we need to be more focused on what's next after social media."
6. How can video advertising for recruitment contribute in targeting perfect job seekers?
"In recent years, I'd say, there has been a lot of buzz around employer branding and recruitment marketing. Employers are now keenly aware that candidates are also very likely their consumers, so they want to better position themselves accordingly. They want to make sure that when candidates are interacting with them, they're not only advertising their jobs, but they're also advertising their brands.
That is where video advertising really comes in handy. For example, when SodaStream rolled out a great recruitment video a few years ago, a lot of people discovered them as brand, not just an employer. Especially with consumer-facing brands, recruitment videos also create brand awareness and favor the employer by engaging people that now see this place as something they really want to be a part of. Video gives you a backstage pass to company culture that you just couldn't experience through a text-only job posting.
7. Recruitment Advertising is the upcoming trend in HR, what are your views on it?
"I wouldn't say recruitment marketing is an upcoming trend. It has always been there, Monster, Careerbuilder, Indeed — they're all recruitment advertising platforms that have been around for a while. However, the way employers are advertising jobs is changing. Employers want to see how their money is spent and have the data to know who is seeing their jobs and what platforms they're reaching. Spending $200 on a job posting is in the past. Now, it's important to know the true value of engagement, the quality of the applicant, and the ROI for their budget. Speaking from our area of expertise, recruitment advertising is evolving to become more like consumer advertising where data is King, so we expect to see a better use of data in a couple of years.
8. What advice would like to give to the upcoming HRTech Start Ups?
Don't do it! (laughs)
Since HR is a massive industry itself, my general start-up advice is to stay lean and focus on the creating the right product by getting something out in the market and continuously work on improving it.
There is no such thing as a perfect platform. If you can identify the real pain points of your customers, and create a technology to fix it, that's perfect!
9. How do you prepare for an AI-centric World?
These days, AI is everywhere in every industry, including HR. Last year at HR Tech, at least 10 to 15 startups claimed to be doing something with AI. A lot of the time, people are confused as to what true AI is and use it interchangeably with machine-learning, which is what they're really doing. Machine-learning is great – it uses data to optimize and automate some tedious tasks…but it's not necessarily AI. The purpose of automation is to make our lives easier, especially for consumers. AI sounds scary because the back-end stuff is complex but when it's done right, it should be so seamless that the end user shouldn't even know it's there.
And despite a myriad of fearful responses that AI will kill jobs,I believe it's doing the opposite by creating an entirely new set of jobs with a different set of skills. It's not just going to happen suddenly. That transition will take time, so when it happens, people are ready for it.
10. What are the major developments you are planning, in recent times?
JobAdX's focus is always on making processes simple. Since we first started, we wanted to stay lean, and go to market with a plug-and-play platform. We've recently released our Self-Serve platform so employers can setup and manage their own campaigns directly from our site. We believe that if a product is too complex that a customer can't understand it without a lengthy demo, something's not right. For the next couple of months, we'll continue to work on the platform to make it even more user-friendly. We'll also continue improving the performance of the system to drive more qualified candidates to our clients. On the job seeker side, we'll continue improving our targeting and matching to consistently deliver the most relevant jobs. Ultimately, that'll benefit all end users of our product! The goal is whenever job seekers see jobs served by JobAdX, they know these are a good fit for them, and then engagement will be higher.
11. Can you tell us about your team and how it supports you?
We have a brilliant team of 11 and growing! I feel very fortunate to have many enthusiastic and hard-working people here at JobAdX! Presently, we have a great, balanced team between Sales, Marketing and Product Development. We were much more product-heavy in the beginning, which is good for a tech start-up in the early days. But looking toward the future, we want to keep this balance between Product and Sales so each team can support the other. We communicate very openly and that ensures that our Tech team stays in sync with what customers are asking for.
That's probably the most important, especially for a small team – that there's cross-communication between Sales, Product, and Management, and between our clients' expectations and our roadmap.
12. Which Book are you reading these days?
I'm listening to an audio book called "Play Bigger. How Pirates, Dreamers, and Innovators Create and Dominate Markets." I recently finished 'The Subtle Art of Not Giving a F***. That's a perfect one. Next, I'll read Sapiens.
13. We have heard that you have a very joyful work culture, we won't mind having a look at some of the pictures?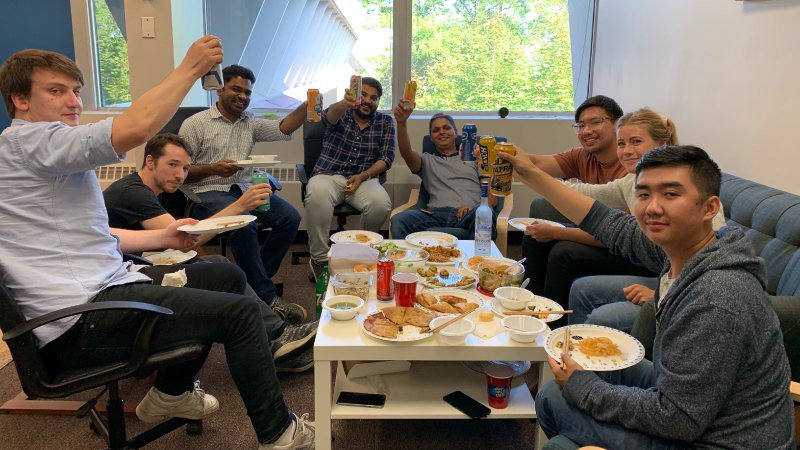 14. Can you give us a glance of the applications you use on your phone?
I have Slack, LinkedIn, WhatsApp, Instagram, and Audible. That's pretty much it. The rest are not really useful.