GrabJobs COO, Valentin Berard talks about a series of talent acquisition processes and how digitization is playing a crucial role in enhancing those processes.
1. Tell us about your role in GrabJobs?
I'm GrabJobs co-founder & COO.
2. Can you tell us about your journey into this market?
Prior to launching GrabJobs in 2016, our CEO Emmanuel Crouy had over 10 years of experience in the recruitment industry. From working with large headhunting firms to launching his own recruitment company, it's plenty of time to realize there were a number of inefficiencies in the talent acquisition processes.
We realized digital technologies could make life easier and faster for both HR professionals and jobseekers and that's what motivated us to launch GrabJobs. As an end-to-end recruitment automation platform, GrabJobs is powered by Interview Chatbots technology, helping recruiters to identify top candidates as they apply, while getting rid of the repetitive screening tasks.
3. How do you think technology is changing the HR Sector?
By definition, HR is all about managing human assets, for them to generate a competitive advantage to the benefit of the company. Marc Benioff – Founder & CEO of Salesforce said "Acquiring the right talent is the most important key to growth. Hiring was – and still is – the most important thing we do."
While digital technology is now omnipresent in the daily life of most people in the world, we feel traditional talent acquisition best practices can easily be upgraded with smart technology: walk-in vs online applications, piles of paper based resumes vs cloud-based Applicant Tracking Systems, face-to-face interviews vs Zoom.
4. How do you think digitization is empowering the hiring processes?
The first argument that comes to mind is clearly "Efficiency"! When you digitalize your hiring process, you optimize your resources:
>> Application processed by Interview Chatbot
>> automatically filter out irrelevant applications
>> less time spend on tedious and repetitive screening tasks
>> more time for strategic recruitment activities
>> cost-efficient allocation of resources
Considering the current situation with the pandemic, digital recruitment solutions also means "Safety" – instant live chat and remote video interviews for example have proven particularly effective to ensure meaningful interactions between employers and jobseekers.
5. What is the significance of easy online application without CV's for removing barriers between open roles and available talent?
For many talent acquisition professionals, recruitment is a competition.
You're not the only company out there looking for the top talents. And those top talents usually don't remain available very long! The same way marketers try to make their products buying process as easy as possible for their clients, the challenge of recruiters is to make the application experience appealing and impactful to maximize chances to convert applicants into potential hires.
We also noticed the following:
– 60% to 80% of jobseekers are applying to online jobs from a smartphones and may not have an updated resume accessible with them at all time.
– not every jobseekers know how to properly write a CV, even more for entry to mid-level roles.
– applications with long online forms on corporate career websites have a very high drop off rate.
Those remarks lead us to question if traditional CV's were really essential components of the initial process of sourcing. What information are we specifically looking for at this stage? Could the first touch be interactive with a dynamic questionnaire focusing only on relevant data points instead?
6. What is the impact of interview via chatbots on the simplification of hiring processes?
Interview Chatbots streamline interactions between candidates and employers, making the application experience easier for both side.
– Screens your applicants as they apply.
– Scores and rank them according to their qualifications to the role.
– Effortlessly identify which applicants you should assess first.
– Saves your time from assessing applicants one-by-one to identify quality candidates.
At the same time, Interview Chatbot are an opportunity for companies to improve their applicant engagement process and hiring efficiency by reducing cost of time-to-hire. Job Seekers are looking for a quick and easy process – if a company takes too long to recognize a candidacy or makes it difficult to apply, there's a good chance that talent is gone.
Interview Chatbots Competitive Advantages:
– Never gets tired – asks all your repetitive questions to many applicants at once.
– Never takes breaks –
you may work 6–8 hours a day, while chatbots are available 24/7 and never gets sick or ask for day off.
– Perform unbiased screening – never judges anyone on their race, caste or ethnicity.
– Fasten the initial interview process – instantly inform candidates about the next steps of your recruitment process and assist in scheduling upcoming round of interviews with top applicants.
– Provide a familiar interface – available from everywhere, making the candidate feel at home while taking interviews.
7. How does GrabJobs allow candidates to engage with employers throughout the hiring lifecycle?
GrabJobs acts as a facilitator for both employers and jobseekers to be able to connect over an efficient tech platform. Employers have access to a full suite of smart features (multichannel job posting to 20+ job sites, user-friendly ATS, Interview Chatbot Technology). Jobseekers can enjoy a free job boards accessible both on Mobile App and Web, with a built-in Live Chat and Interview Scheduler.
GrabJobs Interview Scheduler helps you to:
– Arrange Interviews with selected candidates straight to your calendar
– Send reminders to your applicants 24h and 3h before the interview
– Receive live notifications when applicants confirm their attendance
– Avoid no-show situation by offering applicants to reschedule or cancel in advance
Interview reminders are automatically sent to your candidates 24 hrs and 3 hrs before the time of their scheduled interview. Those reminders are sent via text, email and push notifications.
8. What makes GrabJobs different from its competitors in the industry?
GrabJobs goes beyond being a simple Job Boards by providing the tools that usually come on top of talent acquisition activities.
1. By crushing down screening activities to better match applicants as part of the application process and
2. By streamlining the next steps of the hiring process with smart interview scheduling – face-to-face, over the phone or with video remote interviews.
9. How do you prepare for an AI-centric World?
The reality is we'd very much like to lead the way toward AI-centric HR processes!
About the World itself, that's another step we'll have to make…
10. What are the major developments you are planning, in recent times?
Toward Jobseekers – We're building an ecosystem of products and services that will complement the job seeking journey and generate more stickiness to the mobile app. (eg. Financial Services & Rewards, accommodation and housing opportunities nearby, meetups, forum, general commodities)
For Employer – the next logical steps after interview scheduling is to accompany the process of candidate onboarding and employee retention even further. Some ideas on our roadmap include Online contract signature and onboarding giftpacks.
11. Can you tell us about your team and how it supports you?
We have a team of 30 great talents divided into 2 offices in Singapore and Manila, Philippines. We're organized in three domains: marketing, tech and product and sales & account management.
12. What movie inspires you the most?
As far I can remember, my absolute reference had always been "Into The Wild" by Sean Penn.
A guy alone, travelling across the US, chasing opportunities, sometimes making mistakes but relentlessly moving forward.. Soon after I graduated, I myself left my native France to go on an adventure around the world. I was curious about the experiences it would make me face. Turns out, it took me to running a tech startup in South East Asia today. Luckily, I didn't got myself lost alone in freezing Alaska!
13. We have heard that you have a very joyful work culture, we won't mind having a look at some of the pictures?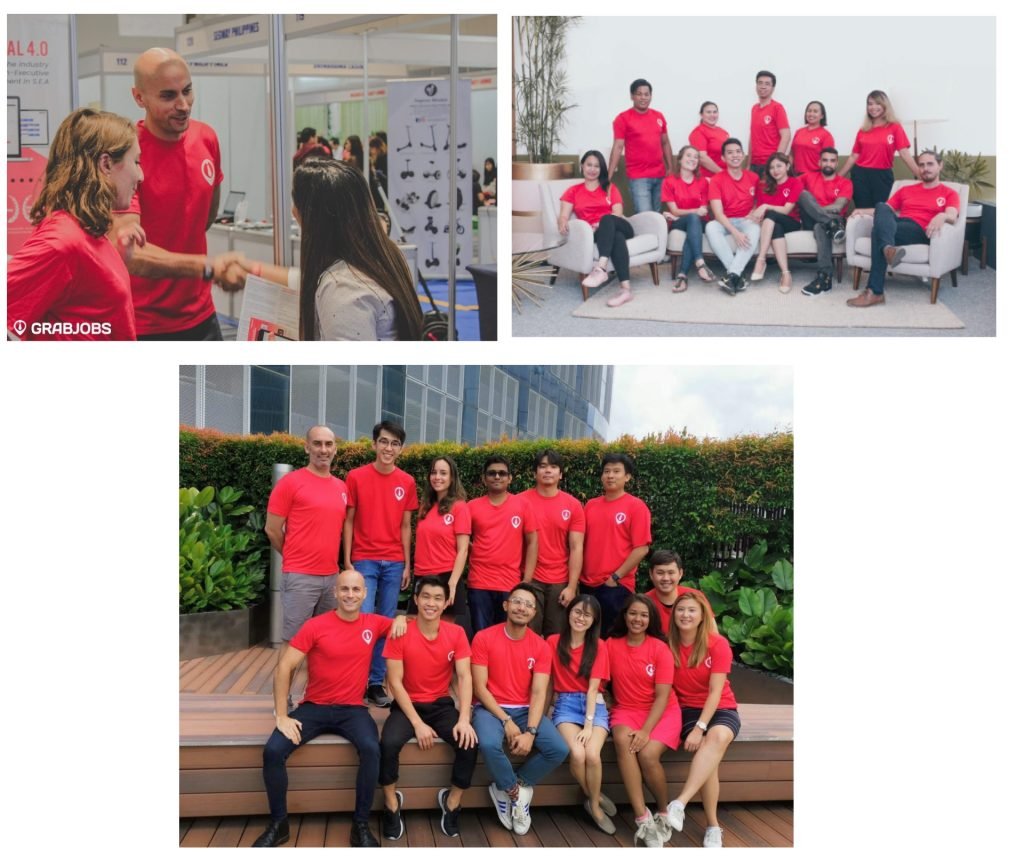 14. Can you give us a glance of the applications you use on your phone?
I really like the app Blinkist. It's an online library of non-fictional audiobooks packed into 10-20mn insight summaries. I find it great because I can focus on learning from great books without having to read them entirely and on the go, while commuting or during my sport / running sessions.
For more such Updates Log on to www.hrtechcube.com