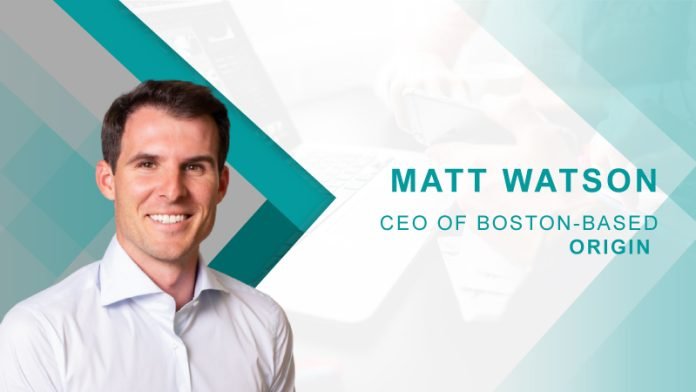 Money is the number one source of stress for employees. Matt Watson shares insights on how financial wellness provides stability to the workforce.
1. Could you tell us more about your career before starting Origin?
I started my career in banking, working at Citigroup on their high yield credit trading desk. A few years later I co-founded my first company, a software platform for insurance agencies that was acquired in 2019.
2. What was the main idea behind starting Origin?
My early career in banking opened my eyes to the vast opportunities available to people who've already acquired wealth. I realized that people who are just starting out or who work in lower paying jobs might never have the resources they'd need in order to grow their wealth. I wanted to change that. By offering access to financial planners and a set of software tools for budgeting, managing spending and savings, and managing investments we're really democratizing the financial services industry.
3. What unique features of your platform set you apart from the competition?
Origin is the only personal financial platform that offers access to a human financial planner on a global scale. Not only does that remove the net worth barrier to financial planning, but it also allows our customers to offer this benefit to every employee no matter where they live in the world. In addition, we're the only company to marry this human financial planning service with a comprehensive money management platform that delivers best-in-class investment management, budgeting, equity planning and subscription management in a single platform.
4. Can you shed some light on the gender, age, and race disparities in financial wellness and how companies can help bridge this gap for their employees?
Access to seasoned financial advice has long been exclusive to people who have already accumulated wealth. Communities without wealth – largely young people, women and underserved communities – have not had access to this expertise. And those are the people who need it most. We're trying to change that and level the playing field by offering financial wellness as an employee benefit. With Origin every employee of a member company has access to a dedicated financial advisor to develop a financial plan customized to their needs and circumstances and it makes a big difference. The average Origin user will increase their Net Worth by $1.3m by using the platform.
5. How financial wellness provides betterment in life and brings greater stability to the workforce?
Money is the number one source of stress for employees and stress has a significant impact on us physically and psychologically. Stressed people can't think as clearly, remember as well or function at the same level as their non-stressed counterparts. This has a real impact on their success in and contribution to the workplace. And stressed employees are twice as likely to leave their employer if they find a better offer elsewhere.
Financial wellness helps alleviate that stress and make employees feel in control of their finances. This helps them perform better and helps companies to retain them.
6. What is your view on the role of financial education and wellness in both DEI and mental health initiatives – and how companies are creating a full "wellness" among their employees?
Wellness is a broad category and we're seeing that companies are starting to view it that way. It includes mental, physical and increasingly financial health. If you're anxious about your financial situation or feel financially unstable, that becomes a mental health issue. In extreme cases it can contribute to physical illness. Companies are realizing that a comprehensive wellness program requires a financial wellness component.
7. What do employers need to know about how different generations approach financial stability? How can Origin help millennials or Gen Z in money management and build their ability to manage their future finances and retirement plans?
Life stage is a determining factor in financial goals. Millennials are thinking about settling down, buying a house, getting married and starting a family while Gen Z are more focused on building towards retirement. But the underlying principles that help them reach those goals are consistent across generations. Origin was designed to help all people to take control of their finances and plan for their goals and dreams. We help them develop a plan customized to their needs and goals then provide the tools for them to achieve those goals including budgeting, spending, investing and equity management.
8. What are Origin's plans for expansion and growth? Where do you see it in the coming years?
Origin has seen significant growth across all of our key metrics this year – financial plans delivered, eligible members, and the number of organizations that we work with. We expect these trends to continue and accelerate next year, particularly as recent financial trends (volatility, inflation) continue to impact our members. Longer term, we are on a mission to help each employee make the most of every dollar that they earn.
9. What is the most significant piece of advice you would want to give to company leaders?
Find your team's strengths and get out of the way!
10. Where do your passions lie? What do you think defines you as a person?
Right now I'm enjoying getting time on the water (my favorite thing to do is to kiteboard) and read as much as I can. I have my first kid on the way, so getting ready for a big life change in a few weeks!
11. What book/movie has recently inspired you?
I recently read the book Endurance which is about Ernest Shackleton's exploration down to Antarctica and the subsequent trials and tribulations that his team experienced. An amazing story about teamwork, especially if you have a big challenge ahead of you
For more such Updates Log on to www.hrtechcube.com