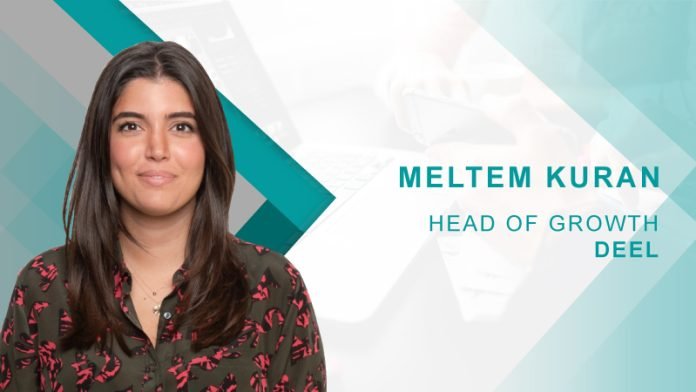 Meltem from Deel talks about the necessity and importance of automating tax collection and data compilation for a better employee experience.
1. Tell us about your role in Deel?
My name is Meltem Kuran, and I am the Head of Growth at Deel. I'm responsible for managing all partnerships, affiliates and our marketing and brand teams. I've been here since July 2020.
2. Can you tell us about your journey into this market?
Before I came to Deel, I was the Director of Marketing at Bench Accounting, responsible for bookkeeping software, focused on the fintech and backend operations elements. I joined Deel because of their international focus, and the opportunity to reach an even broader audience with plenty of room for technology development in this space (compliance, payroll).
3. How do you think technology is changing the HR Sector?
Technology is 100 percent changing the HR sector for the better. Deel allows companies to hire internationally without worrying about the administrative burden that comes with it. We enable HR managers to automate tedious, administrative tasks that previously consumed much of their time, and allow them to become strategic leaders within their organizations, moving their business bottom lines forward.
4. What are the compliance risks when working with independent contractors?
Compliance risks are different for every country, but one that exists across the board is misclassification.
Organizations need to be clear in their contracts when classifying an individual completing work on their behalf as an independent contractor or an employee, which – when done incorrectly – can leave the company open to risk and potential legal issues.
It is also common to see companies using the wrong contracts when hiring employees across the world, as contracts can vary by country.
5. How is automation empowering tax collection and data compilation?
The bottom line here is time savings. Increased automation leaves less room for human error, while simultaneously increasing the efficiency of HR employees and decreasing the time it takes to complete an audit. All the forms necessary for filing with the IRS are provided to you, with your data.
6. What is the significance of worldwide payments for enhanced payroll experience?
Typically, in order for an employee that works for a foreign company with a different currency to be paid, they need to set up a bank account to accept the payment in that currency. The employee takes on the risk of the conversion rate, and it ultimately results in a hassle-filled, negative experience for the employee. From the perspective of a company, if you want to have a global workforce and want to pay them in their respective currencies, it's another barrier to entry. Deel allows companies to pay their employees in their local currency, eliminating any worry about currency conversions and payment delays due to geographic location.
7. What is the impact of remote team insurance on employee benefits?
Global health insurance is inherently complicated, and having the ability to ensure a consistent experience to all employees – despite their geographic location – is important, regardless of company size. If you want to hire top talent, you need to be able to offer all employees a competitive benefits package.
8. Can you explain to us in detail about your full-time employment feature?
Our Employer of Record (EOR) model, is a solution that allows companies to hire full-time employees without having to set up a legal entity in a new country. It also allows you to have independent contractors and full time employees within the same platform, eliminating the need for a secondary relationship with a third party to manage international full time employees. Deel has local entities across the globe to manage employee health insurance, benefits, payment, compliance and contracts, taking all of the guesswork out of the equation.
9. How do you prepare for an AI-centric World?
We are taking it one step at a time by leveraging RPA first. We are excited to see what GPT-3 could do in the future to help companies write contracts, descriptions or tax calculations and would be the first one to adopt when it gets there.
10. What are the major developments you are planning, in recent times?
At Deel we are constantly working on improving the quality of the remote work experience, which is even more relevant with so many people across the globe working from home due to COVID19. We are building out additional product features for clients as well as for contractors, and employees, and recently rolled out global health benefits, keeping the bar high for our service offerings. We have some creative and innovative ideas in the works around payments, including new features that empower employees on payment preferences. More to come!
11. Can you tell us about your team and how it supports you?
The current Deel team is about 50 people, divided geographically across 18 countries. We are still a young company, which contributes to our 'all hands on deck' mentality, where we all do what it takes to get the work done, resulting in the best final product for our clients. We ourselves hire talent from all over the world, and we walk the walk when it comes to a diverse workforce. We are direct recipients of the benefits of our own products, and thus continue to push the envelope around our products and service offerings.
12. What movie inspires you the most?
I'm a big fan of Hidden Figures. It's an incredible story of female empowerment and of a group of women that found solutions to problems so many believed impossible.
It's also an example of strong teamwork, the importance of ensuring everyone has a seat at the table, and the amazing things that happen when we all work together toward a shared vision.
13. We have heard that you have a very joyful work culture, we won't mind having a look at some of the pictures?
Meltem to send
14. Can you give us a glance of the applications you use on your phone?
Unsurprisingly, some of my most used apps include: Telegram, Sonos, Okta, and Tech Browser. I also try to stay on top of the news with NYT, Pocket, and maintain balance with HeadSpace, 5 Minute Journal, and Chalk. I also really like Be My Eyes, which is an app that connects blind and low-vision people with sighted volunteers and company representatives for visual assistance through a live video call.