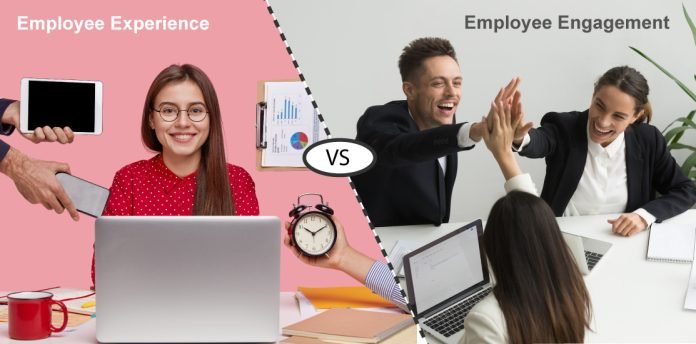 Employee Experience or Employee Engagement? Both! How? First, know the difference and then choose the best course of action to achieve both for an agile workforce.
Even with a ton of advancement and innovation of solutions to cater different needs, employee experience vs employee engagement is still considered a paradox by many. Organizations, HR teams, and even industry professionals, consider these two distinct elements almost the same or similar. But in reality, employee experience vs employee engagement is a very scrutable topic that consists of two separate but entangled functions of the human resources arena. It's just the beginning of 2021 and both- employee experience and employee engagement have been gauging major attention from the employers and enterprises.
As businesses reopen and economies get back on their feet, attracting and retaining the best talent out there is a common goal for all companies.
Even though it is difficult to get the best from the lott to your organization, it is also a step closer to having an agile workforce that will benefit your company.
And in order to achieve that, you have to direct your concentration on employee experience and employee engagement, separately and together.
To be able to do that, it is first imperative to dissect employee experience vs employee engagement thoroughly.
The need to understand employee experience vs employee engagement
Just like oranges and mandarins seem very similar but actually are different, employee engagement and employee experience walk on separate roads that intersect a couple of times.
Your engagement efforts are a part of the experiences that employees have with your organization, and the level of experience elevation is a part of key impacting factors of your employee experience.
This may sound a little confusing, but it's actually quite simple.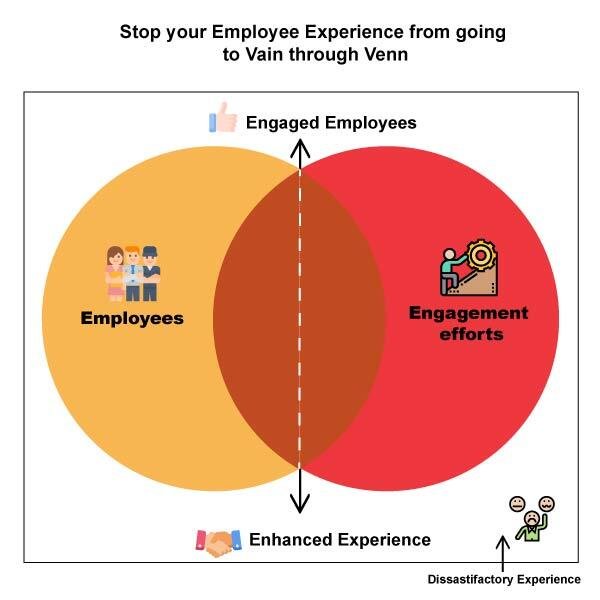 Employee experience vs employee engagement – key classifiers.
EX = Starts with souring, omnipresent, based on interactions and crossroads
EE = Starts with initiation of work, categorically present, based on relationships and needs
Commonality – both are integral in everyday activities integration
Now that we've seen how employee experience is different and yet in synchronicity with employee engagement, let us now understand both these concepts individually.
Employee Experience
By definition, employee experience translates to the feelings an employee has towards the employer company and its environment throughout the entire employee lifecycle.
EX starts from the time before the employee even begins working at the organization. It starts with the recruitment and acquisition process and plays a major in the retaining or attrition of the employee. Employee experience highly impacts the tenure an employee will have with the company, and whether they will go around to be brand advocates or brand oppositions.
Some examples of employee experience include –
A candidate that had multiple queries before the on-call interview, was given all the answers and solutions via the recruitment chatbot.
Since employees have shifted to remote work settings, keeping their seating arrangements in mind, they were sent ergonomic chairs and workstations, so that they can keep working with ease.
Employees who were facing difficulty communicating with their team on the regular collaboration apps were asked to fill out a survey to choose the solution that they'd want to communicate on.
Taking care of the WFH stress and burnout, employees were given an impromptu day off, to relax and not be on their computers and laptops for one more additional day, apart from the weekend (Google)
Financial instability is leaving employees worried and anxious, so the employers integrate an on-demand payroll feature to their existing payroll system.
Employee experience may not be tangible or visible directly, but it is something that makes your employees feel good about being associated with you.
Each and every process that happens in an enterprise has employee experience associated with it. If they feel that the functionalities of the organization along with its people are set in a framework that optimizes how the interactions and outcomes are, only then will your employees be said to have a good or even exceptional experience with the company.
There are solutions that are designed to specifically address the problems with employee experience and rewire the program to solve those problems.
Employee Engagement
Employee engagement by definition means the relationship that an employee has with the work, and in turn with the organization.
Employee engagement is also related to feelings and emotions, but these are the ones that come as a result of streamlining of work and simplification of processes, that ensure that employees like what they are doing.
When there is a connection that is felt by the workforce towards their tasks and the employer, they tend to be more inclined towards working better and increasing their efficiencies. And hence, employee engagement is a key determinant of employee productivity.
Even though the goal of both these functions is to bring in employee satisfaction and happiness, their processes and activities are different.
Employee Engagement can look like –
Integrating software that can cut down the time spent on performing a task by automating it.
Letting employees choose the structure of their work activities, without micromanaging them.
Recognizing and rewarding employees when they excel at their tasks.
Motivating the employees via provision of elements that act the best motivator according to the personality of the employee.
Designing perks and benefits packages according to the needs and requirements of the employees.
Analyzing the skills and talents of the employees and reassigning them tasks based on their specialties, expertise, and preferences.
Individualized career pathing backed by learning and development solutions.
Employers and HR teams do not need to make a shift from employee engagement to employee experience. Instead they need to bridge the gap between, via systems and solutions that work in the favor of the workforce.
There are a couple of questions that HRs can ask themselves and the employees when they need to build on their strategy stack that surrounds the employee engagement and experience elevation. Let's take a look –
· What are the problems faced by my workforce at this moment?
· What is the best way to bring those problems to the forefront during solution discussions?
· Are there any solutions that can resolve these issues altogether?
· Are these solutions compatible to my employees?
· Is there a scope of simplifying the work for employees from its current stage?
· Will my employees be comfortable using a new solution?
· Would they need training?
· What are my employees currently feeling about their work, managers, departments, and organization?
· Do my employees need me to make changes in any existing policies to better suit their needs?
· Are there any challenges that are acting as barriers to productivity?
· Can I help my employees better their connection with the company via elements that are not a part of their day-to-day work (social causes)?
· Do my employees feel completely supported by the management?
· What can I do better to improve how my workforce feels at work?
· Is my tech stack working to its full potential and decomplexifying the tasks of employees?
· What does my workforce expect from my organization? And, are those expectations being met?
These types of questions will let you identify whether you need to strengthen your employee experience or employee engagement efforts.
There are a lot of tools that can aid organizations in uplifting their employee engagement and employee experience, together and apart. These solutions are developed in an extremely employee-centric manner, making them further more suitable for the workforce.
The 3 employee experience solutions that we think are doing wonders are –
– UltiPro Software
– Namely
– Gallup
The 3 employee engagement solutions that we think are ground breaking –
– Emplify
– Fond
– Peakon
For more such Updates Log on to www.hrtechcube.com
---
ABOUT THE AUTHOR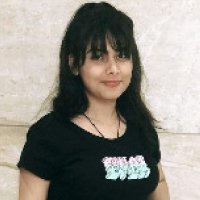 Tanvi Tirthani
Content Contributor, HRTech Cube
Tanvi Tirthani is a content writer and strategist with a special foray into technology. She has been a keen researcher in the tech domain and is responsible for strategizing the social media scripts to optimize the collateral creation process.