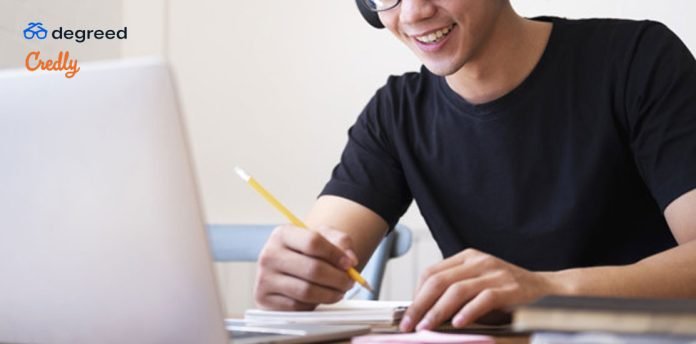 Learning experience and upskilling platform Degreed has announced an integration with Credly, the digital credentialing leader, that enables joint customers to seamlessly integrate digital credentials into their learning, talent development, and employee recognition programs.
According to McKinsey, 87% of executives said they face a skills gap in the workplace. Companies must find ways to evaluate talent and close internal gaps to remain competitive. This new integration enables joint Degreed and Credly customers to automate the issuing of digital credentials based on upskilling criteria in Degreed as well as allow data to flow from  Credly, the world's largest network of verified skills, into Degreed. Integrating Credly as the trusted partner for credentials gives organizations access to real-time, verified data to better understand, engage, and retain talent.
With the integration, businesses can successfully:
Issue digital credentials automatically via Credly based on a Pathway, assessment, and content completion criteria within Degreed's platform.
Access verified skills data by seamlessly importing digital credentials from Credly into their earners' Degreed profiles.
Identify skills gaps and opportunities by analyzing skill and credential data earned from both inside and outside the enterprise to better understand the right next opportunities for each member of their workforce.
Make data-driven HCM decisions with real-time visibility into when members of their workforce acquire new skills or earn a certification.
"The needs of employers and expectations of the workforce have significantly shifted over the past year, and it's more important than ever for organizations to be able to recognize and have visibility into learning that happens both inside and outside the organization," said Jarin Schmidt, Chief Experience Officer at Credly. "When employers have a holistic view of employee capabilities from a single, trusted source, they can make data-driven human capital decisions that help their organization and team members thrive. The partnership between Degreed and Credly is an important step towards a new future of work that respects what people know and can do and helps connect them to the right opportunities at the right time."
"Degreed is excited to partner with Credly to bring its world-leading digital credential network to the Degreed platform," said Rob Wellington, Director of Experience Partnerships at Degreed. "By awarding digital badges once learners complete Pathways and other actions in Degreed, we will be satisfying a rising demand among employees, HR and learning teams. We can't wait for our clients to capture this shared value between Degreed and Credly."
For more such Updates Log on to www.hrtechcube.com