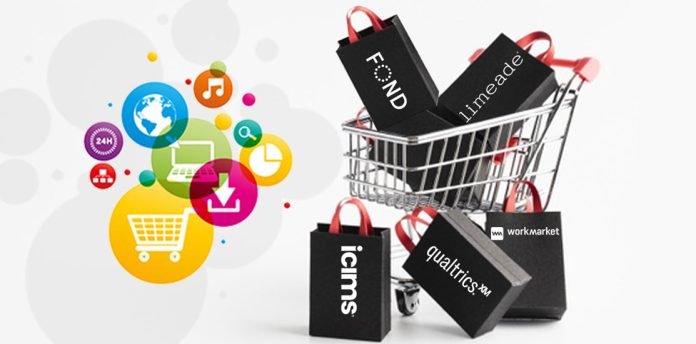 This Cyber Monday, make sure you grab all the steal deals on the hrtech landscape to build your hrtech stack and swing the paradigm towards a winning workforce!
November and December have a peculiar image of various shopping sprees and retail sales. Cyber Monday or Blue Monday is the Monday that comes after Thanksgiving and is utilized by online retailers to promote digital sales after the crowd is done getting through the Black Friday sprees. While retailers compete on online platforms to get the maximum number of customers, it is the viability and usability of the product too that contributes to the spike in the number of the customers. Products that have the most customer-centric attributes are seen to be most in demand. But with so many vibrant and attractive products on the display, it can get a little difficult to find the best of the best. As a matter of fact, many a times it has been noticed that the products that are particularly well-packaged may not necessarily be the right choice.
It is not unknown that the employees of a company are its internal customers.
So, it is not only the responsibility of the organization to get the right solutions for the teams, but also its accountability to the workforce.
Now, times like these, where the second wave is about to hit the world, panic buying can have you purchasing products that may not necessarily work for you as effectively as they should. And, having to go through listicles deciding and pinning the software of your needs can be tedious. What if we tell you that we have done the hard part and chalked out the "one" for you! This year at HRTech Cube we have narrowed down one major HRTech trend and mapped it with a HR problem to churn out the best possible CyberMonday 2020 cakewalk for you:)
We will walk you through the best hr tech solutions that you should have as a part of your tech stack to cater to your human resource with enhanced efficiency and get the most of Cyber Monday 2020.
Let's take a look.
1) Fond 
The best way to engage and motivate your employees is to recognize and reward their work and contributions to the organization. All the hard work that the employees put in should be appreciated in a way that instills a sense of belongingness and togetherness with the team and the company as a whole. The Fond Rewards solutions will enable you to analyze the rewards program of your firm and customize your rewards as per the unique corporate values and preferences of your organization. You can further analyze the success ratios to figure out to what extent your programs are having an effect on the workforce, then reiterate and restructure until you design the best-fit rewards program. With Fond, you can also let your employees socialize with each other on the global social feed, giving everyone a view of who is being recognized and why.
2) Limeade 
Our body and mind are two assets that keep us going and performing every minute of your lives.
Without a sane mind and a healthy body, it is nearly impossible to do things and cross barriers and reach the success finishing line.
But, most of the time, health takes a backseat when professionals prioritize being laser-focused on their work and career. Limeade Well-being is your go-to solution, if employee wellness is something you take seriously. This solution will allow us to analyze the state of mind, and predict burnout risk as well as the risk of turnover. Once the analysis is done, you can custom-design relevant content based on the culture of your firm and deliver programs and activities that are backed by science and psychologists. Limeade also has multi-directional communication abilities to enable you to reach all your employees, no matter where they are.
3) QualtricsXM 
The experiences of the employees are what makes an impression of the firm that influences their choice of staying with the company in the long run. Often, there are major gaps in what the employees want and what is being delivered to them. This calls for an employee experience solution and what better the famous experience management provider, qualtrics? Qualtrics employee products is a suite of solutions that give organizations the power to measure and deliver a constantly improved version of experience to the employees that would turn them into your brand ambassadors. With tools such as employee engagement, 360° Feedback, Employee Pulse, and Employee Pulse Surveys, organizations will now be able to actually listen to the wants of the workforce and fill the experience gaps.
4) WorkMarket, an ADP company 
If there is something that has made its mark during this period of difficulty and uncertainty in the job market, it has to be the contingent workforce or the gig workforce. When organizations need to hire resources for a specific period of time, to cater to a specific project, and deliver excelling work, they turn to the extended workforce. But managing a distributed workforce while ensuring their productivity thrives, they are paid on time. The compliance rules are met, and many other things can be tough. WorkMarket automates all of these tasks for you. It is an end-to-end Freelance Management System that empowers you to look for workers, conduct their background checks, verify their credentials, manage their tasks, activities, and assignments, communicate and collaborate with in real-time, pay them as and when required, and also rate their performance. It is a one stop shop for all your contingent workforce related requirements.
5) iCIMS 
Building an integrated workforce,and driving it towards success can have your buying and implementing all kinds of products and solutions that may simplify these complex processes. You can either do that or have a winning cloud solution that will act as an umbrella for all kinds of hr-related processes. When you choose to take the smarter way, which is of implementing an aggregated cloud solution, look nowhere and just adopt iCIMS's Talent Cloud platform. With all the latest technology incorporated within the system, iCIMS Talent Cloud has to be one of the most intelligent talent solutions that delivers the most insightful outcomes and results. Ranging from Career sites, ATS, onboarding to candidate relationship management, offer management, and text engagement, iCIMS has everything under one platform.
Make Cyber Monday 2020 different from the rest of the years by buying products and solutions that actually benefit your workforce.After all your employees are your brand advocates who would ultimately drive your pipeline at a further stage. So this Cyber Monday, expand your Hrtech landscape with the products that you exactly need to ease out your workforce collaboration and enhance your employee engagement along with making sure the right talent gets swinged your way to maximize your ROI as a brand.

For more such Updates Log on to www.hrtechcube.com
---
ABOUT THE AUTHOR
Chandrima Samanta
Content-Editor at HrTech Cube
Chandrima is a Content management executive with a flair for creating high quality content irrespective of genre. She believes in crafting stories irrespective of genre and bringing them to a creative form. Prior to working for MartechCube she was a Business Analyst with Capgemini.