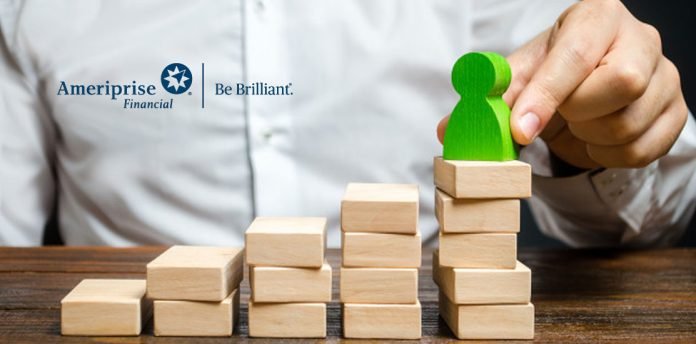 For experienced advisors considering a change, Ameriprise Financial, Inc. (NYSE: AMP) is standing out as a company that can help them elevate the experience they deliver for clients, drive efficiency in their practices and smoothly navigate the challenging environment. These advisors are taking advantage of the firm's new, all-virtual recruiting program to learn more about Ameriprise and how its unique blend of support and independence can help bring their practices to the next level hrtech news.
Since moving to an all-virtual recruiting strategy in March, Ameriprise has been able to reach a wider audience of prospective recruits – many of whom have more time than they normally would to evaluate options for moving their practices. More than four times as many advisors are engaging with the firm through a mix of video sessions, webinars, VIP meetings and open houses compared to a year ago, when most meetings were done in person.1 Without having to travel – or leave the safety and comfort of their homes – advisors are taking advantage of the convenient and flexible options Ameriprise offers to meet with top executives and do their end-to-end due diligence on the firm virtually.
"Disruption in the industry is a catalyst for advisors to assess the level of support and flexibility their current firm provides," said Jim Cracchiolo, the company's Chairman and CEO. "At Ameriprise, we give advisors what they need to succeed. Our extensive support and integrated capabilities enable advisors to serve clients when, where, and how they want – which is critical in this environment. Now more than ever, Ameriprise stands out for our culture, financial strength and unparalleled focus on clients."
Advisors from independents, registered investment advisors (RIAs), wirehouses, regional firms and other broker-dealers are impressed by how quickly and successfully Ameriprise pivoted operations amid the COVID-19 pandemic. Having made significant investments in technology in recent years, the firm provides an innovative and integrated platform for advisors to serve clients securely and remotely – any time, from any device.
Advisors also find value in the firm's advanced financial planning capabilities, broad product offering, investment research expertise, surround-sound marketing strategy, and caring, long-tenured executive leadership team. As a company that has been in business for more than 125 years, Ameriprise today operates as one of the largest wealth managers in the United States and continues to earn accolades for trust and its unwavering commitment to customer satisfaction.
"Advisors are impressed by our swift and seamless response to COVID-19, and it has given us an opportunity to showcase our offering to those who perhaps weren't aware of the full scope of it," said Manish Dave, Senior Vice President of Advisor Business Development. "Engaging virtually makes it easier than ever for advisors to get to know us, do their due diligence and have all their questions answered by our committed team of leaders and staff."
Virtual capabilities make onboarding easy
Advisors moving their practices to Ameriprise are given dedicated service and resources from the company's experienced onboarding team and local leaders. The firm's virtual capabilities enable advisors to transition whenever and from wherever they choose across the country – with support throughout the process.
More than 4,000 financial advisors have joined Ameriprise since 2008.2 Eighty moved their books of business to the company in the first quarter of 2020, which coincided with the firm's pivot to all-virtual recruiting. For more information about Ameriprise, visit ameriprise.com. To learn more about becoming an Ameriprise advisor, visit ameriprise.com/careers.